The Socialist 15 September 2021
Take the wealth off the super-rich to fund: NHS and social care, pay and benefit rises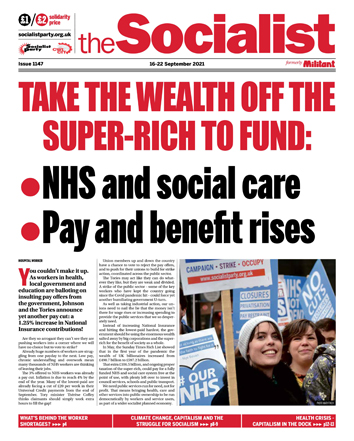 ---
We need a new political party for workers and youth
What's behind the worker shortages, and what can be done about it?
---
Social care plans: A sticking plaster instead of surgery
Hands off the Universal Credit uplift
Unite young and old to defend the pensions triple lock
---
Climate change, capitalism, and the struggle for socialism
---
We won't pay for capitalism's failings
Scrap tuition fees - end university marketisation
Returning to campus: Students need to fight
Campaigning for socialism at Oxford Brookes Uni
Youth Fight for Jobs launches campaign in Brighton
---
NSSN trade union rally reflects working-class anger to fight back
Oaks Park school: Redbridge Labour council backs strike-breaking bullies
Save jobs and services - nationalise rail
Weetabix - workers have had enough
Carmarthenshire Unison: 'Recognise our union!'
Goodlord dispute: Labour's leadership weasled out of backing strike action
---
Take the wealth off the super-rich to fund: NHS and social care, pay and benefit rises
Deaths of despair: Health crisis - capitalism in the dock
On the frontline, and still fighting for the NHS
Solidarity to the striking workers at Charité and Vivantes hospitals in Berlin
---
Putting socialism on the map in Chichester
Reclaiming Pride as protest in Nottingham
Fighting fund target reached: Help us continue to raise our banner and programme
---
Nuclear Folly: A New History of the Cuban Missile Crisis
TV review - Grenfell: The Untold Story
PO Box 1398, Enfield EN1 9GT
020 8988 8777

Link to this page: https://www.socialistparty.org.uk/issue/1147/33020
Home | The Socialist 15 September 2021 | Join the Socialist Party
Subscribe | Donate | Audio | PDF | ebook
On the frontline, and still fighting for the NHS
Specialist Diagnostic Radiographer
I've been working in medical imaging for eight years now. Even before we were struck by a global pandemic, we were struggling to keep up with the number of patients needing imaging, and waiting lists were increasing.
To be fair to my superintendents, they were quick to respond. As the only fully trained FFP3 mask fitter in our department I was required to refit fifty staff members before the pandemic hit. I managed it quite well, only to learn that the trust could no longer acquire these masks and we were going to use another supplier. This meant that all our staff would have to be fitted again. This is just one of many examples of government failings.
Leading epidemiologists have warned for years that we need to stockpile protective clothing, and had a plan ready for an upcoming pandemic, but they were ignored. Then the inevitable happened. As the first deaths were being recorded, our prime minister stood in front of business leaders and promised he would do everything he could to protect the free market. Seeing this video was the last straw. The next day I tracked down a colleague I knew was a member of the Socialist Party and asked to join.
I've always believed strongly in the NHS, and frequently joked that if I was in it for the money I would've been in banking. I can't deny that it was inspiring to see people clapping us, especially as I walked to work. But while the politicians stood outside and applauded us, they were awarding themselves an eleven percent pay increase. Now they offer us three percent, which won't cover the rate of inflation.
It feels like the government is actively underfunding the NHS. If they keep missing targets and making mistakes, they hope public opinion will turn against the NHS and they can justify continuing to sell it off. Most of the logistical aspects of hospitals are already privatised. The parking, catering, cleaning and security, to name a few, are all owned privately.
Due to a lack of reporting radiologists, all trauma CT scans done at night or the weekend are reported by a private company. The change is already well under way, and the government intends to make it easier with its new health and care bill.
We are still learning about the long-term effects of Covid. However, there is growing research that people who have suffered and recovered from Covid are at greater risk from blood clots that could cause pulmonary embolus or even strokes.
It's reflecting on this, and the risks I have taken over the last year to image sick or dying patients, that made me realise something: our leaders didn't call us heroes because we're people to look up to, they called us heroes because heroes make sacrifices. I'm witnessing an increasing number of my colleges needing to take time off due to stress or just leaving the trust because they can't handle it any more. I myself have considered leaving the hospital, but I still believe the NHS is worth fighting for.