The Socialist 15 September 2021
Take the wealth off the super-rich to fund: NHS and social care, pay and benefit rises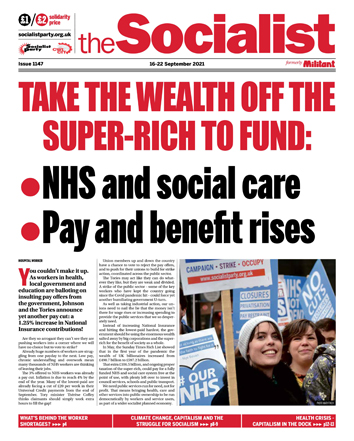 ---
We need a new political party for workers and youth
What's behind the worker shortages, and what can be done about it?
---
Social care plans: A sticking plaster instead of surgery
Hands off the Universal Credit uplift
Unite young and old to defend the pensions triple lock
---
Climate change, capitalism, and the struggle for socialism
---
We won't pay for capitalism's failings
Scrap tuition fees - end university marketisation
Returning to campus: Students need to fight
Campaigning for socialism at Oxford Brookes Uni
Youth Fight for Jobs launches campaign in Brighton
---
NSSN trade union rally reflects working-class anger to fight back
Oaks Park school: Redbridge Labour council backs strike-breaking bullies
Save jobs and services - nationalise rail
Weetabix - workers have had enough
Carmarthenshire Unison: 'Recognise our union!'
Goodlord dispute: Labour's leadership weasled out of backing strike action
---
Take the wealth off the super-rich to fund: NHS and social care, pay and benefit rises
Deaths of despair: Health crisis - capitalism in the dock
On the frontline, and still fighting for the NHS
Solidarity to the striking workers at Charité and Vivantes hospitals in Berlin
---
Putting socialism on the map in Chichester
Reclaiming Pride as protest in Nottingham
Fighting fund target reached: Help us continue to raise our banner and programme
---
Nuclear Folly: A New History of the Cuban Missile Crisis
TV review - Grenfell: The Untold Story
PO Box 1398, Enfield EN1 9GT
020 8988 8777

Link to this page: https://www.socialistparty.org.uk/issue/1147/33022
Home | The Socialist 15 September 2021 | Join the Socialist Party
Subscribe | Donate | Audio | PDF | ebook
Goodlord dispute: Labour's leadership weasled out of backing strike action
In April this year, Scott Hunter, a member of the Socialist Party and a striker at Goodlord, in east London, wrote to his local Labour MP, Emily Thornberry, asking for support for the workers fighting against 'fire and rehire'. Scott finally received a response on 2 September, six months after the original email asking for support, and several months after the dispute had ended. The email still does not give the support asked for. Below we print Scott's response to Emily Thornberry's reply.
Dear Emily Thornberry,
I find this to be a condescending and insufficient response. I wrote to you nearly five months ago, when my colleagues and I were fighting to keep our jobs and stay in our homes. Not only have you responded to me so late as to have completely missed the chance to support us in our struggle, your response does not even contain an offer of support!
You have instead seen fit to talk down to me and spend half your email explaining the definition of fire and rehire and the second half talking about how you've supported a bunch of failed bills. It looks to me like you've done very little at all!
Is this all the Labour Party can offer to working people? I know it may seem remote to you with your MP's salary, but we working people are fighting for our lives out here. Our strike went on for 12 weeks and you did nothing, nor did any of the Labour MPs in any of my colleagues' constituencies, nor the Labour MP of the constituency where our employer is based, nor our Labour mayor of London, nor did one damn councillor lift a finger to help us.
The only elected politician from the Labour Party to actually show up and support us was Jeremy Corbyn, and he was (and still is) suspended from the Parliamentary Labour Party! We live in constituencies with Labour MPs, in wards with Labour-majority councils and in a city with a Labour mayor, but it seems that all the Labour Party can do is pass on cuts from Westminster.
I've voted Labour all my adult life, but, tell me, why should I ever vote Labour again now when the party is apparently unwilling or unable to support the struggles of working people?
The people who did show up to support us were the trade unions, the local community, the renters' unions and housing associations, and the local Socialist Party. It is clear to me now, through your conduct and the conduct of your colleagues, that the Labour Party is beyond hope. It is vital that we build a new mass workers' party that will fight for the interests of working people rather than collaborating with the Tories in Westminster.
Scott Hunter