The Socialist 15 September 2021
Take the wealth off the super-rich to fund: NHS and social care, pay and benefit rises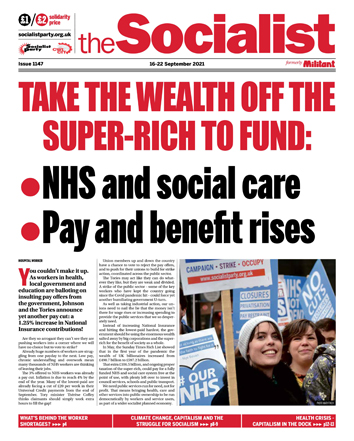 ---
We need a new political party for workers and youth
What's behind the worker shortages, and what can be done about it?
---
Social care plans: A sticking plaster instead of surgery
Hands off the Universal Credit uplift
Unite young and old to defend the pensions triple lock
---
Climate change, capitalism, and the struggle for socialism
---
We won't pay for capitalism's failings
Scrap tuition fees - end university marketisation
Returning to campus: Students need to fight
Campaigning for socialism at Oxford Brookes Uni
Youth Fight for Jobs launches campaign in Brighton
---
NSSN trade union rally reflects working-class anger to fight back
Oaks Park school: Redbridge Labour council backs strike-breaking bullies
Save jobs and services - nationalise rail
Weetabix - workers have had enough
Carmarthenshire Unison: 'Recognise our union!'
Goodlord dispute: Labour's leadership weasled out of backing strike action
---
Take the wealth off the super-rich to fund: NHS and social care, pay and benefit rises
Deaths of despair: Health crisis - capitalism in the dock
On the frontline, and still fighting for the NHS
Solidarity to the striking workers at Charité and Vivantes hospitals in Berlin
---
Putting socialism on the map in Chichester
Reclaiming Pride as protest in Nottingham
Fighting fund target reached: Help us continue to raise our banner and programme
---
Nuclear Folly: A New History of the Cuban Missile Crisis
TV review - Grenfell: The Untold Story
PO Box 1398, Enfield EN1 9GT
020 8988 8777

Link to this page: https://www.socialistparty.org.uk/issue/1147/33023
Home | The Socialist 15 September 2021 | Join the Socialist Party
Subscribe | Donate | Audio | PDF | ebook
Oaks Park school: Redbridge Labour council backs strike-breaking bullies
James Ivens, East London Socialist Party
Illegal strike-breaking, a dossier of testimonials about management bullying, and victimisation of a union rep who fought for Covid safety. Why is the Labour council in Redbridge, east London, still backing bosses at council-run Oaks Park secondary?
Steadfast strikers were back on the picket line from the second week of the new academic year. The National Education Union (NEU) rally on 11 September was even bigger than last term's protest at Redbridge Town Hall.
The strike last term forced the head to call repeated 'sports days' - even enticing former students to cover them with a free lunch. She has now stooped to a new low.
The school apparently called in agency staff to cover the strikers' classes, which is against the law. The NEU alleges that management also falsified the records. The police have received a crime report from the union. No peep from the Labour council.
That same council has received a dossier with harrowing accounts of management bullying, including:
"I had staff almost daily come into my office crying..." "The staff turnover rate is alarming, staff morale at an all-time low..." "I was physically sick on the way to work most days due to anxiety..." "I have never experienced as toxic an atmosphere as the one at Oaks Park..."
These stories - and worse - can be heard on emotional Oaks Park picket lines. It is outrageous, but sadly inevitable, that some stories feature students as well as staff.
Strikers cornered the council's director of education, Colin Stewart, on the 8 September picket line. He denied the avalanche of testimonials amounts to a pattern of bullying!
This is after the chair of governors stood next to bosses accused of bullying and demanded bullied staff explain their allegations.
Meanwhile, sacked union rep Keiran Mahon has still not received justice. He faced dismissal within months of his election.
He and other NEU members had invoked 'Section 44' health-and-safety law at the height of the pandemic. They protected lives by refusing to enter unsafe, packed classrooms and instead taught remotely.
The union makes a clear argument that the supposed case against Keiran is grossly overstated and contradictory. But there has been no serious engagement with this by a school management which put lives at risk during the pandemic.
At the rally on 11 September, Labour was warned. NEU executive and Socialist Party member Louise Cuffaro said: "There are elections coming. Watch out!
"We won't be voting for you. We'll be voting for people from the community, from the trade union movement, who are prepared to stand up and fight back."