The Socialist 15 September 2021
Take the wealth off the super-rich to fund: NHS and social care, pay and benefit rises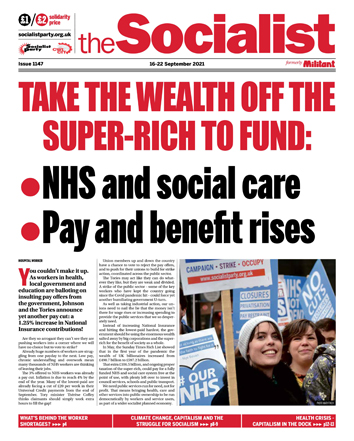 ---
We need a new political party for workers and youth
What's behind the worker shortages, and what can be done about it?
---
Social care plans: A sticking plaster instead of surgery
Hands off the Universal Credit uplift
Unite young and old to defend the pensions triple lock
---
Climate change, capitalism, and the struggle for socialism
---
We won't pay for capitalism's failings
Scrap tuition fees - end university marketisation
Returning to campus: Students need to fight
Campaigning for socialism at Oxford Brookes Uni
Youth Fight for Jobs launches campaign in Brighton
---
NSSN trade union rally reflects working-class anger to fight back
Oaks Park school: Redbridge Labour council backs strike-breaking bullies
Save jobs and services - nationalise rail
Weetabix - workers have had enough
Carmarthenshire Unison: 'Recognise our union!'
Goodlord dispute: Labour's leadership weasled out of backing strike action
---
Take the wealth off the super-rich to fund: NHS and social care, pay and benefit rises
Deaths of despair: Health crisis - capitalism in the dock
On the frontline, and still fighting for the NHS
Solidarity to the striking workers at Charité and Vivantes hospitals in Berlin
---
Putting socialism on the map in Chichester
Reclaiming Pride as protest in Nottingham
Fighting fund target reached: Help us continue to raise our banner and programme
---
Nuclear Folly: A New History of the Cuban Missile Crisis
TV review - Grenfell: The Untold Story
PO Box 1398, Enfield EN1 9GT
020 8988 8777

Link to this page: https://www.socialistparty.org.uk/issue/1147/33028
Home | The Socialist 15 September 2021 | Join the Socialist Party
Subscribe | Donate | Audio | PDF | ebook
Carmarthenshire Unison: 'Recognise our union, now!'
Union members in Plaid Cymru-run Carmarthenshire Council, Wales, are demanding a Trade Union Recognition Agreement (TURA) at Cwm Environmental, which is wholly owned by the council.
To drive home its demand, Unison and GMB members, supported by Swansea Trades Council and the Socialist Party, protested outside County Hall on 9 September.
In its press release, Carmarthenshire Unison said:
"During the protest we didn't see one Plaid councillor. But that is no surprise because they clearly think they can hide behind senior management and put their heads in the sand, hoping the campaign fritters out and doesn't have political ramifications for them and the council they lead.
We have news for them; the campaign will continue until we get a TURA, and if we have anything to do with it there will be political consequences if they maintain what in effect is an anti-trade union stance...
We are not going away until they sign on the dotted line. If you haven't signed our online petition yet please do".
Online petition: bit.ly/ 3z9fuX7