The Socialist 29 September 2021
End profit-fuelled crisis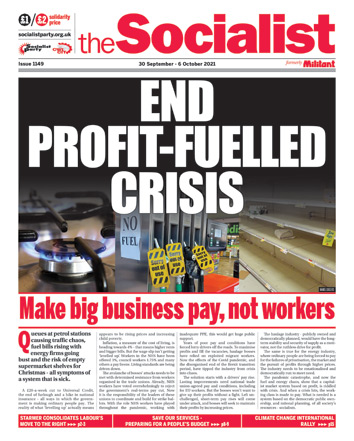 ---
Starmer consolidates post-Corbyn Blairite transformation of Labour
---
German election: A change of capitalist government, but disaster for Die Linke
---
---
NHS workers reject 3% pay insult
Driver shortages - a view from the inside
---
Black history month and its relevance today
---
---
NEU deputy general secretary election
Corby and Burton Latimer Weetabix engineers strike
Fightback to save Birmingham GKN jobs!
Flexibility to suit workers not the bosses
College workers walk out in pay dispute
---
London tenants v greedy contractors
Bromsgrove protest for NHS fair pay
Sabina Nessa vigil: End violence against women
---
More market chaos: York students given digs in Hull
Lots of sign-ups for Socialist Students at freshers
Youth climate protests are back
PO Box 1398, Enfield EN1 9GT
020 8988 8777

Link to this page: https://www.socialistparty.org.uk/issue/1149/33072
Home | The Socialist 29 September 2021 | Join the Socialist Party
Subscribe | Donate | Audio | PDF | ebook
All out for victory - fightback to save Birmingham GKN jobs!
Birmingham Socialist Party members
Rank-and-file members of Unite in the Chester Road GKN workforce in Erdington, Birmingham have voted overwhelmingly for an all-out strike. 95% of the 500-strong workforce voted 'yes' against plans by vulture-capitalists Melrose, who plan to shut down and ship the jobs abroad.
The strike has now been suspended until 18 October, following Melrose pausing the removal of machinery and operations from Chester Road. GKN Driveline workers will want to see firm guarantees over the plant remaining open before the strike is called off completely. The threat of action has already brought previously hard-nosed Melrose management to the table.
We believe any potential deal should be put to Unite members at GKN for full debate and discussion before being settled. But Melrose won't give them five minutes to hear the detailed alternative plans to save the plant, British automotive manufacturing and working-class communities.
Parliamentary motions, rallies, lobbying and an extremely detailed and innovative 90-page alternative production plan for a green-automotive transition were put forward, but were all ignored and dismissed by the asset strippers Melrose.
If workers have to flex their industrial muscles through collective industrial action then so be it. If the pandemic has shown us anything, it's that these key workers are the ones who really keep factories and other workplaces running, not investment managers.
The Socialist Party says GKN and Melrose Industries need to open the books and have the accounts reviewed democratically and transparently by Unite and rank-and-file workers, to truly see what resources are available and where the money is going.
It was only two years ago, in preparation for their hostile takeover of GKN, that the top brass of Melrose received large 'incentive packages'. The top four executives received £41.7 million each, equalling an eye-watering total of £166.8 million! It's not like top management aren't raking in some healthy looking salaries already: Melrose CEO Simon Peckham receiving a pay packet of £976,000 in 2019. This is even more of a slap in the face when you consider that the Chester Road plant is situated in Erdington, with a climbing unemployment rate of 12.5%.
So it goes without saying this closure will not just be devastating to the workforce but a huge blow to this working-class community as a whole - as we all know when these type of jobs go, they never come back. Birmingham Socialist Party members have seen the immense local community support from the people of Erdington and North Birmingham to keep the plant open when we've been campaigning to save the GKN plant high street stalls near the factory.
As Frank Duffy, Unite convenor at the Chester plant states:
"Birmingham has been here before. When the massive Rover factory at Longbridge closed in 2005 the impact was felt for years. Unite's predecessor union, Amicus, supported research which showed that despite 90% of the workers finding alternative employment, 66% were financially worse off, average incomes fell by more than £6,000 and 25% reported being in debt or being reliant on savings to get by."
We fully support the alternative production plan drawn up by GKN reps tapping into the decades of on-site experience to both save costs and help kick up a 'green revolution' for more sustainable cars and transitioning the sector as whole, echoing the spirit of the 1976 Lucas Plan to convert and retrofit Lucas Aerospace plants for socially beneficial production. Democratic workers' control and management, with all the years of collective experience, will be what can save the British automobile industry, not the greed of shareholders hell-bent on asset stripping. The only long-term solution is to nationalise the industry.
Sharon Graham, with the support of the Socialist Party, was recently elected Unite general secretary on a promise to "immediately ramp up the resource required to defend jobs, fight cuts and protect pay". Now is the time to turn these words into action, with the building of a mass campaign throughout the Birmingham community and further afield, applying pressure on both Melrose and companies involved in the wider supply chain.
---
In this issue
---
What we think

Starmer consolidates post-Corbyn Blairite transformation of Labour
---
International

German election: A change of capitalist government, but disaster for Die Linke
---
People's budgets

Save our services
---
News

End profit-fuelled crisis

NHS workers reject 3% pay insult

Driver shortages - a view from the inside

News in brief
---
Black history month

Black history month and its relevance today
---
Climate change

CWI livestream rally report
---
Workplace news

NEU deputy general secretary election

Corby and Burton Latimer Weetabix engineers strike

Fightback to save Birmingham GKN jobs!

Flexibility to suit workers not the bosses

College workers walk out in pay dispute
---
Campaigns

London tenants v greedy contractors

Bromsgrove protest for NHS fair pay

Sabina Nessa vigil: End violence against women
---
Youth and Students

Join the fight for our future

Sunak's student special

More market chaos: York students given digs in Hull

Lots of sign-ups for Socialist Students at freshers

Youth climate protests are back
---
Home | The Socialist 29 September 2021 | Join the Socialist Party