The Socialist 29 September 2021
End profit-fuelled crisis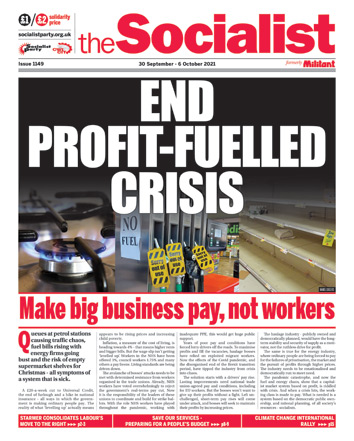 ---
Starmer consolidates post-Corbyn Blairite transformation of Labour
---
German election: A change of capitalist government, but disaster for Die Linke
---
---
NHS workers reject 3% pay insult
Driver shortages - a view from the inside
---
Black history month and its relevance today
---
---
NEU deputy general secretary election
Corby and Burton Latimer Weetabix engineers strike
Fightback to save Birmingham GKN jobs!
Flexibility to suit workers not the bosses
College workers walk out in pay dispute
---
London tenants v greedy contractors
Bromsgrove protest for NHS fair pay
Sabina Nessa vigil: End violence against women
---
More market chaos: York students given digs in Hull
Lots of sign-ups for Socialist Students at freshers
Youth climate protests are back
PO Box 1398, Enfield EN1 9GT
020 8988 8777

Link to this page: https://www.socialistparty.org.uk/issue/1149/33075
Home | The Socialist 29 September 2021 | Join the Socialist Party
Subscribe | Donate | Audio | PDF | ebook
Corby and Burton Latimer Weetabix engineers strike against fire-and-rehire pay cut
Heather Rawling, Leicester Socialist Party
Engineers at Weetabix worked throughout the pandemic to feed the nation. Weetabix profits increased by nearly 20% to £81 million in 2020, yet the company is intent on using 'fire and rehire' to drive down wages and conditions.
"We were expecting this," Corby pickets told the Socialist Party. Weetabix was taken over by Post Holdings in 2017 for £1.4 billion. Soon after, consultants were brought in to streamline the operation. Engineers, members of Unite the Union, say that the company didn't talk to the workers on the shopfloor, who have a much better idea of how the plant operates. "It was clear that something was coming down the line and it wouldn't be for our benefit."
Sure enough, management put plans forward to fire and rehire the engineers. Changes to shift and working practices will mean that workers will be up to £5,000 a year worse off. Pickets were also concerned about health and safety, as fewer engineers would be on site at any one time, and they are already straining to complete maintenance and repair jobs adequately.
There was plenty of conversation on the Corby picket line. Older workers reminisced about the struggle to save the steelworks and the "good old seventies" when unions held more sway. This was the first 48-hour strike in a series of weekly strikes due to finish at the end of November.
Solidarity action by all workers facing fire and rehire would send a strong signal of resistance to employers thinking of going down the same route. As one picket said, we are not just fighting for ourselves, we are fighting for everyone.
---
Northampton Socialist Party:
Northampton Socialist Party members visited the second morning of strike action at Burton Latimer Weetabix factory on 22 September. We were greeted by workers who were dividing their forces to cover the two entrances. The mood was high-spirited, with car horns constantly sounding support for the workers on strike.
The support included workers from the adjacent factory shouting solidarity greetings from their cars as they left their shifts. According to Weetabix workers, the neighbouring company had tried similar tactics on its workforce and was met with industrial action.
One Weetabix worker told us the factory is cutting engineers by half. This is overwhelmingly a safety issue, as it is the engineers who maintain the machinery and ensure that it is running as it should. He explained that there had been no changes to warrant these cut backs, and that the remaining engineers will need to work harder to make up the shortfall.
The entire workforce continued working through the pandemic, and were dismayed that the company bosses are 'thanking' them with fire-and-rehire tactics, especially as the company has, by all accounts, maintained profits. We remarked on the similarity of the tactics used by the Weetabix bosses to those used against Banbury workers by Douwe Egberts. Similarly, the majority of the staff are long-term dedicated workers who had one key message to the Weetabix management: "Treat us fairly to get what you want out of us."
---
In this issue
---
What we think

Starmer consolidates post-Corbyn Blairite transformation of Labour
---
International

German election: A change of capitalist government, but disaster for Die Linke
---
People's budgets

Save our services
---
News

End profit-fuelled crisis

NHS workers reject 3% pay insult

Driver shortages - a view from the inside

News in brief
---
Black history month

Black history month and its relevance today
---
Climate change

CWI livestream rally report
---
Workplace news

NEU deputy general secretary election

Corby and Burton Latimer Weetabix engineers strike

Fightback to save Birmingham GKN jobs!

Flexibility to suit workers not the bosses

College workers walk out in pay dispute
---
Campaigns

London tenants v greedy contractors

Bromsgrove protest for NHS fair pay

Sabina Nessa vigil: End violence against women
---
Youth and Students

Join the fight for our future

Sunak's student special

More market chaos: York students given digs in Hull

Lots of sign-ups for Socialist Students at freshers

Youth climate protests are back
---
Home | The Socialist 29 September 2021 | Join the Socialist Party