The Socialist 29 September 2021
End profit-fuelled crisis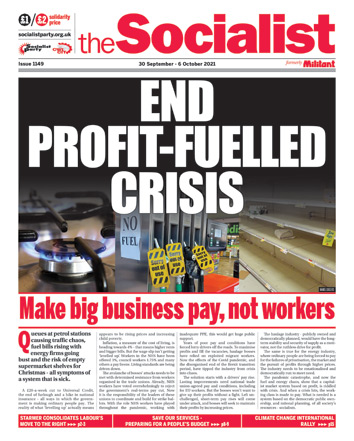 ---
Starmer consolidates post-Corbyn Blairite transformation of Labour
---
German election: A change of capitalist government, but disaster for Die Linke
---
---
NHS workers reject 3% pay insult
Driver shortages - a view from the inside
---
Black history month and its relevance today
---
---
NEU deputy general secretary election
Corby and Burton Latimer Weetabix engineers strike
Fightback to save Birmingham GKN jobs!
Flexibility to suit workers not the bosses
College workers walk out in pay dispute
---
London tenants v greedy contractors
Bromsgrove protest for NHS fair pay
Sabina Nessa vigil: End violence against women
---
More market chaos: York students given digs in Hull
Lots of sign-ups for Socialist Students at freshers
Youth climate protests are back
PO Box 1398, Enfield EN1 9GT
020 8988 8777

Link to this page: https://www.socialistparty.org.uk/issue/1149/33079
Home | The Socialist 29 September 2021 | Join the Socialist Party
Subscribe | Donate | Audio | PDF | ebook
More market chaos: York students given digs in Hull
Over 100 incoming University of York students have been burdened with a 72-mile round trip between the university and their accommodation. Less than a month before beginning their courses, they were informed that "there are no available rooms across the city of York, either on or off campus", and were instead given rooms in Hull.
There have been similar problems in Bristol and elsewhere. This promises huge disruption at a crucial point of the university experience.
Decreased public spending and the increasing encroachment of market forces into higher education have driven imbalances in admissions across universities. As tuition fees form a progressively greater majority of their income, universities compete to attract as many students as possible.
This leads to wealthier and more prestigious institutions becoming oversubscribed, while many others struggle to meet admission quotas. Covid has further deepened the tension between the financial interests of a university and the wellbeing of its students and staff.
Oversubscription also adds to the already increasing workloads of university staff, without a corresponding rise in pay. The same market forces driving oversubscription push attacks on pay and pensions and widespread casualisation. These, along with pay inequality, form the foundation of the 'four fights' dispute by the University and College Union.
We must oppose marketisation, and fight for an education sector which is adequately funded and democratically run according to the interests of staff and students.
Ali Mansfield, York Socialist Students
---
In this issue
---
What we think

Starmer consolidates post-Corbyn Blairite transformation of Labour
---
International

German election: A change of capitalist government, but disaster for Die Linke
---
People's budgets

Save our services
---
News

End profit-fuelled crisis

NHS workers reject 3% pay insult

Driver shortages - a view from the inside

News in brief
---
Black history month

Black history month and its relevance today
---
Climate change

CWI livestream rally report
---
Workplace news

NEU deputy general secretary election

Corby and Burton Latimer Weetabix engineers strike

Fightback to save Birmingham GKN jobs!

Flexibility to suit workers not the bosses

College workers walk out in pay dispute
---
Campaigns

London tenants v greedy contractors

Bromsgrove protest for NHS fair pay

Sabina Nessa vigil: End violence against women
---
Youth and Students

Join the fight for our future

Sunak's student special

More market chaos: York students given digs in Hull

Lots of sign-ups for Socialist Students at freshers

Youth climate protests are back
---
Home | The Socialist 29 September 2021 | Join the Socialist Party