The Socialist 29 September 2021
End profit-fuelled crisis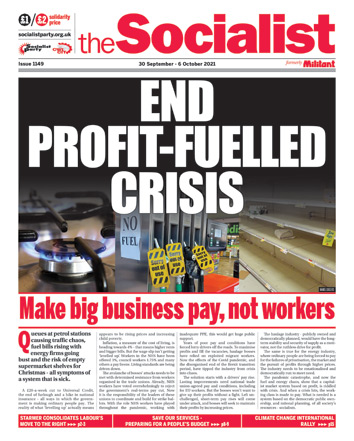 ---
Starmer consolidates post-Corbyn Blairite transformation of Labour
---
German election: A change of capitalist government, but disaster for Die Linke
---
---
NHS workers reject 3% pay insult
Driver shortages - a view from the inside
---
Black history month and its relevance today
---
---
NEU deputy general secretary election
Corby and Burton Latimer Weetabix engineers strike
Fightback to save Birmingham GKN jobs!
Flexibility to suit workers not the bosses
College workers walk out in pay dispute
---
London tenants v greedy contractors
Bromsgrove protest for NHS fair pay
Sabina Nessa vigil: End violence against women
---
More market chaos: York students given digs in Hull
Lots of sign-ups for Socialist Students at freshers
Youth climate protests are back
PO Box 1398, Enfield EN1 9GT
020 8988 8777

Link to this page: https://www.socialistparty.org.uk/issue/1149/33080
Home | The Socialist 29 September 2021 | Join the Socialist Party
Subscribe | Donate | Audio | PDF | ebook
Sabina Nessa vigil: Enough is enough - end violence against women
Six months and here we are again, remembering another woman murdered. That was one of the big emotions on the vigil for Sabina Nessa near her home in Kidbrooke, south London.
The Socialist Party leaflet read: 'Enough is enough - end violence against women'. Many people wanted our leaflets, and some requested posters saying they would put them in their windows.
Women face violence at alarming levels, both inside and outside the home, in education, and at work. Although, this time, we didn't face the same violence from police which we saw at the vigils and protests for Sarah Everard.
Many will ask, what has actually been done to oppose violence against women? Local authorities continue to cut refuges services, turn off street lighting and let women live in violent homes.
The Tories are removing the £20-a-week Universal Credit increase which will leave many women out of pocket. One of the speakers linked the cuts to services women rely on and inequality in society with the demand to end to violence against women.
The anger and grief was palpable. Let's use it to build a movement to challenge and end all violence against women, and fight for a real alternative to the vicious sexist and oppressive system of capitalism.
Helen Pattison, London Socialist Party regional secretary
---
In this issue
---
What we think

Starmer consolidates post-Corbyn Blairite transformation of Labour
---
International

German election: A change of capitalist government, but disaster for Die Linke
---
People's budgets

Save our services
---
News

End profit-fuelled crisis

NHS workers reject 3% pay insult

Driver shortages - a view from the inside

News in brief
---
Black history month

Black history month and its relevance today
---
Climate change

CWI livestream rally report
---
Workplace news

NEU deputy general secretary election

Corby and Burton Latimer Weetabix engineers strike

Fightback to save Birmingham GKN jobs!

Flexibility to suit workers not the bosses

College workers walk out in pay dispute
---
Campaigns

London tenants v greedy contractors

Bromsgrove protest for NHS fair pay

Sabina Nessa vigil: End violence against women
---
Youth and Students

Join the fight for our future

Sunak's student special

More market chaos: York students given digs in Hull

Lots of sign-ups for Socialist Students at freshers

Youth climate protests are back
---
Home | The Socialist 29 September 2021 | Join the Socialist Party