The Socialist 29 September 2021
End profit-fuelled crisis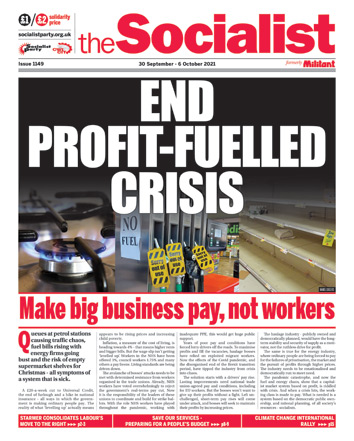 ---
Starmer consolidates post-Corbyn Blairite transformation of Labour
---
German election: A change of capitalist government, but disaster for Die Linke
---
---
NHS workers reject 3% pay insult
Driver shortages - a view from the inside
---
Black history month and its relevance today
---
---
NEU deputy general secretary election
Corby and Burton Latimer Weetabix engineers strike
Fightback to save Birmingham GKN jobs!
Flexibility to suit workers not the bosses
College workers walk out in pay dispute
---
London tenants v greedy contractors
Bromsgrove protest for NHS fair pay
Sabina Nessa vigil: End violence against women
---
More market chaos: York students given digs in Hull
Lots of sign-ups for Socialist Students at freshers
Youth climate protests are back
PO Box 1398, Enfield EN1 9GT
020 8988 8777

Link to this page: https://www.socialistparty.org.uk/issue/1149/33081
Home | The Socialist 29 September 2021 | Join the Socialist Party
Subscribe | Donate | Audio | PDF | ebook
Bromsgrove protest for NHS fair pay
Kevin Greenway, Birmingham South West Socialist Party
On Saturday 12 September, I spotted in the Bromsgrove Advertiser that a Nurses United protest was taking place in Bromsgrove at Tory Health Minister Sajid Javid's party office. That was it; down I went to be met by the best and liveliest protest in the town for a long time. Nurses travelled from Essex, Northampton, Lincoln and Brighton. Local nurses and retired nurses turned out as well, plus Acorn activists and a Socialist Party member from Birmingham.
They were a brilliant, inspirational group, and are up for the fight for fair pay. The 15% demand was prominent. Nurses United had written to Sajid Javid but without reply. Some activists went into Wetherspoons and got the public to write their views about the NHS on placards, which were then left for Javid to see.
On 17 September, local nurses went to Javid's office again, but there was no reply.
We moved to the high street, including four of us from the Socialist Party, where we helped distribute their leaflets. We got a great response from the public and gratitude from the nurses for bothering to help.
When two of the nurses returned to their cars after the stall, they saw a police presence outside Javid's office. There'd been no hint of trouble at either protest, but it seems the Tories thought more about getting police there than meeting nurses.
We are now planning more high street activity with the local nurses and other activists.
---
In this issue
---
What we think

Starmer consolidates post-Corbyn Blairite transformation of Labour
---
International

German election: A change of capitalist government, but disaster for Die Linke
---
People's budgets

Save our services
---
News

End profit-fuelled crisis

NHS workers reject 3% pay insult

Driver shortages - a view from the inside

News in brief
---
Black history month

Black history month and its relevance today
---
Climate change

CWI livestream rally report
---
Workplace news

NEU deputy general secretary election

Corby and Burton Latimer Weetabix engineers strike

Fightback to save Birmingham GKN jobs!

Flexibility to suit workers not the bosses

College workers walk out in pay dispute
---
Campaigns

London tenants v greedy contractors

Bromsgrove protest for NHS fair pay

Sabina Nessa vigil: End violence against women
---
Youth and Students

Join the fight for our future

Sunak's student special

More market chaos: York students given digs in Hull

Lots of sign-ups for Socialist Students at freshers

Youth climate protests are back
---
Home | The Socialist 29 September 2021 | Join the Socialist Party