The Socialist 13 October 2021
Fight for the pay rise we deserve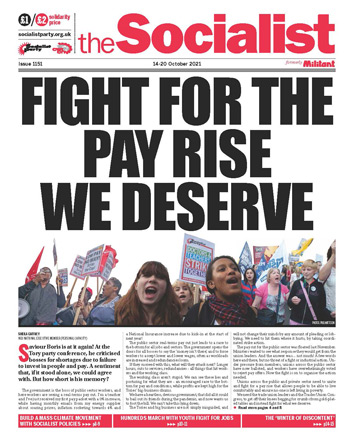 ---
Fight for the pay rise we deserve
---
Cynical Johnson government no friend of workers
---
Pandora property speculators fuel housing crisis
Social care funding needed now
---
Who runs Unison: lay members or the paid officials?
Place Unite at the head of the anti-Tory movement
Oaks Park pickets vote for more strikes to defeat bullies
National Education Union deputy general secretary election
College strikes continue into third week
60 steelworks scaffs march in second week of all-out strike
DVLA: Workers ballot on further strike action
---
Build a mass working-class climate movement with socialist policies
---
Hundreds march with Youth Fight for Jobs
---
The 'winter of discontent' - When workers could take no more
---
Hackney: Stop closure of children's centres
Durning Hall: Hands off our community space
March to save Stratford arts jobs from Newham Labour attacks
---
Newcastle United takeover - no to billionaire Ashley or Saudi despots
Ridley Road: An engaging story of fighting fascism
PO Box 1398, Enfield EN1 9GT
020 8988 8777

Link to this page: https://www.socialistparty.org.uk/issue/1151/33142
Home | The Socialist 13 October 2021 | Join the Socialist Party
Subscribe | Donate | Audio | PDF | ebook
Editorial of the Socialist issue 1151
Cynical Johnson government no friend of workers
In September, the Tories briefly dipped below Labour in opinion polls as workers faced a winter of Tory rule featuring pay restraint, soaring prices, tax hikes and shortages. Boris Johnson's Tory Party conference speech was the inevitable response - a cynical attempt to try to win back electoral support by claiming, without any evidence, to be fighting for higher wages for workers.
Tell that to the millions of public sector workers who, after a decade of pay restraint imposed by Tory governments, have now been told that they are to suffer a post-pandemic real-terms pay cut at the hands of Johnson's government, with the national insurance hike on top. Nor will the 40% of Universal Credit claimants who work, but don't earn enough to make ends meet, believe the Tories' ludicrous claims that taking £20 a week in benefits from their pockets will encourage their bosses to increase wages. Joining a trade union and organising collective action is the only effective means to achieve that.
Pandora papers
Johnson's government is no friend of workers - its first queen's speech announced plans to "break the stranglehold of the trade unions", in other words to introduce new laws to try to prevent workers taking strike action to fight for better pay and conditions. The Tories' real friends were shown in the Pandora papers revelations, which include numerous examples of tax avoidance and corruption by many of the oligarchs and property tycoons who regularly donate to the Tory coffers.
Nonetheless, Johnson's right-wing populist speech, which blithely ignored the numerous crises facing the government, added to the growing disquiet of much of big business, and fuelled their conviction that the current Tory leadership is incapable of reliably representing their interests.
It also deepened the divisions in the parliamentary Tory party, with anonymous ministers briefing the press that Britain "faces a nightmare by Christmas". As that nightmare develops the splits in this weak government are likely to widen dramatically.
The potential will also exist for a millions-strong, trade-union led movement against the nightmare of post-Covid Tory austerity. If the trade union leaders build such a movement neither the Tories' current majority in parliament, nor Johnson's warm words about workers' wages, could protect them from being forced out of office.
In reality, it is not Johnson's populist posturing that is the main force which has so far prevented the Tories sliding further in the polls, but the uselessness of the Labour opposition. At Labour Party conference the leadership refused to support the call for a £15 an-hour minimum wage, which would be a real way to 'level up' workers. Instead Keir Starmer focused on jettisoning the remnants of Corbyn's manifesto and driving through anti-democratic measures, with the aim of blocking off the possibility of the left again gaining any influence within Labour.
Starmer's response to Tory party conference was to see the disquiet of the capitalist class at Johnson's populism, and to put in yet another job application for Labour to replace the Tories as the main party of big business in Britain. Labour aides told the Financial Times that, post both party conferences, business donors 'old and new' were now returning to give money to what has become a revived Tony Blair-style New Labour Party.
As the Tories and Starmer's Labour via for donations from the capitalist elite, the need for working-class people to start to build their own party is urgently posed. This is particularly the case after the BFAWU bakers' union disaffiliated from Labour during Labour's conference and as Unite meets in its conference, the first since the election of Sharon Graham as general secretary.
That is why the Socialist Party takes part in the Trade Unionist and Socialist Coalition, alongside the transport workers' union, the RMT, and other socialists and trade unionists, in order to provide a banner under which workers can contest elections as a first step towards building a mass party that really does stand in the interests of the working class.
---
In this issue
---
We need a pay rise!

Fight for the pay rise we deserve

Workers need a pay rise
---
What we think

Cynical Johnson government no friend of workers
---
News

Pandora property speculators fuel housing crisis

Social care funding needed now

News in brief
---
Workplace news

Who runs Unison: lay members or the paid officials?

Place Unite at the head of the anti-Tory movement

Oaks Park pickets vote for more strikes to defeat bullies

National Education Union deputy general secretary election

College strikes continue into third week

60 steelworks scaffs march in second week of all-out strike

DVLA: Workers ballot on further strike action
---
COP26

Build a mass working-class climate movement with socialist policies
---
Youth Fight for Jobs

Hundreds march with Youth Fight for Jobs
---
Winter of Discontent

The 'winter of discontent' - When workers could take no more
---
Campaigns news

Hackney: Stop closure of children's centres

Durning Hall: Hands off our community space

March to save Stratford arts jobs from Newham Labour attacks
---
Readers' opinion

Newcastle United takeover - no to billionaire Ashley or Saudi despots

Ridley Road: An engaging story of fighting fascism

Readers' comments
---
Home | The Socialist 13 October 2021 | Join the Socialist Party