The Socialist 13 October 2021
Fight for the pay rise we deserve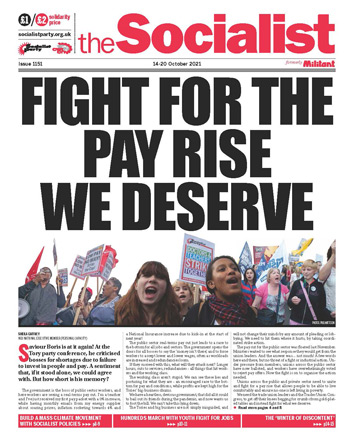 ---
Fight for the pay rise we deserve
---
Cynical Johnson government no friend of workers
---
Pandora property speculators fuel housing crisis
Social care funding needed now
---
Who runs Unison: lay members or the paid officials?
Place Unite at the head of the anti-Tory movement
Oaks Park pickets vote for more strikes to defeat bullies
National Education Union deputy general secretary election
College strikes continue into third week
60 steelworks scaffs march in second week of all-out strike
DVLA: Workers ballot on further strike action
---
Build a mass working-class climate movement with socialist policies
---
Hundreds march with Youth Fight for Jobs
---
The 'winter of discontent' - When workers could take no more
---
Hackney: Stop closure of children's centres
Durning Hall: Hands off our community space
March to save Stratford arts jobs from Newham Labour attacks
---
Newcastle United takeover - no to billionaire Ashley or Saudi despots
Ridley Road: An engaging story of fighting fascism
PO Box 1398, Enfield EN1 9GT
020 8988 8777

Link to this page: https://www.socialistparty.org.uk/issue/1151/33147
Home | The Socialist 13 October 2021 | Join the Socialist Party
Subscribe | Donate | Audio | PDF | ebook
Unite policy conference 2021
Place Unite at the head of the anti-Tory movement with militant policies and action
Kevin Parslow, Unite conference delegate (personal capacity)
It is 40 months since Unite's last policy conference in July 2018 and, in that time, the world has been shaken about. Gone are the hopes of a left Labour government led by Jeremy Corbyn, who was backed by Unite. We still have the Tories in office, now led by Boris Johnson, who have left the European Union but failed to solve the problems of working people. For much of this period, and the reason for the delay of this conference from the summer of 2020, society has been gripped by the Covid pandemic.
Unfortunately, the pandemic saw many trade union leaders fall into the trap of backing a false 'national unity'. This has led to the Tories feeling confident to attack the working class, through pay freezes, rises in tax and national insurance, and the ending of schemes, to make us pay for the pandemic. However, this confidence is misplaced given the anger in the ranks of the trade unions.
The election of Sharon Graham as Unite general secretary has had an electrifying effect. Now Unite will take bosses head on over 'fire and rehire', and has received overwhelming support for action against the effective pay freeze in the NHS and local government, as shown by the results of the recent consultative ballots.
The resolutions before conference were originally drafted in early 2020, pre-pandemic. Proposing bodies had the chance to update them and submit amendments. But some give the impression, before it was clear the direction of the Labour leadership following Corbyn, that a future Labour government could carry out Unite's programme.
However, September's Labour Party conference has closed the door on the opportunities created by Jeremy Corbyn's leadership for achieving working-class political representation within the Labour framework. The measures pushed through conference consolidated Keir Starmer's ruthless driving out of Jeremy and many of his supporters - including the suspension of former Unite union representative on Labour's NEC, Howard Beckett, and auto-expulsion of BFAWU bakers' union president Ian Hodson. This cemented the aim of the Blairite right wing to remove the anti-austerity, pro-working class programme Jeremy stood for. Such resolutions therefore raise the question of how Unite policies will be fought for and implemented. This is fundamentally what the idea of 'workers' politics' should be confronting.
Fortunately, a number of resolutions and composites in the 'social action' section clearly pose the question of taking on any council, including Labour ones, that carries out cuts and attacks the jobs of Unite members. A fighting campaign on this, alongside other unions and the local communities, could force councils to backtrack. Linked to this should be Sharon Graham's recent proposal that Unite back anti-cuts candidates in local elections. This could be broadened out to fight across society for socialist policies.
The policy conference must also be used as a means of getting together all those who wish to fight for the manifesto Sharon Graham was elected on and take Unite forward. A new left organisation is necessary to fight for those policies to be implemented. Recent meetings in regions and online have shown the potential for such a new grouping, which could include supporters of other candidates who were prepared to back such a programme.
This conference should place Unite at the head of the anti-Tory movement, but with militant policies and action. It should build on the record of Len McCluskey, which took Unite forward, and develop the programme necessary to deal with the challenges of the post-pandemic capitalist world and fight for socialist change.
Socialist Party fringe meeting: Building a fighting left in Unite
Tuesday 19 October at 5.30pm, Suite 1 Jurys Inn, Keel Wharf (opposite the ACC Arena), Liverpool
---
In this issue
---
We need a pay rise!

Fight for the pay rise we deserve

Workers need a pay rise
---
What we think

Cynical Johnson government no friend of workers
---
News

Pandora property speculators fuel housing crisis

Social care funding needed now

News in brief
---
Workplace news

Who runs Unison: lay members or the paid officials?

Place Unite at the head of the anti-Tory movement

Oaks Park pickets vote for more strikes to defeat bullies

National Education Union deputy general secretary election

College strikes continue into third week

60 steelworks scaffs march in second week of all-out strike

DVLA: Workers ballot on further strike action
---
COP26

Build a mass working-class climate movement with socialist policies
---
Youth Fight for Jobs

Hundreds march with Youth Fight for Jobs
---
Winter of Discontent

The 'winter of discontent' - When workers could take no more
---
Campaigns news

Hackney: Stop closure of children's centres

Durning Hall: Hands off our community space

March to save Stratford arts jobs from Newham Labour attacks
---
Readers' opinion

Newcastle United takeover - no to billionaire Ashley or Saudi despots

Ridley Road: An engaging story of fighting fascism

Readers' comments
---
Home | The Socialist 13 October 2021 | Join the Socialist Party