The Socialist 13 October 2021
Fight for the pay rise we deserve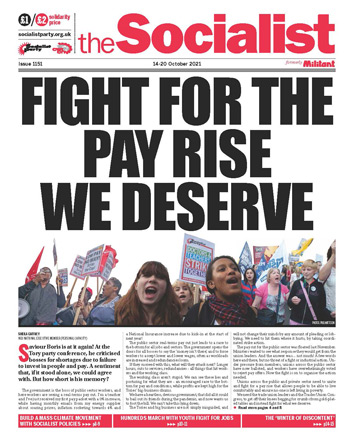 ---
Fight for the pay rise we deserve
---
Cynical Johnson government no friend of workers
---
Pandora property speculators fuel housing crisis
Social care funding needed now
---
Who runs Unison: lay members or the paid officials?
Place Unite at the head of the anti-Tory movement
Oaks Park pickets vote for more strikes to defeat bullies
National Education Union deputy general secretary election
College strikes continue into third week
60 steelworks scaffs march in second week of all-out strike
DVLA: Workers ballot on further strike action
---
Build a mass working-class climate movement with socialist policies
---
Hundreds march with Youth Fight for Jobs
---
The 'winter of discontent' - When workers could take no more
---
Hackney: Stop closure of children's centres
Durning Hall: Hands off our community space
March to save Stratford arts jobs from Newham Labour attacks
---
Newcastle United takeover - no to billionaire Ashley or Saudi despots
Ridley Road: An engaging story of fighting fascism
PO Box 1398, Enfield EN1 9GT
020 8988 8777

Link to this page: https://www.socialistparty.org.uk/issue/1151/33148
Home | The Socialist 13 October 2021 | Join the Socialist Party
Subscribe | Donate | Audio | PDF | ebook
Oaks Park pickets vote for more strikes to defeat bullies
James Ivens, East London Socialist Party
Strikers at Oaks Park secondary school in Redbridge, east London, have told bosses they'll fight bullying till the bitter end.
Pickets voted on extending action on the morning of 12 October, day 18 of the strike. The result: unanimous, to seek authorisation from the National Education Union (NEU) for a further nine days.
This escalation followed the employer's last-minute withdrawal from talks with no clear explanation. A potential settlement to the dispute had been in sight.
The strike's first victory was last term. It secured jobs for two workers victimised for protecting health and safety during the second wave. They had used 'Section 44' rights to stay away from the Covid-unsafe school, instead working from home.
The second issue, still at stake, is victimisation of NEU rep Keiran Mahon. Keiran also invoked Section 44. He was a local leader in the national movement to keep schools safe. A resolution appeared possible here until bosses shut down talks again.
The final issue, underlying health-and-safety victimisations, is a culture of bullying. The strike has forced a truculent Labour council to appoint an 'independent' investigator here - but he needs agreement on terms from both the union and the bullying head.
Meanwhile, the Employment Agency Standards Inspectorate is investigating Remedy Recruitment to see if it has committed a criminal act in supplying labour during an official strike. The NEU accuses Oaks Park school management of aiding and abetting this. Any teacher accused of such would immediately be suspended pending investigation.
The council told the union the school was appointing an independent investigator on this issue. Incredibly, however, the school has appointed one of its own governors!
School and council bosses will have been hoping for the strike to 'go away' by half term. A further nine days will take the action beyond the break. It's still going strong, with another worker joining for the first time on 12 October. Strikers plan another demonstration on 16 October.
Redbridge's 'Labour' council is still, in effect, colluding with a bullying and strike-breaking school management. This ongoing scandal shows the need for independent trade union and community candidates in the May 2022 elections.
---
In this issue
---
We need a pay rise!

Fight for the pay rise we deserve

Workers need a pay rise
---
What we think

Cynical Johnson government no friend of workers
---
News

Pandora property speculators fuel housing crisis

Social care funding needed now

News in brief
---
Workplace news

Who runs Unison: lay members or the paid officials?

Place Unite at the head of the anti-Tory movement

Oaks Park pickets vote for more strikes to defeat bullies

National Education Union deputy general secretary election

College strikes continue into third week

60 steelworks scaffs march in second week of all-out strike

DVLA: Workers ballot on further strike action
---
COP26

Build a mass working-class climate movement with socialist policies
---
Youth Fight for Jobs

Hundreds march with Youth Fight for Jobs
---
Winter of Discontent

The 'winter of discontent' - When workers could take no more
---
Campaigns news

Hackney: Stop closure of children's centres

Durning Hall: Hands off our community space

March to save Stratford arts jobs from Newham Labour attacks
---
Readers' opinion

Newcastle United takeover - no to billionaire Ashley or Saudi despots

Ridley Road: An engaging story of fighting fascism

Readers' comments
---
Home | The Socialist 13 October 2021 | Join the Socialist Party