The Socialist 13 October 2021
Fight for the pay rise we deserve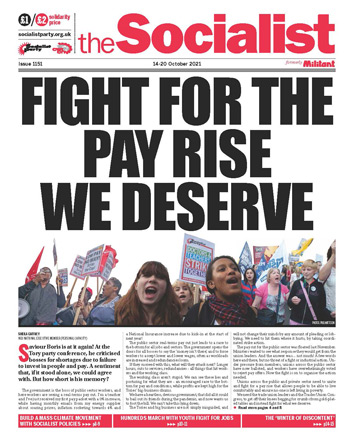 ---
Fight for the pay rise we deserve
---
Cynical Johnson government no friend of workers
---
Pandora property speculators fuel housing crisis
Social care funding needed now
---
Who runs Unison: lay members or the paid officials?
Place Unite at the head of the anti-Tory movement
Oaks Park pickets vote for more strikes to defeat bullies
National Education Union deputy general secretary election
College strikes continue into third week
60 steelworks scaffs march in second week of all-out strike
DVLA: Workers ballot on further strike action
---
Build a mass working-class climate movement with socialist policies
---
Hundreds march with Youth Fight for Jobs
---
The 'winter of discontent' - When workers could take no more
---
Hackney: Stop closure of children's centres
Durning Hall: Hands off our community space
March to save Stratford arts jobs from Newham Labour attacks
---
Newcastle United takeover - no to billionaire Ashley or Saudi despots
Ridley Road: An engaging story of fighting fascism
PO Box 1398, Enfield EN1 9GT
020 8988 8777

Link to this page: https://www.socialistparty.org.uk/issue/1151/33151
Home | The Socialist 13 October 2021 | Join the Socialist Party
Subscribe | Donate | Audio | PDF | ebook
60 steelworks scaffs march in second week of all-out strike
Alistair Tice, Yorkshire Socialist Party
The second week of the all-out strike by Unite the Union, involving around 60 scaffolders, got off to a flying start. An early morning march around the British Steel Scunthorpe site on 11 October went from one main gate and picket line to another, to the admin offices and into the town centre.
The scaffs have been in dispute since 2019, fighting to get the national industry (NAECI) rate for the job, which would mean a 10-15% pay rise. They took significant strike action earlier this year under previous contractor Brand, and now are striking against their new contractor Actavo, and behind them the Jingye Group, the Chinese multinational owners of British Steel since March 2020.
So far the bosses haven't shifted because they know that hundreds of other trades and contractors on site are paid less than the Blue Book rates, and a victory for the scaffs would breach the dam to a flood of claims.
But the strikers are determined and confident, as many of the health and safety 'tags' on their scaffolding are starting to expire, and most other firms' scaffs are not crossing the picket lines or won't do Actavo work.
The march has emboldened the strikers, who had already extended their picketing hours and will now organise further protests to win their dispute.
---
In this issue
---
We need a pay rise!

Fight for the pay rise we deserve

Workers need a pay rise
---
What we think

Cynical Johnson government no friend of workers
---
News

Pandora property speculators fuel housing crisis

Social care funding needed now

News in brief
---
Workplace news

Who runs Unison: lay members or the paid officials?

Place Unite at the head of the anti-Tory movement

Oaks Park pickets vote for more strikes to defeat bullies

National Education Union deputy general secretary election

College strikes continue into third week

60 steelworks scaffs march in second week of all-out strike

DVLA: Workers ballot on further strike action
---
COP26

Build a mass working-class climate movement with socialist policies
---
Youth Fight for Jobs

Hundreds march with Youth Fight for Jobs
---
Winter of Discontent

The 'winter of discontent' - When workers could take no more
---
Campaigns news

Hackney: Stop closure of children's centres

Durning Hall: Hands off our community space

March to save Stratford arts jobs from Newham Labour attacks
---
Readers' opinion

Newcastle United takeover - no to billionaire Ashley or Saudi despots

Ridley Road: An engaging story of fighting fascism

Readers' comments
---
Home | The Socialist 13 October 2021 | Join the Socialist Party