The Socialist 13 October 2021
Fight for the pay rise we deserve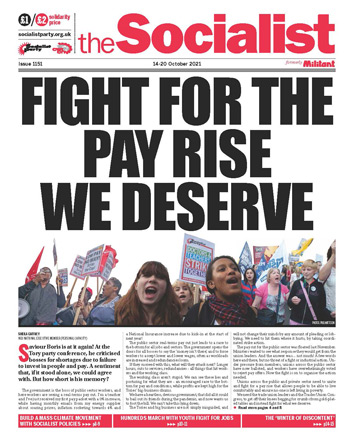 ---
Fight for the pay rise we deserve
---
Cynical Johnson government no friend of workers
---
Pandora property speculators fuel housing crisis
Social care funding needed now
---
Who runs Unison: lay members or the paid officials?
Place Unite at the head of the anti-Tory movement
Oaks Park pickets vote for more strikes to defeat bullies
National Education Union deputy general secretary election
College strikes continue into third week
60 steelworks scaffs march in second week of all-out strike
DVLA: Workers ballot on further strike action
---
Build a mass working-class climate movement with socialist policies
---
Hundreds march with Youth Fight for Jobs
---
The 'winter of discontent' - When workers could take no more
---
Hackney: Stop closure of children's centres
Durning Hall: Hands off our community space
March to save Stratford arts jobs from Newham Labour attacks
---
Newcastle United takeover - no to billionaire Ashley or Saudi despots
Ridley Road: An engaging story of fighting fascism
PO Box 1398, Enfield EN1 9GT
020 8988 8777

Link to this page: https://www.socialistparty.org.uk/issue/1151/33156
Home | The Socialist 13 October 2021 | Join the Socialist Party
Subscribe | Donate | Audio | PDF | ebook
March to save Stratford arts jobs from Newham Labour attacks
James Ivens, secretary, Equity North and East London General Branch
The campaign to save arts jobs in Stratford, east London, has called a second protest after the council reneged on promises yet again.
Newham Council evicted the former arts centre at Stratford Circus to satisfy a manifesto pledge of expanding youth services - which the same Labour council originally cut. This lost Newham local arts jobs and a £300,000-a-year Arts Council England grant.
Performing arts union Equity has been fighting to restore professional opportunities and funding alongside youth services. But the council has cut out the union and community at every turn.
The threat of protest got us talks in late June. The council then broke them off and dismissed our demands.
Equity's first protest on 28 August pushed the mayor to reopen discussions. But the hostile attitude to the union was sadly evident again.
Mayor Rokhsana Fiaz unilaterally excluded one of Equity's delegation - a parent representing a learning-disabled Equity member whose theatre company was displaced by the eviction. There was little engagement with the union's core proposals.
But the council did commit to a schedule for further discussions - on issues including funding and rehoming displaced groups. It broke this promise.
The deadline for bids to run the new centre is 18 October. Equity had no choice but to call a second protest for Saturday 16 October.
In the context of our campaign, the council has put in writing more explicit commitments to "attracting and facilitating professional performances and other cultural activity in the building." However, it is still offering unrealistic funding.
Far from replacing the national grant, Newham Council is only offering £270,000 - and really this is just for youth services. The council is asking bidders to supply a further £190,000.
Even this is a 'maximum' which could fall in future years. Never mind the council subsidising the arts - this could mean the arts subsidising the council!
Equity still maintains that a total budget of £1 million - including subsidy and sales revenue - is what the centre needs. But as a minimum, we demand the council commit to funding the full £460,000 value of the current contract, and reviewing with a view to increase in future.
Newham Council has £616 million in usable reserves. It should draw on these to end austerity now, and lead a campaign to win more funding from central government.
And it must stop ignoring Equity's proposal for a democratic conference of the local arts organisations, unions and working-class community to set Newham's cultural agenda.
March: Save Stratford Circus!
Saturday 16 October, assemble 1pm
Outside Stratford Circus, Theatre Square, London E15 1BN
---
In this issue
---
We need a pay rise!

Fight for the pay rise we deserve

Workers need a pay rise
---
What we think

Cynical Johnson government no friend of workers
---
News

Pandora property speculators fuel housing crisis

Social care funding needed now

News in brief
---
Workplace news

Who runs Unison: lay members or the paid officials?

Place Unite at the head of the anti-Tory movement

Oaks Park pickets vote for more strikes to defeat bullies

National Education Union deputy general secretary election

College strikes continue into third week

60 steelworks scaffs march in second week of all-out strike

DVLA: Workers ballot on further strike action
---
COP26

Build a mass working-class climate movement with socialist policies
---
Youth Fight for Jobs

Hundreds march with Youth Fight for Jobs
---
Winter of Discontent

The 'winter of discontent' - When workers could take no more
---
Campaigns news

Hackney: Stop closure of children's centres

Durning Hall: Hands off our community space

March to save Stratford arts jobs from Newham Labour attacks
---
Readers' opinion

Newcastle United takeover - no to billionaire Ashley or Saudi despots

Ridley Road: An engaging story of fighting fascism

Readers' comments
---
Home | The Socialist 13 October 2021 | Join the Socialist Party