The Socialist 13 October 2021
Fight for the pay rise we deserve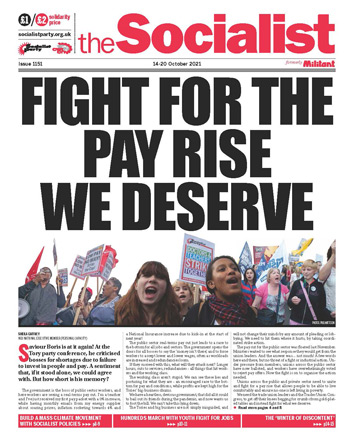 ---
Fight for the pay rise we deserve
---
Cynical Johnson government no friend of workers
---
Pandora property speculators fuel housing crisis
Social care funding needed now
---
Who runs Unison: lay members or the paid officials?
Place Unite at the head of the anti-Tory movement
Oaks Park pickets vote for more strikes to defeat bullies
National Education Union deputy general secretary election
College strikes continue into third week
60 steelworks scaffs march in second week of all-out strike
DVLA: Workers ballot on further strike action
---
Build a mass working-class climate movement with socialist policies
---
Hundreds march with Youth Fight for Jobs
---
The 'winter of discontent' - When workers could take no more
---
Hackney: Stop closure of children's centres
Durning Hall: Hands off our community space
March to save Stratford arts jobs from Newham Labour attacks
---
Newcastle United takeover - no to billionaire Ashley or Saudi despots
Ridley Road: An engaging story of fighting fascism
PO Box 1398, Enfield EN1 9GT
020 8988 8777

Link to this page: https://www.socialistparty.org.uk/issue/1151/33160
Home | The Socialist 13 October 2021 | Join the Socialist Party
Subscribe | Donate | Audio | PDF | ebook
Pandora property speculators fuel housing crisis
Alasdair Cook, South East London Socialist Party
The Pandora papers have further revealed capitalism's parasitic nature. Britain's housing crisis is shown to serve as a lucrative venture for the super-rich. The investigation revealed that 1,500 UK properties have been bought by offshore firms, totalling an estimated value of £4 billion, mostly in London.
These owners include UK political donors, high profile foreign politicians, and individuals accused of corruption. These 'revelations' aren't exactly surprising, since the super-rich have been buying up high-end property in London at ever-increasing rates, as the wealth of billionaires has soared by 35% during the global pandemic.
Meanwhile, the UK housing crisis is severe and set to get worse. The number of households in the private rented sector has increased by 1.7 million from 2007 to 2017; with 25 to 34-year-olds representing the largest group - 35%, giving credence to the phrase 'generation rent'. Many, unable to afford to move out, stay living with family into their 30s.
Shifting focus towards London paints an ever gloomier picture. Many workers can no longer afford to live in the capital, as seen by recent research by the Royal College of Nursing showing 57% of nurses plan to move out of London. Furthermore, homelessness in London is rapidly rising, with the number of rough sleepers tripling from 2010 to 2018.
With the crisis deepening and the mainstream political parties offering no solutions, there are those who are resisting. This includes Lewisham bus driver Anthony Braithwaite who is standing his ground against eviction by a Labour council. Socialist Party members have been among those campaigning with him.
It is only a socialist programme that can defeat the housing crisis in London and elsewhere, including democratic rent controls, the mass building of decent council homes, and an end to evictions. Property speculation has driven the number of long-term empty homes in London over 30,000. We say, take this property out of the hands of the super rich and use it to house those who need it.
Read more: 'Pandora leaks put capitalism in the dock' at socialistparty.org.uk
---
In this issue
---
We need a pay rise!

Fight for the pay rise we deserve

Workers need a pay rise
---
What we think

Cynical Johnson government no friend of workers
---
News

Pandora property speculators fuel housing crisis

Social care funding needed now

News in brief
---
Workplace news

Who runs Unison: lay members or the paid officials?

Place Unite at the head of the anti-Tory movement

Oaks Park pickets vote for more strikes to defeat bullies

National Education Union deputy general secretary election

College strikes continue into third week

60 steelworks scaffs march in second week of all-out strike

DVLA: Workers ballot on further strike action
---
COP26

Build a mass working-class climate movement with socialist policies
---
Youth Fight for Jobs

Hundreds march with Youth Fight for Jobs
---
Winter of Discontent

The 'winter of discontent' - When workers could take no more
---
Campaigns news

Hackney: Stop closure of children's centres

Durning Hall: Hands off our community space

March to save Stratford arts jobs from Newham Labour attacks
---
Readers' opinion

Newcastle United takeover - no to billionaire Ashley or Saudi despots

Ridley Road: An engaging story of fighting fascism

Readers' comments
---
Home | The Socialist 13 October 2021 | Join the Socialist Party