The Socialist 13 October 2021
Fight for the pay rise we deserve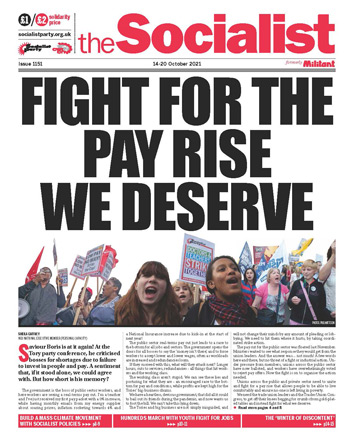 ---
Fight for the pay rise we deserve
---
Cynical Johnson government no friend of workers
---
Pandora property speculators fuel housing crisis
Social care funding needed now
---
Who runs Unison: lay members or the paid officials?
Place Unite at the head of the anti-Tory movement
Oaks Park pickets vote for more strikes to defeat bullies
National Education Union deputy general secretary election
College strikes continue into third week
60 steelworks scaffs march in second week of all-out strike
DVLA: Workers ballot on further strike action
---
Build a mass working-class climate movement with socialist policies
---
Hundreds march with Youth Fight for Jobs
---
The 'winter of discontent' - When workers could take no more
---
Hackney: Stop closure of children's centres
Durning Hall: Hands off our community space
March to save Stratford arts jobs from Newham Labour attacks
---
Newcastle United takeover - no to billionaire Ashley or Saudi despots
Ridley Road: An engaging story of fighting fascism
PO Box 1398, Enfield EN1 9GT
020 8988 8777

Link to this page: https://www.socialistparty.org.uk/issue/1151/33161
Home | The Socialist 13 October 2021 | Join the Socialist Party
Subscribe | Donate | Audio | PDF | ebook
Readers' comments
Tough for some
Life is tough for everybody. The government cut in Universal Credit is forcing tens of thousands into poverty at a time when prices are set to rise. People will have to choose between heating the house and eating; but pity the poor MPs.
MPs have to live on £82,000 in salary, though many double that amount by claiming expenses.
Nevertheless, Sir Peter Bottomley claimed it was "desperately difficult" for many of his colleagues. He compares his job with the critical life-saving work of doctors. I think we all know who we would rather trust with our lives.
Socialist Party member Dave Nellist was a workers' MP on a workers' wage from 1983 to 1992. Sir Peter would like to be a toffs' MP with toffs' emoluments.
Derek McMillan, Brighton Socialist Party
---
Unplanned capitalist chaos
Bristol's bus service has never been great, but it's getting worse. I spoke to a bus driver who explained one of the reasons. First Bus has lost 47 drivers from just one depot in the last month alone. They've left to become HGV drivers, lured away by the rising pay and sign-on bonuses offered as hauliers try to plug the skills gap.
Who can blame them? Hopefully this will lead to rising pay for bus drivers too. But in the meantime life is made harder for passengers and the remaining staff.
This is yet another example of the madness of the unplanned capitalist market. Crises compounding one another. A democratic, socialist economic plan would direct people's efforts and energies far more effectively, ensuring that workers are employed where they're able to meet people's needs and wants - and everyone gets paid well in the process.
Tom Baldwin
---
The problem with school
I'm a Year 11 secondary school student. A big issue I have is how it's privatised. Uniforms can be marked up. You can only buy uniforms in specific places, it's really expensive.
It costs loads of money.
They put a lot of anxiety on you to get things done. You've got to make sure you have everything, otherwise you get detention. They put you in isolation for stupid things. If you don't have the right socks, you go into isolation.
The buildings are designed really cheaply. Nobody can fit through the corridors. It's not safe at all. There are barely any proper Covid guidelines.
The school canteen is expensive, even though I get it for free, and it's also disgusting. It's the worst food I've ever had. It's not healthy at all.
We need more funding in schools. We need democratic control of the schools by students, teachers, parents and the community as a whole.
Adam Gillman, Reading Socialist Party
---
In this issue
---
We need a pay rise!

Fight for the pay rise we deserve

Workers need a pay rise
---
What we think

Cynical Johnson government no friend of workers
---
News

Pandora property speculators fuel housing crisis

Social care funding needed now

News in brief
---
Workplace news

Who runs Unison: lay members or the paid officials?

Place Unite at the head of the anti-Tory movement

Oaks Park pickets vote for more strikes to defeat bullies

National Education Union deputy general secretary election

College strikes continue into third week

60 steelworks scaffs march in second week of all-out strike

DVLA: Workers ballot on further strike action
---
COP26

Build a mass working-class climate movement with socialist policies
---
Youth Fight for Jobs

Hundreds march with Youth Fight for Jobs
---
Winter of Discontent

The 'winter of discontent' - When workers could take no more
---
Campaigns news

Hackney: Stop closure of children's centres

Durning Hall: Hands off our community space

March to save Stratford arts jobs from Newham Labour attacks
---
Readers' opinion

Newcastle United takeover - no to billionaire Ashley or Saudi despots

Ridley Road: An engaging story of fighting fascism

Readers' comments
---
Home | The Socialist 13 October 2021 | Join the Socialist Party