The Socialist 27 October 2021
Tory budget con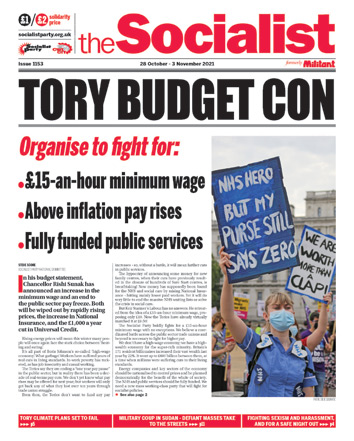 ---
Public spending under further threat from Tories
Tory NHS funding won't fix staff shortage
Public sector pay thaw - union fight is on for a real rise and funding
---
Fighting sexism and harassment, and for a safe night out
---
Tory climate plans set to fail - socialist planning needed
COP26: protest for Socialist change to reverse climate chaos
---
Gwent Stagecoach workers driving for victory on pay
Clarks shoe workers strike to give 'fire and rehire' the boot
Royal Mail workers stand against 'unachievable workloads'
GPs vote to reject government plans
---
The fight for Hackney's children's centres continues
Southampton People's budget Building an alternative to Tory and Labour austerity
Save Southall youth centre - stop all cuts
Carlisle says make the richest pay, not the poorest!
---
Military coup in Sudan - Defiant masses take to the streets
---
TV review The Riots 2011: One Week in August
PO Box 1398, Enfield EN1 9GT
020 8988 8777

Link to this page: https://www.socialistparty.org.uk/issue/1153/33220
Home | The Socialist 27 October 2021 | Join the Socialist Party
Subscribe | Donate | Audio | PDF | ebook
Public sector pay thaw - union fight is on for a real rise and funding
Chris Holmes, North London Teacher and NEU Member
For teachers, the government's announcement that in April 2022 they will lift the public sector pay freeze imposed in November 2020 simply represents too little too late. Not so long ago, at the height of the pandemic, teachers along with many other public sector workers, were acclaimed by Boris Johnson as frontline heroes. However, in real terms, since the financial crisis of 2007 our pay has fallen 8%.
On top of an ever-increasing workload, it is hardly surprising that there has been a chronic shortage in teacher recruitment and retention. No figure has been given yet for what we can expect in April next year, but every worker knows that a pay rise that is less than the rising cost of living is no pay rise at all - and inflation is set to rise to around 5%.
Like all public sector workers, we cannot wait until April to find out how much this cut will be. We need our trade unions to take up this fight immediately. As Socialist Party member Martin Powell-Davies has raised in his NEU Deputy General Secretary campaign, we need to build now for a national strike ballot over pay.
Next year school funding levels will be 1% lower than in 2009-10. Schools budgets will be further squeezed by rising prices. That's why it is essential that the struggle for a pay rise is linked to a campaign for the funding our schools need.
---
In this issue
---
Budget

TORY BUDGET CON

Public spending under further threat from Tories

Tory NHS funding won't fix staff shortage

Public sector pay thaw - union fight is on for a real rise and funding
---
Fighting sexual harassment

Fighting sexism and harassment, and for a safe night out
---
Climate change

Tory climate plans set to fail - socialist planning needed

COP26: protest for Socialist change to reverse climate chaos

Youth climate protests

News in brief
---
Workplace news

Unite policy conference

Gwent Stagecoach workers driving for victory on pay

Clarks shoe workers strike to give 'fire and rehire' the boot

Royal Mail workers stand against 'unachievable workloads'

GPs vote to reject government plans

Workplace news in brief
---
Campaigns

The fight for Hackney's children's centres continues

Southampton People's budget Building an alternative to Tory and Labour austerity

Save Southall youth centre - stop all cuts

Carlisle says make the richest pay, not the poorest!
---
International

Military coup in Sudan - Defiant masses take to the streets
---
Readers' opinion

TV review Maid

TV review The Riots 2011: One Week in August
---
Home | The Socialist 27 October 2021 | Join the Socialist Party