The Socialist 27 October 2021
Tory budget con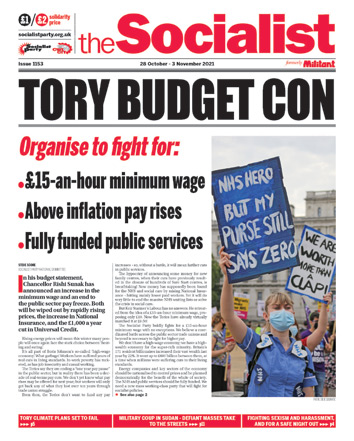 ---
Public spending under further threat from Tories
Tory NHS funding won't fix staff shortage
Public sector pay thaw - union fight is on for a real rise and funding
---
Fighting sexism and harassment, and for a safe night out
---
Tory climate plans set to fail - socialist planning needed
COP26: protest for Socialist change to reverse climate chaos
---
Gwent Stagecoach workers driving for victory on pay
Clarks shoe workers strike to give 'fire and rehire' the boot
Royal Mail workers stand against 'unachievable workloads'
GPs vote to reject government plans
---
The fight for Hackney's children's centres continues
Southampton People's budget Building an alternative to Tory and Labour austerity
Save Southall youth centre - stop all cuts
Carlisle says make the richest pay, not the poorest!
---
Military coup in Sudan - Defiant masses take to the streets
---
TV review The Riots 2011: One Week in August
PO Box 1398, Enfield EN1 9GT
020 8988 8777

Link to this page: https://www.socialistparty.org.uk/issue/1153/33224
Home | The Socialist 27 October 2021 | Join the Socialist Party
Subscribe | Donate | Audio | PDF | ebook
Unite policy conference
Significant breakthroughs in policy and workplace organising
Kevin Parslow, Unite union conference delegate (personal capacity)
There was an emotional farewell to Len McCluskey at the recent Unite policy conference, which recorded the progress of the union in the ten years under his leadership. His was an overwhelmingly positive tenure. But the general feeling in the conference was that the election of Sharon Graham as Len's replacement heralds a new beginning.
Significant throughout the conference was the emphasis on workplace organising and the development of 'combines' in different sectors of the economy. This would mean bringing the reps in an industry to discuss common issues and negotiating for better pay and conditions.
The mood of the conference allowed significant breakthroughs in policy. Particularly in local government, where Unite is now committed to "adopt a policy calling on Labour councils to set legal, balanced no-cuts needs-based budgets", in passing a motion from the Local Authorities National Industrial Sector Committee.
And on public services, a motion was passed opposing privatisation and calling for workers' control, which was amended by the LE1228 branch to read: "Publicly owned industries and services should be run with full workers' control and management, involving the participation of trade unions in conjunction with service users."
Significantly, at a fringe entitled 'Time for a Deeper Industrial Strategy', Dave Ward, CWU general secretary, called former militant RMT leader Bob Crow "the greatest trade unionist of our generation", to which Sharon Graham nodded in agreement. If it was to follow a similar path to the RMT under Crow, Unite's million members across most sectors of the economy would prove a powerful challenge to the bosses, and give confidence to millions of workers to fight back against attacks.
Action was also discussed in the fringe meetings, for example with HGV drivers preparing for action at a meeting by 'taking their break' on 1 November at 11am. This could show the potential strength that lorry drivers have in the battle for better pay and conditions in the road haulage industry.
Unite's conference presented the first opportunity for those who campaigned for Sharon's victory to come together and discuss building a new left in Unite. In a pre-conference meeting there was a lot of enthusiasm for a proposal made by Socialist Party members for a public meeting during conference, even offering our own public meeting to facilitate a discussion. However, despite no meeting being called, Zoom meetings are being planned, which should be used as the basis for ensuring Unite's new fighting strategy and policies are implemented by building a new left organisation in the union.
The Socialist Party meeting was nevertheless a success, with 30 delegates, visitors and local workers present. The meeting was addressed by victimised St Mungo's rep Vicko Plevnik, who came to conference to build support for the end of his victimisation (he also addressed the blacklisting meeting called by construction workers in Unite).
Rob Williams from the Socialist Party executive committee, spelt out the fighting programme and tasks needed to build Unite, and there was a discussion on how a new left could be built. £300 was raised for the Socialist Party fighting fund, and three delegates over the week expressed an interest in finding out more about our party.
---
In this issue
---
Budget

TORY BUDGET CON

Public spending under further threat from Tories

Tory NHS funding won't fix staff shortage

Public sector pay thaw - union fight is on for a real rise and funding
---
Fighting sexual harassment

Fighting sexism and harassment, and for a safe night out
---
Climate change

Tory climate plans set to fail - socialist planning needed

COP26: protest for Socialist change to reverse climate chaos

Youth climate protests

News in brief
---
Workplace news

Unite policy conference

Gwent Stagecoach workers driving for victory on pay

Clarks shoe workers strike to give 'fire and rehire' the boot

Royal Mail workers stand against 'unachievable workloads'

GPs vote to reject government plans

Workplace news in brief
---
Campaigns

The fight for Hackney's children's centres continues

Southampton People's budget Building an alternative to Tory and Labour austerity

Save Southall youth centre - stop all cuts

Carlisle says make the richest pay, not the poorest!
---
International

Military coup in Sudan - Defiant masses take to the streets
---
Readers' opinion

TV review Maid

TV review The Riots 2011: One Week in August
---
Home | The Socialist 27 October 2021 | Join the Socialist Party