The Socialist 27 October 2021
Tory budget con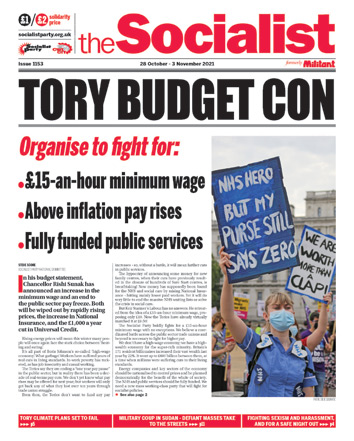 ---
Public spending under further threat from Tories
Tory NHS funding won't fix staff shortage
Public sector pay thaw - union fight is on for a real rise and funding
---
Fighting sexism and harassment, and for a safe night out
---
Tory climate plans set to fail - socialist planning needed
COP26: protest for Socialist change to reverse climate chaos
---
Gwent Stagecoach workers driving for victory on pay
Clarks shoe workers strike to give 'fire and rehire' the boot
Royal Mail workers stand against 'unachievable workloads'
GPs vote to reject government plans
---
The fight for Hackney's children's centres continues
Southampton People's budget Building an alternative to Tory and Labour austerity
Save Southall youth centre - stop all cuts
Carlisle says make the richest pay, not the poorest!
---
Military coup in Sudan - Defiant masses take to the streets
---
TV review The Riots 2011: One Week in August
PO Box 1398, Enfield EN1 9GT
020 8988 8777

Link to this page: https://www.socialistparty.org.uk/issue/1153/33225
Home | The Socialist 27 October 2021 | Join the Socialist Party
Subscribe | Donate | Audio | PDF | ebook
Gwent Stagecoach workers driving for victory on pay
Dave Reid, Socialist Party Wales
Over 200 Stagecoach bus drivers at Cwmbran, Blackwood and Brynmawr depots, members of Unite, have completed their sixth day of strike action, the first of six phases. The next strike day is due to be 29 October, unless the company gives in to the union demands for a rise to £10.50 an hour from £9.50.
The company has responded by offering £10.10 an hour, barely above the £9.50 minimum wage next year, later increased to £10.30. But even this unacceptable offer will be paid for by the drivers through cuts in breaks and sick pay, and will not be available to new entrants. All the workers understand the importance of ensuring that new entrants get the new rates and that the existing workforce is not undermined by a two-tier pay structure.
The managing director of the three depots had accused the union of demanding "fantasy wages" of £10.50 an hour, until it was revealed that his pay rose from £181,000 to £229,000 between 2019 and 2020 - a pay rise of £48,000! The only fantasy wage is being paid to the managing director.
And despite the pandemic, Stagecoach South Wales boasted a pre-tax profit of £2.1 million, up from £1.5 million in the previous year. That included £1 million government funding from the furlough.
The anger at the contempt that Stagecoach had shown to the workers' pay claim was explained by one driver: "They want to discipline us for not being professional when they claim we've done something wrong, but when they decide our pay we're 'unskilled'".
This corporate greed has strengthened the resolve to see the dispute through to the bitter end. Morale on the picket line has been sky-high - even when the sky opens up with torrential downpours. Hundreds of strikers have rallied at the bus depots every day.
At a rally during an Acas conciliation service negotiation music blared out in the cold autumn sunshine. Apparently Santa Claus is on strike and comrade Claus danced with the Unite flag on the road verge. This really was an all-singing, all-dancing picket line!
And all through the dispute there has been a cacophony of car horns as it seems every car driver in Cwmbran hoots their horn as they drive past the picket line.
On the first Sunday of the strike the drivers returned to work for one day and the reaction of passengers was brilliant. One regular passenger said: "I'm not getting on the bus - I just wanted to tell you that we support you all the way. You were there for us during Covid and I'm not giving Stagecoach any more money while you are on strike."
Support from the trade union movement has been growing too. Cardiff Trades Union Council has been building support and thousands of pounds are flowing into the strike fund. GMB Stagecoach drivers at Porth and Aberdare are getting ready for action at their depots.
The support of local politicians who have visited the picket line has been appreciated by the strikers. But more important than tweets is action.
The spectacle of a multinational company making big profits by paying its local directors huge salaries to hold down the wages of its drivers has exposed the massive scam being carried out by Stagecoach and Arriva on public transport in Wales. The companies are subsidised by millions of pounds by the Welsh government, but charge exorbitant fares, pay poverty wages and make millions of pounds profit.
The Welsh government plans to introduce integrated transport systems on the South Wales and North Wales Metros. It must immediately step in, reverse the Tory privatisation of buses and renationalise them, into one train and bus company under Transport for Wales.
And this must be carried out without delay. Stagecoach and Arriva cannot be allowed to run down the bus infrastructure in the way that Arriva did on the railways in Wales as its franchise expired.
The Welsh Labour government must make it clear that 'Slavecoach's' days in Wales are numbered.
---
In this issue
---
Budget

TORY BUDGET CON

Public spending under further threat from Tories

Tory NHS funding won't fix staff shortage

Public sector pay thaw - union fight is on for a real rise and funding
---
Fighting sexual harassment

Fighting sexism and harassment, and for a safe night out
---
Climate change

Tory climate plans set to fail - socialist planning needed

COP26: protest for Socialist change to reverse climate chaos

Youth climate protests

News in brief
---
Workplace news

Unite policy conference

Gwent Stagecoach workers driving for victory on pay

Clarks shoe workers strike to give 'fire and rehire' the boot

Royal Mail workers stand against 'unachievable workloads'

GPs vote to reject government plans

Workplace news in brief
---
Campaigns

The fight for Hackney's children's centres continues

Southampton People's budget Building an alternative to Tory and Labour austerity

Save Southall youth centre - stop all cuts

Carlisle says make the richest pay, not the poorest!
---
International

Military coup in Sudan - Defiant masses take to the streets
---
Readers' opinion

TV review Maid

TV review The Riots 2011: One Week in August
---
Home | The Socialist 27 October 2021 | Join the Socialist Party
Related links:

S Yorks Stagecoach strike results in "huge pay win"

S. Yorks Stagecoach workers start indefinite strike

Yorkshire Stagecoach strikers confidence growing

Stagecoach victory

Yorkshire Stagecoach bus workers' week-long strike

Somers 'slaughterhouse' Forge

Trade unionists in the USA fighting back

Wakefield TUSC - Fighting for low-paid workers and NHS

Trade unions and the fight against council cuts

Barts NHS workers strike back

Education: Workload and inflation goes up, incomes fall

Selling the Socialist

Panasonic workers break company pay freeze

Wales: The Labour-Plaid Cymru agreement - jam tomorrow, maybe

Oaks Park School: valiant strike exposed state of schools

Bus driver Tracey Scholes reinstated at Go North West

Chartism: The world's first working-class movement