The Socialist 27 October 2021
Tory budget con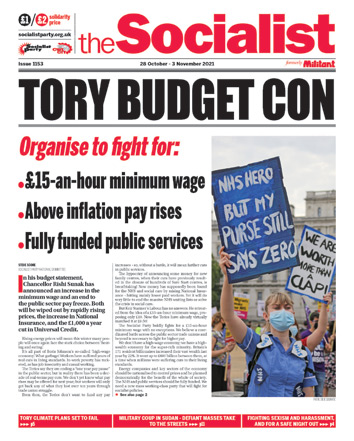 ---
Public spending under further threat from Tories
Tory NHS funding won't fix staff shortage
Public sector pay thaw - union fight is on for a real rise and funding
---
Fighting sexism and harassment, and for a safe night out
---
Tory climate plans set to fail - socialist planning needed
COP26: protest for Socialist change to reverse climate chaos
---
Gwent Stagecoach workers driving for victory on pay
Clarks shoe workers strike to give 'fire and rehire' the boot
Royal Mail workers stand against 'unachievable workloads'
GPs vote to reject government plans
---
The fight for Hackney's children's centres continues
Southampton People's budget Building an alternative to Tory and Labour austerity
Save Southall youth centre - stop all cuts
Carlisle says make the richest pay, not the poorest!
---
Military coup in Sudan - Defiant masses take to the streets
---
TV review The Riots 2011: One Week in August
PO Box 1398, Enfield EN1 9GT
020 8988 8777

Link to this page: https://www.socialistparty.org.uk/issue/1153/33226
Home | The Socialist 27 October 2021 | Join the Socialist Party
Subscribe | Donate | Audio | PDF | ebook
Clarks shoe workers strike to give 'fire and rehire' the boot
Tom Baldwin, Bristol Socialist Party
Picket lines of striking Clarks workers were joined by about 50 trade unionists on 'Solidarity Day' on 15 October.
Workers at the Somerset-based shoe manufacturers are fighting a brutal 'fire-and-rehire' attempt by management. They've completed two weeks of an initial four on strike but are determined to continue for as long as needed if the attack on their terms and conditions is not withdrawn.
That resolve was boosted by the support they received, the presence of several other union banners and the almost non-stop beeping of horns by passing motorists. Pickets have been consistent with a well-organised rota system. They've also been supported with full strike pay from their trade union, Community.
Strikers spoke to the Socialist about what the proposed changes will mean for them. They will receive a 15% pay cut, down to just £9.50 an hour. They will have to work an extra 2.5 hours a week thanks to the removal of paid lunch breaks. Sick pay and redundancy pay are also being cut. Workers are being given just four weeks to sign the new contracts before they will be sacked. The company are playing hardball with workers while management are still getting pay rises.
Workers feel particularly aggrieved as they have already endured changes that management have demanded. They have faced a six-year pay freeze. The Christmas bonus has been withdrawn. Insultingly, night shift workers were offered a McDonald's meal instead last year. That shift has since been cut.
These latest attacks are a bridge too far and workers will fight tooth and nail to defeat them.
You can help them by sending messages of support via [email protected] and signing their petition at megaphone.org.uk/petitions/clarks-end-fire-and-rehire
---
In this issue
---
Budget

TORY BUDGET CON

Public spending under further threat from Tories

Tory NHS funding won't fix staff shortage

Public sector pay thaw - union fight is on for a real rise and funding
---
Fighting sexual harassment

Fighting sexism and harassment, and for a safe night out
---
Climate change

Tory climate plans set to fail - socialist planning needed

COP26: protest for Socialist change to reverse climate chaos

Youth climate protests

News in brief
---
Workplace news

Unite policy conference

Gwent Stagecoach workers driving for victory on pay

Clarks shoe workers strike to give 'fire and rehire' the boot

Royal Mail workers stand against 'unachievable workloads'

GPs vote to reject government plans

Workplace news in brief
---
Campaigns

The fight for Hackney's children's centres continues

Southampton People's budget Building an alternative to Tory and Labour austerity

Save Southall youth centre - stop all cuts

Carlisle says make the richest pay, not the poorest!
---
International

Military coup in Sudan - Defiant masses take to the streets
---
Readers' opinion

TV review Maid

TV review The Riots 2011: One Week in August
---
Home | The Socialist 27 October 2021 | Join the Socialist Party