The Socialist 27 October 2021
Tory budget con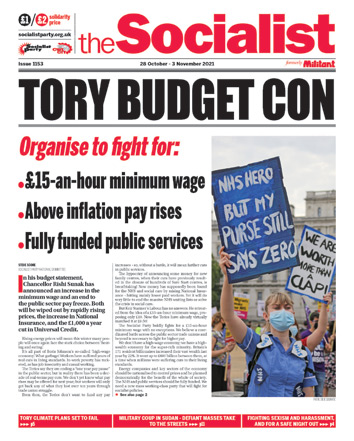 ---
Public spending under further threat from Tories
Tory NHS funding won't fix staff shortage
Public sector pay thaw - union fight is on for a real rise and funding
---
Fighting sexism and harassment, and for a safe night out
---
Tory climate plans set to fail - socialist planning needed
COP26: protest for Socialist change to reverse climate chaos
---
Gwent Stagecoach workers driving for victory on pay
Clarks shoe workers strike to give 'fire and rehire' the boot
Royal Mail workers stand against 'unachievable workloads'
GPs vote to reject government plans
---
The fight for Hackney's children's centres continues
Southampton People's budget Building an alternative to Tory and Labour austerity
Save Southall youth centre - stop all cuts
Carlisle says make the richest pay, not the poorest!
---
Military coup in Sudan - Defiant masses take to the streets
---
TV review The Riots 2011: One Week in August
PO Box 1398, Enfield EN1 9GT
020 8988 8777

Link to this page: https://www.socialistparty.org.uk/issue/1153/33227
Home | The Socialist 27 October 2021 | Join the Socialist Party
Subscribe | Donate | Audio | PDF | ebook
Royal Mail workers stand against 'unachievable workloads'
Former Royal Mail worker
Despite the promise of benefiting delivery workers' conditions, the rollout of the 'Pathway to Change Agreement' between Royal Mail and the Communication Workers Union (CWU) is proving to be the opposite
At Wakefield Delivery Office, West Yorkshire, the agreement rollout of a structural revision resulted in 94% of the workforce voting it down, after it produced unachievable workloads.
However, true to form, management imposed it regardless, leaving the CWU as the only side to stick to the deal. That leaves the very principle of workers' democracy in tatters, and does not protect postal workers open to management bullying, as they are scapegoated for the delay to mail.
This deal was supposed to recover what the union lost under Rico Back's tenure as CEO, when the employer reneged on the previous agreement.
In practice, it has not stopped the employer reverting to type and effectively draining substantially more work out of delivery staff when the working week is due to be reduced by an hour. Unbelievably, that means doing more than before, when they have an hour less to do it in!
So far, the only thing that appears to have been held to is the 2.7% pay rise given this year. The further 1% next year, a promise of no compulsory redundancies, and a legal obligation to prevent the company breaking up are yet to be carried through.
It is obvious from its actions that Royal Mail is not sticking to the agreement and the CWU must suspend these revisions and urgently move to halt the management bullying that has come with them. Policy to remedy the whole situation must be made.
The general public must also be made aware of Royal Mail's drive for profit in the booming packets and parcels market. Forsaking a reliable letter delivery service, in the process, it significantly delays the likes of hospital appointment notices and other vital mail as manpower is under-resourced.
---
In this issue
---
Budget

TORY BUDGET CON

Public spending under further threat from Tories

Tory NHS funding won't fix staff shortage

Public sector pay thaw - union fight is on for a real rise and funding
---
Fighting sexual harassment

Fighting sexism and harassment, and for a safe night out
---
Climate change

Tory climate plans set to fail - socialist planning needed

COP26: protest for Socialist change to reverse climate chaos

Youth climate protests

News in brief
---
Workplace news

Unite policy conference

Gwent Stagecoach workers driving for victory on pay

Clarks shoe workers strike to give 'fire and rehire' the boot

Royal Mail workers stand against 'unachievable workloads'

GPs vote to reject government plans

Workplace news in brief
---
Campaigns

The fight for Hackney's children's centres continues

Southampton People's budget Building an alternative to Tory and Labour austerity

Save Southall youth centre - stop all cuts

Carlisle says make the richest pay, not the poorest!
---
International

Military coup in Sudan - Defiant masses take to the streets
---
Readers' opinion

TV review Maid

TV review The Riots 2011: One Week in August
---
Home | The Socialist 27 October 2021 | Join the Socialist Party