The Socialist 27 October 2021
Tory budget con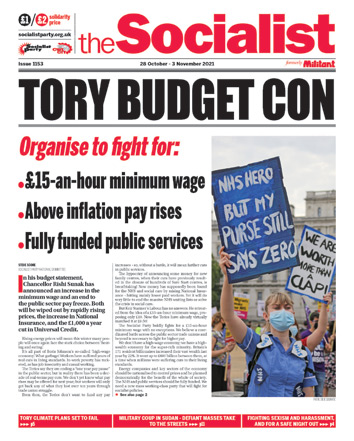 ---
Public spending under further threat from Tories
Tory NHS funding won't fix staff shortage
Public sector pay thaw - union fight is on for a real rise and funding
---
Fighting sexism and harassment, and for a safe night out
---
Tory climate plans set to fail - socialist planning needed
COP26: protest for Socialist change to reverse climate chaos
---
Gwent Stagecoach workers driving for victory on pay
Clarks shoe workers strike to give 'fire and rehire' the boot
Royal Mail workers stand against 'unachievable workloads'
GPs vote to reject government plans
---
The fight for Hackney's children's centres continues
Southampton People's budget Building an alternative to Tory and Labour austerity
Save Southall youth centre - stop all cuts
Carlisle says make the richest pay, not the poorest!
---
Military coup in Sudan - Defiant masses take to the streets
---
TV review The Riots 2011: One Week in August
PO Box 1398, Enfield EN1 9GT
020 8988 8777

Link to this page: https://www.socialistparty.org.uk/issue/1153/33231
Home | The Socialist 27 October 2021 | Join the Socialist Party
Subscribe | Donate | Audio | PDF | ebook
Southampton People's budget Building an alternative to Tory and Labour austerity
Sue Atkins, Southampton Socialist Party
Local authorities up and down the country, including Southampton, face a financial crisis. The chancellor's budget will do nothing to plug Southampton's budget gap. Already the city council has carried out £164 million cuts and 1,000 jobs lost in the last eight years, with further cuts to come. This has impacted most seriously on the poor and vulnerable in the city. 30% of the city's children are growing up in poverty, and there are 10,000 families on the housing waiting list.
The Labour council failed to stand up for the people of Southampton during the last decade when they were in charge. Libraries have been handed over to volunteers and care homes have closed. Council youth services have been shut down and any remaining service has been pared to the bone.
Labour paid the price at the ballot box in May this year when they lost seven seats and their majority on the council. We now have a Tory administration which will carry on the bidding of Johnson's government. What credibility could the Labour councillors possibly have in opposing them following their record of abject cowardice and lack of fighting leadership?
This is the backdrop to the decision of Southampton Trade Unionist and Socialist Coalition to call a People's Budget conference. It will be the first step in bringing together trade unions, community organisations, local campaign groups and all who want to develop a plan and an alternative budget based on the needs of our community, not the diktats of the government.
We have named the date and booked the venue. We are inviting as many people and organisations as we can. We now plan visits to trade union branches and others, and are inviting speakers. A flyer has been printed to advertise the event that we can use on campaign stalls and meetings we attend.
The event will also be an opportunity to see who would like to stand as a no-cuts candidate in next May's local elections, as we aim to stand in every seat.
With a system in crisis, we need socialist policies and councillors who are prepared to fight for them. Our conference aims to play a leading role in building this alternative.
Southampton People's Budget conference, Saturday 13 November, 2-4 pm at Friends Meeting House, 1A Ordnance Road, Southampton
---
In this issue
---
Budget

TORY BUDGET CON

Public spending under further threat from Tories

Tory NHS funding won't fix staff shortage

Public sector pay thaw - union fight is on for a real rise and funding
---
Fighting sexual harassment

Fighting sexism and harassment, and for a safe night out
---
Climate change

Tory climate plans set to fail - socialist planning needed

COP26: protest for Socialist change to reverse climate chaos

Youth climate protests

News in brief
---
Workplace news

Unite policy conference

Gwent Stagecoach workers driving for victory on pay

Clarks shoe workers strike to give 'fire and rehire' the boot

Royal Mail workers stand against 'unachievable workloads'

GPs vote to reject government plans

Workplace news in brief
---
Campaigns

The fight for Hackney's children's centres continues

Southampton People's budget Building an alternative to Tory and Labour austerity

Save Southall youth centre - stop all cuts

Carlisle says make the richest pay, not the poorest!
---
International

Military coup in Sudan - Defiant masses take to the streets
---
Readers' opinion

TV review Maid

TV review The Riots 2011: One Week in August
---
Home | The Socialist 27 October 2021 | Join the Socialist Party