The Socialist 27 October 2021
Tory budget con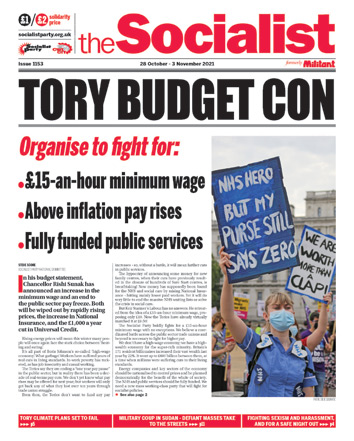 ---
Public spending under further threat from Tories
Tory NHS funding won't fix staff shortage
Public sector pay thaw - union fight is on for a real rise and funding
---
Fighting sexism and harassment, and for a safe night out
---
Tory climate plans set to fail - socialist planning needed
COP26: protest for Socialist change to reverse climate chaos
---
Gwent Stagecoach workers driving for victory on pay
Clarks shoe workers strike to give 'fire and rehire' the boot
Royal Mail workers stand against 'unachievable workloads'
GPs vote to reject government plans
---
The fight for Hackney's children's centres continues
Southampton People's budget Building an alternative to Tory and Labour austerity
Save Southall youth centre - stop all cuts
Carlisle says make the richest pay, not the poorest!
---
Military coup in Sudan - Defiant masses take to the streets
---
TV review The Riots 2011: One Week in August
PO Box 1398, Enfield EN1 9GT
020 8988 8777

Link to this page: https://www.socialistparty.org.uk/issue/1153/33232
Home | The Socialist 27 October 2021 | Join the Socialist Party
Subscribe | Donate | Audio | PDF | ebook
Save Southall youth centre - stop all cuts
Helen Pattison, West London Socialist Party
Young people, trade unionists and supporters gathered at Ealing Town Hall to oppose the demolition of a youth centre in Southall on 19 October. One of the service users was able to give a speech to the council because of the huge number of people who have signed their petition. She spoke about how few youth clubs exist despite the growing number of young people living in the borough.
The council meeting descended into crocodile tears, and cheap shots. The Tories blamed the Labour council for making the proposal, the Labour council blamed the housing crisis and the Tory government. But really, both are to blame!
The council's plan is to build housing on the youth club land, while simultaneously demolishing council housing in other parts of the borough. This shows they aren't really interested in meeting the needs of working-class and young people across Ealing, but are happy to pit groups of people against each other.
Next month, when Ealing Trade Unionist and Socialist Coalition hosts a People's Budget meeting, it won't be a question of either building housing, or maintaining youth services - we will demand both are protected!
---
In this issue
---
Budget

TORY BUDGET CON

Public spending under further threat from Tories

Tory NHS funding won't fix staff shortage

Public sector pay thaw - union fight is on for a real rise and funding
---
Fighting sexual harassment

Fighting sexism and harassment, and for a safe night out
---
Climate change

Tory climate plans set to fail - socialist planning needed

COP26: protest for Socialist change to reverse climate chaos

Youth climate protests

News in brief
---
Workplace news

Unite policy conference

Gwent Stagecoach workers driving for victory on pay

Clarks shoe workers strike to give 'fire and rehire' the boot

Royal Mail workers stand against 'unachievable workloads'

GPs vote to reject government plans

Workplace news in brief
---
Campaigns

The fight for Hackney's children's centres continues

Southampton People's budget Building an alternative to Tory and Labour austerity

Save Southall youth centre - stop all cuts

Carlisle says make the richest pay, not the poorest!
---
International

Military coup in Sudan - Defiant masses take to the streets
---
Readers' opinion

TV review Maid

TV review The Riots 2011: One Week in August
---
Home | The Socialist 27 October 2021 | Join the Socialist Party