The Socialist 27 October 2021
Tory budget con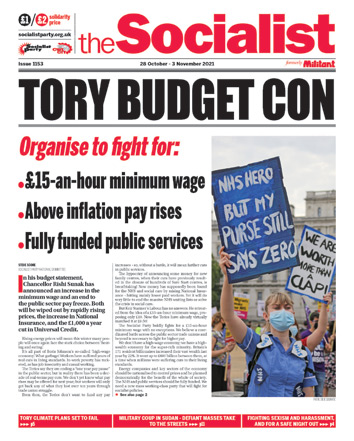 ---
Public spending under further threat from Tories
Tory NHS funding won't fix staff shortage
Public sector pay thaw - union fight is on for a real rise and funding
---
Fighting sexism and harassment, and for a safe night out
---
Tory climate plans set to fail - socialist planning needed
COP26: protest for Socialist change to reverse climate chaos
---
Gwent Stagecoach workers driving for victory on pay
Clarks shoe workers strike to give 'fire and rehire' the boot
Royal Mail workers stand against 'unachievable workloads'
GPs vote to reject government plans
---
The fight for Hackney's children's centres continues
Southampton People's budget Building an alternative to Tory and Labour austerity
Save Southall youth centre - stop all cuts
Carlisle says make the richest pay, not the poorest!
---
Military coup in Sudan - Defiant masses take to the streets
---
TV review The Riots 2011: One Week in August
PO Box 1398, Enfield EN1 9GT
020 8988 8777

Link to this page: https://www.socialistparty.org.uk/issue/1153/33235
Home | The Socialist 27 October 2021 | Join the Socialist Party
Subscribe | Donate | Audio | PDF | ebook
TV review The Riots 2011: One Week in August
Deji Olayinka, South East London Socialist Party
Following the murder of Mark Duggan by the police, riots rocked London, and many other cities, a decade ago. This documentary follows the progression of the riots. It contains interviews and clips from activists, police, government officials and convicted rioters.
Stafford Scott, an activist from the Broadwater Farm estate that Mark grew up on, was the stand-out person interviewed. He says there is no "riot or disturbance that happens in a vacuum", and for it to happen, "people have to feel they've got no stake in society... that they've got nothing to lose".
After Mark Duggan's killing, police drove around the estate laughing, and indicating '1-1' with their fingers to claim the killing as an equaliser for the death of police officer Keith Blakelock in 1985. The police did not contact the family for two days after Mark's killing.
When Mark Duggan's family peacefully marched to the police station, the police physically closed the door and shutters of the police station to the family members that had gone in to ask for the truth. It's no surprise that the BBC chose to mark the ten-year anniversary by focusing on the riots, rather than looking into the police killing that triggered the events.
The documentary includes the capitalist media response, and the political elite's belief that the riots had nothing to do with poverty. At the time, this peaked with a racist rant from David Starkey on Newsnight. He said that Enoch Powell's prophecy in the Rivers of Blood speech was "absolutely right", except instead "whites had become black".
The state revenge on rioters was cruel. It led to teenagers' lives being destroyed over a few moments of madness. Some faced sentences longer than murderers.
Current Labour leader Keir Starmer, then director of public prosecutions, set up 24-hour courts to support the Con-Dem coalition government in handing out excessively punitive sentences.
One person recounts how he was targeted as a 'ring leader' and was given the harshest sentence. Not because of what he had done during the riots, but because of previous convictions.
The riots devastated working-class communities. But communities organised to make sure that local shops were protected. Tariq Jahan and his sons were called to defend local shops that the police had abandoned. But his son was tragically killed in a hit-and-run.
The documentary ends on the note that riots of that scale haven't occurred since in the UK, but that is only through luck. The Conservatives have worsened the conditions that led to the riots. Austerity has continued, funding for youth services is being cut, their response to the Covid pandemic has left another generation of youth with no hope for the future, and, of course, the police continue to be unaccountable for their crimes.
To ensure there is no return of the riots, the vast inequality in our society needs to be ended with socialist policies. In response to police crimes, we need independent workers' and community public inquiries, and we need democratic working-class control of the police as proposed in the Socialist Party's Black Workers' Charter.
'Black Workers' Charter: A programme to fight racism' at socialistparty.org.uk
'The Riots 2011: One Week in August' is available on BBC iPlayer
---
In this issue
---
Budget

TORY BUDGET CON

Public spending under further threat from Tories

Tory NHS funding won't fix staff shortage

Public sector pay thaw - union fight is on for a real rise and funding
---
Fighting sexual harassment

Fighting sexism and harassment, and for a safe night out
---
Climate change

Tory climate plans set to fail - socialist planning needed

COP26: protest for Socialist change to reverse climate chaos

Youth climate protests

News in brief
---
Workplace news

Unite policy conference

Gwent Stagecoach workers driving for victory on pay

Clarks shoe workers strike to give 'fire and rehire' the boot

Royal Mail workers stand against 'unachievable workloads'

GPs vote to reject government plans

Workplace news in brief
---
Campaigns

The fight for Hackney's children's centres continues

Southampton People's budget Building an alternative to Tory and Labour austerity

Save Southall youth centre - stop all cuts

Carlisle says make the richest pay, not the poorest!
---
International

Military coup in Sudan - Defiant masses take to the streets
---
Readers' opinion

TV review Maid

TV review The Riots 2011: One Week in August
---
Home | The Socialist 27 October 2021 | Join the Socialist Party