The Socialist 27 October 2021
Tory budget con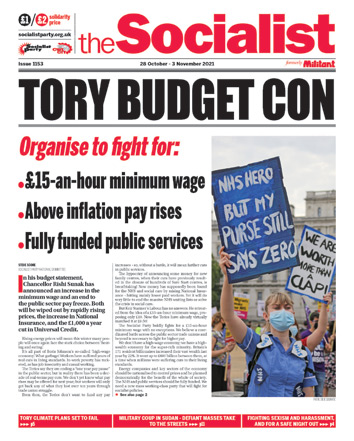 ---
Public spending under further threat from Tories
Tory NHS funding won't fix staff shortage
Public sector pay thaw - union fight is on for a real rise and funding
---
Fighting sexism and harassment, and for a safe night out
---
Tory climate plans set to fail - socialist planning needed
COP26: protest for Socialist change to reverse climate chaos
---
Gwent Stagecoach workers driving for victory on pay
Clarks shoe workers strike to give 'fire and rehire' the boot
Royal Mail workers stand against 'unachievable workloads'
GPs vote to reject government plans
---
The fight for Hackney's children's centres continues
Southampton People's budget Building an alternative to Tory and Labour austerity
Save Southall youth centre - stop all cuts
Carlisle says make the richest pay, not the poorest!
---
Military coup in Sudan - Defiant masses take to the streets
---
TV review The Riots 2011: One Week in August
PO Box 1398, Enfield EN1 9GT
020 8988 8777

Link to this page: https://www.socialistparty.org.uk/issue/1153/33238
Home | The Socialist 27 October 2021 | Join the Socialist Party
Subscribe | Donate | Audio | PDF | ebook
Public spending under further threat from Tories
Dave Nellist, Socialist Party national committee and national chair TUSC
Tory chancellor, 'Richi' Sunak, is due to present his autumn budget and spending review statement on Wednesday 27 October.
Despite several previous announcements, on transport schemes, for example, and a minimum wage increase, this budget will have been no afternoon of joy for the working class. It is preparation for making ordinary people pay for the government's spending and borrowing used to prop up businesses during the pandemic.
The spending review sets out the government's plans for each government department over the next three financial years.
The overall spending 'envelope' had already been announced by the chancellor in September, setting public spending at £3 billion lower in 2024-25 than it had been in March 2020. Despite all the pressure on public services from Covid-19, Sunak is planning lower public spending than before the pandemic!
Separate announcements for some increases in spending, on the NHS and social care for example (though in both cases woefully inadequate compared to what is needed), will mean that other departments face further cuts. Sunak may end the freeze on pay for most public sector workers, but if pay increases come out of existing budgets, that will also lead to cuts elsewhere.
In its pre-budget statement, the Institute for Fiscal Studies (IFS) predicted further cuts to what the Treasury has designated as 'unprotected budgets' - including prisons and courts, further education, and local government - of £2 billion in 2022-23.
The Tories had planned an overall increase of 8% in unprotected budgets in the three-year spending review final year (not coincidentally, the year by which a general election must be held). But further pressures of the pandemic could lead Sunak to bring some of that spending increase forward.
Inflation
If inflation exceeds 5% next year, as the Bank of England has predicted, increasing interest rates and the cost of servicing government borrowing will add to those pressures.
Public spending has suffered a decade of budget cuts: 30% on transport, 50% in the Department of Work and Pensions and 60% in local government, housing and communities.
At the beginning of October, the IFS estimated that English councils needed £10 billion extra in core funding by 2024-25 to maintain even existing service levels (though not restoring the libraries, youth and community centres lost - or any of the 600,000 local government jobs axed).
The Tory leadership of the Local Government Association, in March 2020, estimated £15 billion had been cut from council funding in the last decade. Last year, the chancellor gave local councils just £2.2 billion extra, but said that three-quarters of that had to be raised with a 5% increase in council tax.
That is likely to be the outcome of this week's budget and review: inadequate core funding for essential council services and the bulk of any increase in spending councils are allowed to make coming from higher taxes on working people. There is no call from the Labour Party for proper central funding of local services.
This further pressure on public spending makes even more significant Unite the Union's decision at its recent conference to call on Labour councils now "to set legal, balanced no-cuts needs-based budgets" (see 'Unite policy conference: Significant breakthrough in policy and workplace organising').
Unite has thrown down the gauntlet to Labour councils which continue to make cuts and privatise services. The Trade Unionist and Socialist Coalition (TUSC) will pick up that gauntlet and work with socialist activists across the unions in mounting the widest possible anti-austerity challenge in the elections next May.
---
In this issue
---
Budget

TORY BUDGET CON

Public spending under further threat from Tories

Tory NHS funding won't fix staff shortage

Public sector pay thaw - union fight is on for a real rise and funding
---
Fighting sexual harassment

Fighting sexism and harassment, and for a safe night out
---
Climate change

Tory climate plans set to fail - socialist planning needed

COP26: protest for Socialist change to reverse climate chaos

Youth climate protests

News in brief
---
Workplace news

Unite policy conference

Gwent Stagecoach workers driving for victory on pay

Clarks shoe workers strike to give 'fire and rehire' the boot

Royal Mail workers stand against 'unachievable workloads'

GPs vote to reject government plans

Workplace news in brief
---
Campaigns

The fight for Hackney's children's centres continues

Southampton People's budget Building an alternative to Tory and Labour austerity

Save Southall youth centre - stop all cuts

Carlisle says make the richest pay, not the poorest!
---
International

Military coup in Sudan - Defiant masses take to the streets
---
Readers' opinion

TV review Maid

TV review The Riots 2011: One Week in August
---
Home | The Socialist 27 October 2021 | Join the Socialist Party