The Socialist 1 December 2021
NHS Critical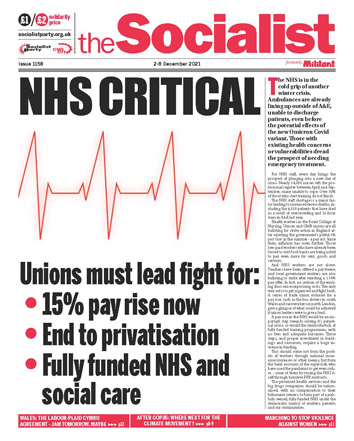 ---
Covid-19: New variant emerges but same old capitalist disease
27 dead in channel migrant tragedy
Bulb bailed out, nationalise energy to solve price crisis
Khan threatens further London transport cuts
Kickstart scheme 'insufficient and flawed'
Tories strengthen repressive laws
---
After COP26: where next for the climate movement?
---
Argentine elections see deepening polarisation
---
Wales: The Labour-Plaid Cymru agreement - jam tomorrow, maybe
---
Behind the rural idyll - the problems of everyday life
---
NHS workers - vote yes for action to win a decent pay rise
Staff and students unite against university bosses' attacks
Education unions lead campaign against Leicester academisation
RMT strikes against abolition of night tube train operators
South Yorkshire Stagecoach drivers strike against measly 1% pay offer
Nottingham and Mansfield trade unions rally against cuts and for better pay
Oaks Park school strike ends following forced concessions
---
East London mass non-payment wins housing victory
Marching to stop violence against women
Housing campaigners protest CEO champagners
Building a political alternative to Tory and Labour cuts
Stop the cuts to Uni arts funding
Plymouth: Hundreds attend vigil for Bobbi-Anne McLeod
Socialism 2021: How we reached our fighting fund appeal target
---
TV review: Valley of the Tears
PO Box 1398, Enfield EN1 9GT
020 8988 8777

Link to this page: https://www.socialistparty.org.uk/issue/1158/33404
Home | The Socialist 1 December 2021 | Join the Socialist Party
Subscribe | Donate | Audio | PDF | ebook
Socialism 2021: How we reached our fighting fund appeal target
Roger Butler, Swansea Socialist Party fighting fund organiser
The Roman orator and statesman Cicero described finance and resources as 'the sinews of war' - and of course the same applies to the struggle for socialism.
So, with a month to go, and an unofficial Swansea and West Wales Socialism 2021 fighting fund appeal target of £1,000 to meet, a coordinated and sustained campaign was the order of the day.
A bit daunting for a newly elected fighting fund organiser who was promptly reminded that Swansea branch and Wales as a whole haven't missed a target in 30 years. No pressure then!
Building on a long Swansea tradition of taking the fighting fund seriously, the first step was to send out an email to all members giving details of the appeal and emphasising the importance of Socialism 2021 as our main public event of the year.
Step two was to contact members by email, text, phone or in person to ask them to pledge what they could afford. There was a ready response with many members pledging what they could barely afford.
High benchmark
Currently we have £1,080 in pledges and we are spending the next week or so contacting the few members who have not yet made a pledge.
The benchmark was set high with a number of longstanding members pledging £100.
One fairly new member immediately pledged £75. She described how impressed she was with the Socialist Party and its determination to make a difference.
"The political and economic situation in this country is in such a state. With the Labour Party back to being part of the establishment and offering no solution it is easy to despair.
"Since joining the Socialist Party it has been heartening to campaign with people who are principled socialists and who are determined to play their part in defending our communities and fighting for socialism.
"It is so important to have the resources to build our party. I am optimistic about our future."
New recruits and younger members, many of them low-paid, unwaged or on student loans, and at the sharp end of the capitalist crisis, also made generous pledges.
One said: "We just cannot go on like this. No-one else is going to save us, it's up to us to build the Socialist Party."
We look set to smash our fighting fund target once again. Phew!
To redeem a fighting fund pledge from Socialism 2021, or if readers would now like to make a donation, go to socialistparty.org.uk/donate
---
In this issue
---
News

NHS Critical

Covid-19: New variant emerges but same old capitalist disease

27 dead in channel migrant tragedy

Bulb bailed out, nationalise energy to solve price crisis

Khan threatens further London transport cuts

Kickstart scheme 'insufficient and flawed'

Tories strengthen repressive laws
---
COP26

After COP26: where next for the climate movement?
---
International

Argentine elections see deepening polarisation
---
Wales

Wales: The Labour-Plaid Cymru agreement - jam tomorrow, maybe
---
Rural life

Behind the rural idyll - the problems of everyday life
---
Workplace news

NHS workers - vote yes for action to win a decent pay rise

Staff and students unite against university bosses' attacks

UCU higher education disputes

Education unions lead campaign against Leicester academisation

RMT strikes against abolition of night tube train operators

South Yorkshire Stagecoach drivers strike against measly 1% pay offer

Nottingham and Mansfield trade unions rally against cuts and for better pay

Oaks Park school strike ends following forced concessions
---
Campaigns

East London mass non-payment wins housing victory

Marching to stop violence against women

Housing campaigners protest CEO champagners

Building a political alternative to Tory and Labour cuts

Stop the cuts to Uni arts funding

Plymouth: Hundreds attend vigil for Bobbi-Anne McLeod

Socialism 2021: How we reached our fighting fund appeal target

End fuel poverty
---
Readers' opinion

TV review: Valley of the Tears
---
Home | The Socialist 1 December 2021 | Join the Socialist Party