The Socialist 1 December 2021
NHS Critical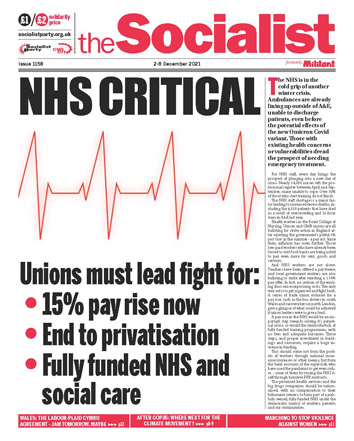 ---
Covid-19: New variant emerges but same old capitalist disease
27 dead in channel migrant tragedy
Bulb bailed out, nationalise energy to solve price crisis
Khan threatens further London transport cuts
Kickstart scheme 'insufficient and flawed'
Tories strengthen repressive laws
---
After COP26: where next for the climate movement?
---
Argentine elections see deepening polarisation
---
Wales: The Labour-Plaid Cymru agreement - jam tomorrow, maybe
---
Behind the rural idyll - the problems of everyday life
---
NHS workers - vote yes for action to win a decent pay rise
Staff and students unite against university bosses' attacks
Education unions lead campaign against Leicester academisation
RMT strikes against abolition of night tube train operators
South Yorkshire Stagecoach drivers strike against measly 1% pay offer
Nottingham and Mansfield trade unions rally against cuts and for better pay
Oaks Park school strike ends following forced concessions
---
East London mass non-payment wins housing victory
Marching to stop violence against women
Housing campaigners protest CEO champagners
Building a political alternative to Tory and Labour cuts
Stop the cuts to Uni arts funding
Plymouth: Hundreds attend vigil for Bobbi-Anne McLeod
Socialism 2021: How we reached our fighting fund appeal target
---
TV review: Valley of the Tears
PO Box 1398, Enfield EN1 9GT
020 8988 8777

Link to this page: https://www.socialistparty.org.uk/issue/1158/33415
Home | The Socialist 1 December 2021 | Join the Socialist Party
Subscribe | Donate | Audio | PDF | ebook
Covid-19: New variant emerges but same old capitalist disease
Jon Dale, Unite Nottinghamshire Health branch secretary (personal capacity)
New Covid-19 variants are inevitable but the threat to world health comes from profit-driven capitalism.
Early reports indicate the Omicron variant is more infectious than Delta. It is not yet known whether Omicron infection is more severe, or whether vaccination is as protective, but action can't wait to find out.
More infectious variants are likely where Covid is spreading quickly because most people aren't immune. The longer the delay for people in poorer countries to be vaccinated, the more likely resistant and more infectious variants will emerge, quickly spreading round the world.
Rich countries are sitting on almost one billion unused doses, while some poorer countries have not yet received vaccines they have paid for.
Shareholders in 'Big Pharma' are banking huge profits from these life-saving vaccines, developed at unprecedented speed with massive subsidies from public funds.
The World Trade Organisation's 1994 'Trade-related aspects of intellectual property rights agreement' (TRIPS) lets big business keep control over knowledge that should benefit everyone on the planet.
Albert Bourla, Pfizer's CEO, described the call to share vaccine recipes as 'dangerous nonsense'. EU and UK governments have blocked a temporary TRIPS suspension during the pandemic.
Pfizer expects to sell $33 billion of its vaccine this year, at a profit rate in 'the high 20 percent range'. Pfizer and BioNTech have delivered less than 1% of their total vaccine supplies to low-income countries. Moderna has delivered just 0.2%. These three companies received over $8 billion from taxpayers. They're making over $93 million profit every day.
The pharmaceutical industry must be taken out of profiteers' hands and democratically planned as a global public service. Scientists, engineers and health workers could then be rapidly mobilised to ensure vaccine production and delivery is speeded up where it is desperately needed.
Johnson protects big business
Boris Johnson announced masks will become mandatory again in shops and on public transport - a necessary public health measure. But, as throughout this pandemic, employers have been let off the hook. Responsibility to stop the virus spreading is left with workers themselves.
Trade union health and safety committees should demand all workplaces, schools, hospitals and public venues are adequately ventilated, with carbon dioxide monitoring. Air filtration units can remove viral particles and should be installed. 'FFP2' masks, protecting the wearer as well as cutting the risk to others, should be issued.
Employers and councils must pay. If companies claim they can't afford it, open their financial books to see why. Nationalise the big companies, subsidise small businesses and reverse council cuts.
Chronically low vaccination rates
Omicron was found first in Southern Africa. 11% have been fully vaccinated in Mozambique and Namibia, 20% in Botswana, and 24% in South Africa. In Malawi it's only 3%, Uganda 1.94%, Yemen 1.16%, DR of Congo 0.06% and Burundi 0.00%.
---
In this issue
---
News

NHS Critical

Covid-19: New variant emerges but same old capitalist disease

27 dead in channel migrant tragedy

Bulb bailed out, nationalise energy to solve price crisis

Khan threatens further London transport cuts

Kickstart scheme 'insufficient and flawed'

Tories strengthen repressive laws
---
COP26

After COP26: where next for the climate movement?
---
International

Argentine elections see deepening polarisation
---
Wales

Wales: The Labour-Plaid Cymru agreement - jam tomorrow, maybe
---
Rural life

Behind the rural idyll - the problems of everyday life
---
Workplace news

NHS workers - vote yes for action to win a decent pay rise

Staff and students unite against university bosses' attacks

UCU higher education disputes

Education unions lead campaign against Leicester academisation

RMT strikes against abolition of night tube train operators

South Yorkshire Stagecoach drivers strike against measly 1% pay offer

Nottingham and Mansfield trade unions rally against cuts and for better pay

Oaks Park school strike ends following forced concessions
---
Campaigns

East London mass non-payment wins housing victory

Marching to stop violence against women

Housing campaigners protest CEO champagners

Building a political alternative to Tory and Labour cuts

Stop the cuts to Uni arts funding

Plymouth: Hundreds attend vigil for Bobbi-Anne McLeod

Socialism 2021: How we reached our fighting fund appeal target

End fuel poverty
---
Readers' opinion

TV review: Valley of the Tears
---
Home | The Socialist 1 December 2021 | Join the Socialist Party