The Socialist 1 December 2021
NHS Critical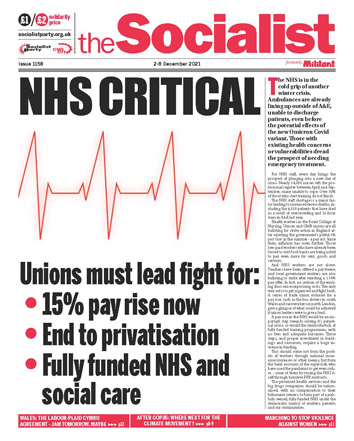 ---
Covid-19: New variant emerges but same old capitalist disease
27 dead in channel migrant tragedy
Bulb bailed out, nationalise energy to solve price crisis
Khan threatens further London transport cuts
Kickstart scheme 'insufficient and flawed'
Tories strengthen repressive laws
---
After COP26: where next for the climate movement?
---
Argentine elections see deepening polarisation
---
Wales: The Labour-Plaid Cymru agreement - jam tomorrow, maybe
---
Behind the rural idyll - the problems of everyday life
---
NHS workers - vote yes for action to win a decent pay rise
Staff and students unite against university bosses' attacks
Education unions lead campaign against Leicester academisation
RMT strikes against abolition of night tube train operators
South Yorkshire Stagecoach drivers strike against measly 1% pay offer
Nottingham and Mansfield trade unions rally against cuts and for better pay
Oaks Park school strike ends following forced concessions
---
East London mass non-payment wins housing victory
Marching to stop violence against women
Housing campaigners protest CEO champagners
Building a political alternative to Tory and Labour cuts
Stop the cuts to Uni arts funding
Plymouth: Hundreds attend vigil for Bobbi-Anne McLeod
Socialism 2021: How we reached our fighting fund appeal target
---
TV review: Valley of the Tears
PO Box 1398, Enfield EN1 9GT
020 8988 8777

Link to this page: https://www.socialistparty.org.uk/issue/1158/33417
Home | The Socialist 1 December 2021 | Join the Socialist Party
Subscribe | Donate | Audio | PDF | ebook
Bulb bailed out, nationalise energy to solve price crisis
James Collett, Gloucester Socialist Party
Britain's seventh-largest energy supplier, Bulb, has gone bust. It has been put into special administration amid the continuing disaster of the privatised energy sector. Bailed out by a government loan of £1.7 billion, Bulb will now be run by administrator Teneo until a buyer can be found, or until its customers are moved to another supplier.
The government says this is to "support customers". But the reality is that, yet again, taxpayers' money is bailing out the private sector while working-class people continue to face extortionate energy costs.
There is no guarantee that the loan will ever be paid back, and certainly no guarantee that Bulb's customers will be 'supported'. Bulb is the 23rd energy company to fail since the summer, and it's clear to many that the private energy industry itself is a failure. After keeping society running throughout the pandemic, the working class is now rewarded with countless attacks on living standards - the sharp rise in energy bills being just one of them.
Government regulator Ofgem's raising of the cap on energy prices affects 3.7 million people, and this includes those who use a prepayment key, often among the poorest, many living in criminally overpriced privately rented accommodation. With the cost of living rising across the board, more and more people will be experiencing the terrible sinking feeling of having their lights go out and knowing there is no more money to put in the meter.
If it's taxpayer's money being used to bail out Bulb, why don't we own it? If Bulb along with the rest of the energy sector was taken into public ownership under democratic workers' control, energy prices could be set by committees of workers and services users - in the interests of workers and service users, not the bosses.
The Socialist Party calls for socialist nationalisation, with compensation paid only on the basis of proven need. The big shareholders and CEOs have already made more than enough money ripping off their customers and should not be paid a penny. For people to be cold and hungry in their own homes in the fifth richest country in the world is a searing indictment of the capitalist system. Enough bail-outs for the rich, it's time to fight for socialism.
---
In this issue
---
News

NHS Critical

Covid-19: New variant emerges but same old capitalist disease

27 dead in channel migrant tragedy

Bulb bailed out, nationalise energy to solve price crisis

Khan threatens further London transport cuts

Kickstart scheme 'insufficient and flawed'

Tories strengthen repressive laws
---
COP26

After COP26: where next for the climate movement?
---
International

Argentine elections see deepening polarisation
---
Wales

Wales: The Labour-Plaid Cymru agreement - jam tomorrow, maybe
---
Rural life

Behind the rural idyll - the problems of everyday life
---
Workplace news

NHS workers - vote yes for action to win a decent pay rise

Staff and students unite against university bosses' attacks

UCU higher education disputes

Education unions lead campaign against Leicester academisation

RMT strikes against abolition of night tube train operators

South Yorkshire Stagecoach drivers strike against measly 1% pay offer

Nottingham and Mansfield trade unions rally against cuts and for better pay

Oaks Park school strike ends following forced concessions
---
Campaigns

East London mass non-payment wins housing victory

Marching to stop violence against women

Housing campaigners protest CEO champagners

Building a political alternative to Tory and Labour cuts

Stop the cuts to Uni arts funding

Plymouth: Hundreds attend vigil for Bobbi-Anne McLeod

Socialism 2021: How we reached our fighting fund appeal target

End fuel poverty
---
Readers' opinion

TV review: Valley of the Tears
---
Home | The Socialist 1 December 2021 | Join the Socialist Party