The Socialist 1 December 2021
NHS Critical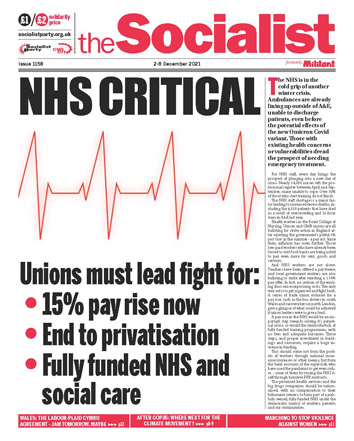 ---
Covid-19: New variant emerges but same old capitalist disease
27 dead in channel migrant tragedy
Bulb bailed out, nationalise energy to solve price crisis
Khan threatens further London transport cuts
Kickstart scheme 'insufficient and flawed'
Tories strengthen repressive laws
---
After COP26: where next for the climate movement?
---
Argentine elections see deepening polarisation
---
Wales: The Labour-Plaid Cymru agreement - jam tomorrow, maybe
---
Behind the rural idyll - the problems of everyday life
---
NHS workers - vote yes for action to win a decent pay rise
Staff and students unite against university bosses' attacks
Education unions lead campaign against Leicester academisation
RMT strikes against abolition of night tube train operators
South Yorkshire Stagecoach drivers strike against measly 1% pay offer
Nottingham and Mansfield trade unions rally against cuts and for better pay
Oaks Park school strike ends following forced concessions
---
East London mass non-payment wins housing victory
Marching to stop violence against women
Housing campaigners protest CEO champagners
Building a political alternative to Tory and Labour cuts
Stop the cuts to Uni arts funding
Plymouth: Hundreds attend vigil for Bobbi-Anne McLeod
Socialism 2021: How we reached our fighting fund appeal target
---
TV review: Valley of the Tears
PO Box 1398, Enfield EN1 9GT
020 8988 8777

Link to this page: https://www.socialistparty.org.uk/issue/1158/33418
Home | The Socialist 1 December 2021 | Join the Socialist Party
Subscribe | Donate | Audio | PDF | ebook
Khan threatens further London transport cuts
Andy Beadle, South East London Socialist Party and retired Unite rep on London buses
"With time running out before TfL's [Transport for London] temporary emergency funding deal comes to an end on December 11, it is my duty as London mayor to sound the alarm." An alarm in the pages of the Financial Times, unfortunately, won't reach the ears of many Londoners. Sadiq Khan, London's Labour mayor and Chair of TfL, threatens: "Schemes such as Crossrail 2 and the Bakerloo Line extension, though worthwhile, are now completely out of reach."
It is a familiar story. Since becoming mayor in 2016, and especially since the pandemic, Khan has been in continual retreat. Pleading with the government has failed. Instead of repeating Tory rhetoric, he could be leading a mass revolt alongside the organised trade union movement and vulnerable service users.
During his first election campaign, Khan addressed our Unite union bus shop stewards meeting, appealing for the union's support. He promised that without us needing to take strike action, he could improve our lives. Disgracefully, even before the pandemic, he'd dutifully carried through £700-million-a-year Tory cuts to TfL's budget.
Since the pandemic, passengers and revenue have dropped sharply. In return for a TfL government bailout last June, Khan made a series of increasingly untenable concessions that promise to attack transport workers' pensions, terms and conditions, and cut services. The mayor looks set to repeat these crimes again.
The tube workers' union RMT is preparing to ballot all grades to resist TfL cuts and attacks on staff pensions. 98.8% of Aslef-organised tube drivers have already voted to strike. At my old bus garage in Battersea, Unite is currently balloting members for action to stop detrimental rotas being imposed. Drivers in the RMT are already taking strike action to resist changes in night working agreements (see page 6), and Khan has taken to Twitter to attack them.
Passenger transport unions throughout London should coordinate action to defend jobs, terms and conditions from attacks stemming from Khan's failure to stand up to the Tories.
Cuts in TfL's services affect all Londoners. 'Every journey matters' was a promotional slogan that TfL seems to have quietly dropped. That is why we need not just a trade union and workplace fight but also a political and community fight for necessary funding.
Like local authorities and other public bodies, TfL holds financial reserves and has the ability to borrow money. We say these powers must be used to defend workers' pensions, terms and conditions, and to invest in the services London needs.
Rather than attacking the unions, cutting passenger services, and threatening cuts in the Financial Times, Khan should be mobilising the support of workers and the public to demand the funding needed from central government.
Socialist Party members stood as part of the Trade Unionist and Socialist Coalition (TUSC), of which the RMT union is a constituent part, in May's London elections to argue for such an approach. This May, when elections are held to London's council boroughs, we are preparing to stand again.
We'd like all those prepared to fight to defend local services, including public transport, to stand alongside us. If your local councillors won't organise a serious campaign to demand more government funding, get involved.
---
In this issue
---
News

NHS Critical

Covid-19: New variant emerges but same old capitalist disease

27 dead in channel migrant tragedy

Bulb bailed out, nationalise energy to solve price crisis

Khan threatens further London transport cuts

Kickstart scheme 'insufficient and flawed'

Tories strengthen repressive laws
---
COP26

After COP26: where next for the climate movement?
---
International

Argentine elections see deepening polarisation
---
Wales

Wales: The Labour-Plaid Cymru agreement - jam tomorrow, maybe
---
Rural life

Behind the rural idyll - the problems of everyday life
---
Workplace news

NHS workers - vote yes for action to win a decent pay rise

Staff and students unite against university bosses' attacks

UCU higher education disputes

Education unions lead campaign against Leicester academisation

RMT strikes against abolition of night tube train operators

South Yorkshire Stagecoach drivers strike against measly 1% pay offer

Nottingham and Mansfield trade unions rally against cuts and for better pay

Oaks Park school strike ends following forced concessions
---
Campaigns

East London mass non-payment wins housing victory

Marching to stop violence against women

Housing campaigners protest CEO champagners

Building a political alternative to Tory and Labour cuts

Stop the cuts to Uni arts funding

Plymouth: Hundreds attend vigil for Bobbi-Anne McLeod

Socialism 2021: How we reached our fighting fund appeal target

End fuel poverty
---
Readers' opinion

TV review: Valley of the Tears
---
Home | The Socialist 1 December 2021 | Join the Socialist Party