The Socialist 1 December 2021
NHS Critical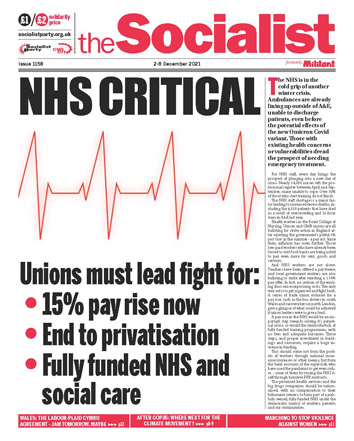 ---
Covid-19: New variant emerges but same old capitalist disease
27 dead in channel migrant tragedy
Bulb bailed out, nationalise energy to solve price crisis
Khan threatens further London transport cuts
Kickstart scheme 'insufficient and flawed'
Tories strengthen repressive laws
---
After COP26: where next for the climate movement?
---
Argentine elections see deepening polarisation
---
Wales: The Labour-Plaid Cymru agreement - jam tomorrow, maybe
---
Behind the rural idyll - the problems of everyday life
---
NHS workers - vote yes for action to win a decent pay rise
Staff and students unite against university bosses' attacks
Education unions lead campaign against Leicester academisation
RMT strikes against abolition of night tube train operators
South Yorkshire Stagecoach drivers strike against measly 1% pay offer
Nottingham and Mansfield trade unions rally against cuts and for better pay
Oaks Park school strike ends following forced concessions
---
East London mass non-payment wins housing victory
Marching to stop violence against women
Housing campaigners protest CEO champagners
Building a political alternative to Tory and Labour cuts
Stop the cuts to Uni arts funding
Plymouth: Hundreds attend vigil for Bobbi-Anne McLeod
Socialism 2021: How we reached our fighting fund appeal target
---
TV review: Valley of the Tears
PO Box 1398, Enfield EN1 9GT
020 8988 8777

Link to this page: https://www.socialistparty.org.uk/issue/1158/33422
Home | The Socialist 1 December 2021 | Join the Socialist Party
Subscribe | Donate | Audio | PDF | ebook
NHS workers - vote yes for action to win a decent pay rise
Paul Tovey, Unison union rep in NHS (personal capacity)
In reality, NHS workers have had a 20% pay cut over a decade of Tory governments. Our goodwill has been taken for granted, and many staff will stay over their time without pay to look after sick patients. This has only been exacerbated by the Covid-19 crisis.
NHS workers are angry at the crisis made worse by years of cuts and at the government's imposed 3% NHS pay rise - a real-terms pay cut. The government is always saying how it values us as healthcare workers, but they are not willing to give us a proper pay rise. They would rather see healthcare workers working a second job and even using foodbanks just to survive.
Unison, the biggest union in the NHS, held a consultative ballot over pay in the summer. 80% of those who voted rejected the pay offer. Socialist Party activists in Unison, including those on the national executive council, argued that the union should move to a strike ballot.
Unfortunately, the union's leadership chose to move to a second consultative ballot, running the risk of diluting the mood of many health workers. The leadership of the Royal College of Nursing has also moved to a second consultative ballot.
Since the summer, the situation for health workers has got worse. The 3% offer is now worth less, with inflation rising towards 5%. The winter crisis, coupled with Covid, has only increased the pressure at work. With a decisive lead from the union tops, a strike ballot can be won.
Activists are working hard doing stalls and talking to members to get a majority in favour of strike action in this consultative ballot. We hope this will pressure Unison's leaders to go forward into a full industrial ballot.
As health workers we need to unite across the NHS unions. To build a movement, not just for industrial action within the NHS, but of all public sector and social care workers for a decent pay rise and fully funded public services.
---
In this issue
---
News

NHS Critical

Covid-19: New variant emerges but same old capitalist disease

27 dead in channel migrant tragedy

Bulb bailed out, nationalise energy to solve price crisis

Khan threatens further London transport cuts

Kickstart scheme 'insufficient and flawed'

Tories strengthen repressive laws
---
COP26

After COP26: where next for the climate movement?
---
International

Argentine elections see deepening polarisation
---
Wales

Wales: The Labour-Plaid Cymru agreement - jam tomorrow, maybe
---
Rural life

Behind the rural idyll - the problems of everyday life
---
Workplace news

NHS workers - vote yes for action to win a decent pay rise

Staff and students unite against university bosses' attacks

UCU higher education disputes

Education unions lead campaign against Leicester academisation

RMT strikes against abolition of night tube train operators

South Yorkshire Stagecoach drivers strike against measly 1% pay offer

Nottingham and Mansfield trade unions rally against cuts and for better pay

Oaks Park school strike ends following forced concessions
---
Campaigns

East London mass non-payment wins housing victory

Marching to stop violence against women

Housing campaigners protest CEO champagners

Building a political alternative to Tory and Labour cuts

Stop the cuts to Uni arts funding

Plymouth: Hundreds attend vigil for Bobbi-Anne McLeod

Socialism 2021: How we reached our fighting fund appeal target

End fuel poverty
---
Readers' opinion

TV review: Valley of the Tears
---
Home | The Socialist 1 December 2021 | Join the Socialist Party