The Socialist 1 December 2021
NHS Critical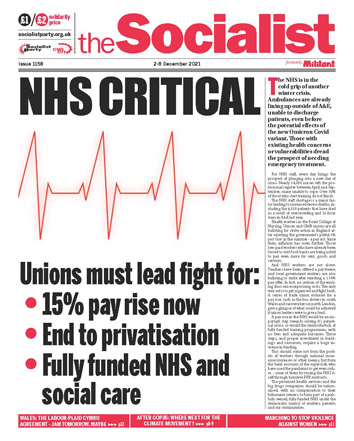 ---
Covid-19: New variant emerges but same old capitalist disease
27 dead in channel migrant tragedy
Bulb bailed out, nationalise energy to solve price crisis
Khan threatens further London transport cuts
Kickstart scheme 'insufficient and flawed'
Tories strengthen repressive laws
---
After COP26: where next for the climate movement?
---
Argentine elections see deepening polarisation
---
Wales: The Labour-Plaid Cymru agreement - jam tomorrow, maybe
---
Behind the rural idyll - the problems of everyday life
---
NHS workers - vote yes for action to win a decent pay rise
Staff and students unite against university bosses' attacks
Education unions lead campaign against Leicester academisation
RMT strikes against abolition of night tube train operators
South Yorkshire Stagecoach drivers strike against measly 1% pay offer
Nottingham and Mansfield trade unions rally against cuts and for better pay
Oaks Park school strike ends following forced concessions
---
East London mass non-payment wins housing victory
Marching to stop violence against women
Housing campaigners protest CEO champagners
Building a political alternative to Tory and Labour cuts
Stop the cuts to Uni arts funding
Plymouth: Hundreds attend vigil for Bobbi-Anne McLeod
Socialism 2021: How we reached our fighting fund appeal target
---
TV review: Valley of the Tears
PO Box 1398, Enfield EN1 9GT
020 8988 8777

Link to this page: https://www.socialistparty.org.uk/issue/1158/33423
Home | The Socialist 1 December 2021 | Join the Socialist Party
Subscribe | Donate | Audio | PDF | ebook
Education unions lead campaign against Leicester academisation
Steve Score, Parent and Leicester Socialist Party
Staff at West Gate special school in Leicester, along with their supporters, turned out for a lobby of Leicester City Council on 25 November in protest at planned academisation. The lobby, organised by the National Education Union, Unison and GMB unions, attempted to get clear support from the almost 100% Labour council for their campaign. While we got support from many councillors, some were incredibly reluctant to give their backing.
After an Ofsted inspection in 2018, the school was given an Academy Order, meaning that it would leave local authority control and be run by a less-accountable academy trust. In the meantime, the proposed sponsor withdrew and the school has since been given a 'good' Ofsted grade. Even in the eyes of the inspectors the staff had turned the school around. However, at the time of writing, the Department for Education is still insisting on forcing academisation on the school.
My son Ben attends this school and has made tremendous progress since he got there. But all the hard work of staff is threatened by this attack.
I have proposed that as part of the campaign the unions should involve the families. A start would be to call a meeting to explain what academisation would mean and build a broader campaign.
The experience of the Socialist Party in previous campaigns, both in schools and in saving the Glenfield Children's Heart Centre, for example, proves that, while legal action such as a Judicial Review can be important, a mass campaign is key.
---
In this issue
---
News

NHS Critical

Covid-19: New variant emerges but same old capitalist disease

27 dead in channel migrant tragedy

Bulb bailed out, nationalise energy to solve price crisis

Khan threatens further London transport cuts

Kickstart scheme 'insufficient and flawed'

Tories strengthen repressive laws
---
COP26

After COP26: where next for the climate movement?
---
International

Argentine elections see deepening polarisation
---
Wales

Wales: The Labour-Plaid Cymru agreement - jam tomorrow, maybe
---
Rural life

Behind the rural idyll - the problems of everyday life
---
Workplace news

NHS workers - vote yes for action to win a decent pay rise

Staff and students unite against university bosses' attacks

UCU higher education disputes

Education unions lead campaign against Leicester academisation

RMT strikes against abolition of night tube train operators

South Yorkshire Stagecoach drivers strike against measly 1% pay offer

Nottingham and Mansfield trade unions rally against cuts and for better pay

Oaks Park school strike ends following forced concessions
---
Campaigns

East London mass non-payment wins housing victory

Marching to stop violence against women

Housing campaigners protest CEO champagners

Building a political alternative to Tory and Labour cuts

Stop the cuts to Uni arts funding

Plymouth: Hundreds attend vigil for Bobbi-Anne McLeod

Socialism 2021: How we reached our fighting fund appeal target

End fuel poverty
---
Readers' opinion

TV review: Valley of the Tears
---
Home | The Socialist 1 December 2021 | Join the Socialist Party