The Socialist 31 May 2007
No to McJobs
---
Protest against the G8 leaders
Protest at arrest and prosecution in Bolivia
---
Campaign brings victory against cuts
Local campaign successes show effective leadership in action
National Shop Stewards Network founding conference
---
Southern Ireland general election: Smaller parties squeezed
Wales - Labour rule under threat
Talking about the 'real world' at Wales TUC
---
A double bonanza for big businesss
Fight against destructive school policies
Stop and question: A dangerous kite to fly
Unhealthy surpluses on NHS underspend
---
Defend and expand public housing
---
Refugee camp siege compounds Lebanon's deep political crisis
---
---
Repression of Gay Pride in Moscow
---
Hull UNISON takes historic step
Remploy try to close factories
PO Box 1398, Enfield EN1 9GT
020 8988 8777
editors@socialistparty.org.uk

Link to this page: https://www.socialistparty.org.uk/issue/489/2450
Home | The Socialist 31 May 2007 | Join the Socialist Party
Housing crisis deepens
Defend and expand public housing
A socialist answer to Margaret Hodge
Government minister Margaret Hodge created a furore in the press when she stated that 'indigenous families' should be given priority for social housing above 'new migrants'. Hannah Sell examines the situation faced by families on housing waiting lists around the country and gives a socialist response to their anger and frustration.
Alan Johnson and other Labour MPs attacked Margaret Hodge for pandering to the far-right British National Party (BNP) after she wrote an article on housing policy and immigration in the Observer newspaper (20.5.07). Undoubtedly she was attempting to undercut the BNP, which now has twelve councillors in Barking and Dagenham where she is an MP.
In fact her comments will not undermine the BNP but fuel its support. Nonetheless, she was also reflecting the feeling of some white workers in the area, which the BNP has exploited, that they cannot get council housing because recent immigrants are prioritised before them. Is this true?
The primary reason that there are 8,000 people on the housing waiting list in Barking and Dagenham is the chronic housing shortage. The number of council homes in the borough has fallen by 22,000 in the last twenty years. Last year only 230 houses and flats were built by housing associations and the council in the borough.
Hodge, Johnson, and all the New Labour MPs who are now bewailing the housing crisis, are breathtaking in their hypocrisy. Britain's housing shortage is intensifying and it is New Labour's policies that are responsible. While flats on Park Lane are snapped up by city traders for £50 million a pop, almost a million working-class children live in severely overcrowded conditions.
The figures for Barking and Dagenham could be replicated for every council in the country. For the last twenty five years every government, Tory and New Labour, has systematically undermined council housing. Twenty years ago there were more than five million council homes, now there is barely half that number.
Council housing is left unrepaired in order to try to force tenants to vote for privatisation. As more and more tenants refuse to fall for this, the government is looking at other ways to undermine the existence of council housing - including moves towards the 'marketisation' (ie the increasing) of rents and the abolition of secure tenancies.
Inevitable tensions
Given capitalism's and New Labour's failure to provide public housing, it is inevitable that tensions will exist about who does, and who does not, get council housing. These tensions are exacerbated in areas like Barking and Dagenham, where there has been a recent and significant increase in the population, including increased numbers of immigrants.
The lack of an open, democratic and accountable system of allocations, which would be accepted by most workers, also increases anger.
Hodge argued that priority should be given to those whose families have lived in the community for generations. In most areas, links to a local area do give 'extra points' to those on the waiting list. However, other factors, particularly homelessness, often give more points.
This means that there are cases where homeless families that are new to an area are housed above families living in severely over-crowded conditions that have been on the waiting list for many years. While it is the extreme lack of council housing which is the root cause, leading to a choice between housing the homeless and the 'merely' desperate, this inevitably creates resentment amongst those who do not get council housing against those who do.
The BNP feeds on this. Unsurprisingly, it has welcomed Hodge's statement, saying it creates a 'win-win' situation for them. In reality, the BNP has no solution to the housing crisis. It actually opposes a major council house building programme. Ignoring the 22,000 drop in the number of council houses, they completely wrongly argue that if indigenous families are prioritised it will be possible for them all to get housing without building new homes.
The Socialist Party believes that the right of families to be housed in the same community is an important one. The struggle to achieve it has to be linked to both the fight for a mass council house building programme and for democratic control of the allocation system. Decisions should be taken on the basis of need, including the right to be housed near relatives and friends, not by council officials, but by elected representatives of local community organisations, including tenants' associations, trade unions and other community campaigns.
Far from defending community cohesion, if the government gets its way, the rights of existing council tenants will be further undermined as secure tenancies and the right to pass on your council flat to your children are taken away. However, the government is not proposing these measures to give a greater percentage of council housing to recent immigrants, as Hodge seemed to suggest, but instead to destroy council housing for all workers - indigenous and immigrant.
Historically, council housing, alongside the NHS and other public services, has been of enormous benefit to working-class people. It, at least to some degree, has protected people against the 'housing market' - that is against the big landlords and housing companies whose real interest is not meeting housing need but is private profit.
Today, however, all of the establishment parties - Tories, New Labour and Lib Dem - are big-business parties that put the profits of the big corporations before the needs of working-class people. As a result they all support a programme of dismantling public services, including council housing.
Public housing needed
New Labour, including Gordon Brown, argue, like the Tories before, that the answer to the housing crisis is not council housing but home ownership - 'the property owning democracy'. But for a growing number of people there is no possibility of buying a home. For the first time home ownership is falling, as millions cannot afford to get a mortgage. (See adjacent article.)
The majority of those in rented accommodation are in the private sector, facing a future of insecure, hugely over-priced and often sub-standard housing. More than 40% of private rented accommodation is not of a 'decent standard'.
In the 1950s and 1960s millions of workers were rescued from slum housing by the development of council housing. From 1949-54 an average of 230,000 council houses were built per year. The Socialist Party is campaigning for a programme on a similar scale that would refurbish existing stock and build enough new homes to genuinely solve the housing problem for all. Such houses could be built to the highest environmental specifications but, unlike the eco-housing Brown is proposing, be public and affordable.
Arguing against building new council houses the government housing minister, Yvette Cooper, has said it would be too expensive. Yet spending on housing benefit has quadrupled to £8.6 billion over the last twenty years. This money is going to private landlords for poor-quality housing, when it could be used to build affordable, high-quality council housing.
At the same time the government refuses to allow three- quarters of the £45 billion from the sale of council houses to be used to build new council houses. Spending on council house building has fallen from £5.6 billion in 1980/81 to £0.2 billion in 2002/03.
We need a mass campaign to defend and expand council housing which unites existing tenants and the 1.5 million people on waiting lists. This should demand decent housing for all, regardless of their ethnic or religious background.
From 1983 to 1987 Liverpool City Council mobilised a mass campaign to defy the Tory government. That council built 6,000 new council homes as well as massively improving local public services. Working-class people need councillors who are prepared to do the same today.
---
>
Record house prices - and record debt
Asked what they wanted in a home, 72% of people unsurprisingly put 'affordability', 'security' and 'a safe neighbourhood' above ownership. However, the dire shortage of affordable, high-quality social housing means that the only way most workers can see of achieving 'security' and a 'safe neighbourhood' is by clawing their way onto the property ladder.
Unfortunately, doing so is far from affordable and increasingly insecure. House prices are at record levels. One recent study estimated that more than three million of today's over-30s will never be able to buy and will still be in rented accommodation when they die. For under-30s the situation is even worse. Of those under-30s who have managed to get a mortgage, almost 40% have only been able to because their parents could afford to help them out.
For millions of workers buying is now impossible. House prices are six times average incomes, compared to a historical average of three and a half times. Banks are now offering mortgages at five times salary as people stretch their budgets to the limit to try and achieve one of the most basic of human needs - a comfortable home for themselves and their children.
Many just cannot make their finances stretch far enough. The inevitable result is a sharp rise in the number of people living in severely overcrowded conditions. Even according to the government's figures (which don't include children under one and judge that having to sleep in the living room or kitchen does not constitute overcrowding) there are almost a million children living in overcrowded homes.
It is an indication of the severity of the crisis that companies are now seriously marketing 'micro-compact homes' - basically a 2.5 metre cube. You can make this your home provided you are prepared to pay £50,000 for the privilege of living somewhere far smaller than the average box room!
Nor does getting on the housing ladder bring security. The rise in interest rates over the last year has meant that average mortgage payments have increased by £1,500 a year. Last year 123,000 homeowners faced court action by their mortgage lender because they could not afford the mortgage repayments. It is estimated that even an increase in interest rates to 6.25%, while low by historic standards, would lead to more than 55,000 families' homes being repossessed.
The danger of a recession and housing crash similar to that of the early 1990s is implicit in the situation. The crisis of 1992 led to more than 100,000 repossessions and a million buyers being trapped because the price of their house had fallen to lower than the value of their mortgage.
Today interest rates are lower but the gap between average house prices and average earnings is 20% higher now than it was in the years before the housing crash of the 1990s.
At the same time, Britain's population is far deeper in debt than was the case then. Collectively we owe a vast £1.3 trillion. More than a million people have already been forced below the poverty line by crippling debt repayments.
Household debt is a major factor keeping the British economy growing but the situation cannot continue indefinitely. As Will Hutton put it in the Observer: "a crash is coming, and it could be soon".
In the US twenty-two mortgage lending companies went bankrupt in the first two months of 2007 because workers could not afford to meet mortgage payments. The price of new-builds in the US has fallen by 11%, the biggest drop since 1970, as a result of the deflation of the housing bubble.
At a certain stage the same thing will happen in Britain. The property speculators, the banks and the mortgage companies have made billions out of the current spiralling of house prices to insane levels. A housing crash will tip a few of them into bankruptcy but it will be ordinary homeowners who really pay the price.
The Socialist Party campaigns for a major public house building programme. Without doubt if affordable, high-quality secure public housing was available, far fewer people would choose to buy.
However, we also demand that the big banks, insurance companies, building societies and other finance houses be taken into democratic public ownership. Most mortgage holders in the country pay their bank or building society tens of thousands of pounds in interest. Local councils also pay vast sums in interest payments to the banks.
If the banks were in public ownership they would be able to cancel all local authority debts and offer individuals interest-free, or very low interest, loans. The result would be far cheaper mortgage repayments and rents.
The Socialist Party is fighting for:
No to privatisation!
High quality council housing - decent, affordable, secure and accountable.
Do the repairs, renovate our homes - clear the £19 billion backlog in council house repairs with no strings attached.
A tenants' vote on any changes, for an honest debate. Tenants' organisations and campaigns should have the same funding to put the tenants' case as the councils have to put theirs.
Allocations to be decided by democratic bodies made up of elected representatives of local community organisations, including tenants' associations and trade unions.
Rent officers to have the power to force landlords to charge a fair rent.
A massive programme of public house building to meet public need. Democratic public ownership of the construction giants.
Democratic public ownership of the banks and finance companies, cancel all local authority debts and give mortgage holders low-interest loans.
---
>
A socialist councillor's view
OVER THE last decade the New Labour government has overseen the selling off of more council housing to various private companies than the Tories did in eighteen years.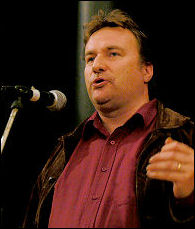 Rob Windsor speaking at Socialist Party congress 2006, photo Paul Mattsson
Rob Windsor, Coventry Socialist Party councillor
In Coventry the organisation set up to "buy" the housing stock took out massive private-sector loans. As a result rents have gone sky high and thousands of homes have been demolished. This has meant that it can now take up to a year to get housed in areas where it used to take a couple of months.
It has also meant a chronic shortage of decent family homes in working-class areas. These are very important as they enable families and communities to stay together. Yet many families now face waits of years in overcrowded housing with the most they can hope for being an offer of housing miles away from family and friends. A number are pushed towards the overpriced and insecure private sector.
A constituent recently told me that her private-sector rent would be £900 a month. This would be paid via housing benefit. Just think how much could actually be saved if a fraction of the amount paid to private landlords via housing benefit was invested in the building or refurbishment of affordable, rented homes.
New Labour's policies actually denigrate affordable rented housing and promote the massively overpriced and often poorly built cramped new housing that we see today. In Coventry 300 new homes are being built on the site of what was Coventry's football ground.
Socialist Party councillors pushed for a proportion to be homes at affordable rents. But this was denied by the New Labour-controlled council on the grounds that there was "enough social housing in the area" and that a "mix of housing is needed to re-generate the area".
In short, working-class people are being priced out of the area in the hope that it will be re-populated by affluent "yuppies". Ironically the construction firm building the homes is offering deals for "investors" who want to buy the properties in order to rent them out for a profit. So a number of them will be rented out, but at sky high prices.
In reality most who do buy are not "yuppies" but are forced into high mortgages because there is nothing else available. A change in the economy could lead to a disaster for people like this with no decent affordable rented stock to take up the slack.
Working-class people of whatever race or origin all have a wish for decent homes. By campaigning together this can be realised. Margaret Hodge's words will only serve to divide people and blunt their ability to fight for a better life.
---
In this issue

No to McJobs
---
G8 Summit protests

Protest against the G8 leaders

Protest at arrest and prosecution in Bolivia
---
Socialist Party campaigns

Campaign brings victory against cuts

Local campaign successes show effective leadership in action

National Shop Stewards Network founding conference
---
International socialist news and analysis

Southern Ireland general election: Smaller parties squeezed

Wales - Labour rule under threat

Talking about the 'real world' at Wales TUC
---
Socialist Party news and analysis

A double bonanza for big businesss

Fight against destructive school policies

Stop and question: A dangerous kite to fly

Unhealthy surpluses on NHS underspend
---
Socialist Party feature

Defend and expand public housing
---
War and terrorism

Refugee camp siege compounds Lebanon's deep political crisis

Protesters cleared
---
Marxist analysis: history

The Merthyr Rising 1831
---
Socialist Party LBGT

Repression of Gay Pride in Moscow

Homophobia: it's not over
---
Socialist Party workplace news

Hull UNISON takes historic step

Remploy try to close factories
---
Home | The Socialist 31 May 2007 | Join the Socialist Party