The Socialist 31 May 2007
No to McJobs
---
Protest against the G8 leaders
Protest at arrest and prosecution in Bolivia
---
Campaign brings victory against cuts
Local campaign successes show effective leadership in action
National Shop Stewards Network founding conference
---
Southern Ireland general election: Smaller parties squeezed
Wales - Labour rule under threat
Talking about the 'real world' at Wales TUC
---
A double bonanza for big businesss
Fight against destructive school policies
Stop and question: A dangerous kite to fly
Unhealthy surpluses on NHS underspend
---
Defend and expand public housing
---
Refugee camp siege compounds Lebanon's deep political crisis
---
---
Repression of Gay Pride in Moscow
---
Hull UNISON takes historic step
Remploy try to close factories
PO Box 1398, Enfield EN1 9GT
020 8988 8777
editors@socialistparty.org.uk

Link to this page: https://www.socialistparty.org.uk/issue/489/2452
Home | The Socialist 31 May 2007 | Join the Socialist Party
Campaign brings victory against cuts
Pot and Pans demonstration in Waltham Forest against cuts to school meals, photo Paul Mattsson
WALTHAM FOREST council announced their decision in March to remove the subsidy to school meals and get rid of the borough's catering service, that not only finances and organises school meals but also provides 'meals on wheels' for the elderly.
Nancy Taaffe and Linda Taaffe Walthamstow Socialist Party
Just three weeks of campaigning by trade unions, parents and socialists seriously rattled the councillors. Last week council leader, Clyde Loakes, was forced to offer to extend the school meals subsidy at least until 2009 - an unequivocal victory in our books!
The campaign created a culture of opposition to the council's decision in the local population, culminating in a "Pots and Pans" march by around 250 angry dinner ladies, teachers, parents, supporters and children. This noisy, busy demonstration marched from the town square to the town hall demanding the dinner service stays.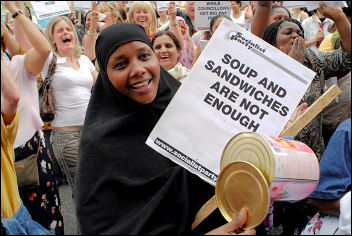 Pot and Pans demonstration in Waltham Forest against cuts to school meals, photo Paul Mattsson
"Your fight is our fight," Tommy Anderson, a T&G steward in street cleansing, told the town square rally. He promised that if the campaign continued, next time he would bring the bin trucks out to block the roads.
We chanted as we marched: "If you want to keep school dinners - bang a pan". A young education worker with an Asian drum and people with pans, wooden spoons, tin lids, rattles and whistles joined in. Passers-by and shopkeepers took leaflets, offered donations and cheered us.
At the town hall Loakes sent word that he would meet with a delegation of only three people! There was no let-up of the chanting. Eventually, accompanied by deputy leader Keith Rayner, Loakes came cautiously onto the town hall steps where Linda Taaffe from the NUT and Nancy Taaffe from UNISON introduced him to the crowd.
A surreal, megaphoned surrender from Loakes followed. Loakes asked the audience, panto style: "Do you want the council to continue with a centrally provided school meal service?" as if it had been his intention all along! When the cheer came up he followed through with "I can't hear you"!
In a complete turnaround he issued a statement saying the service would be safe for one more year and pledged to continue with the status quo. He also claimed that he intended to bring the ten schools that had left the council service back in.
Fight continues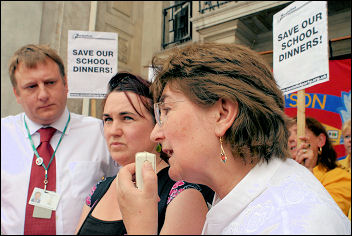 Teacher's union representative Linda Taaffe addresses the protest at the Pot and Pans demonstration in Waltham Forest against cuts to school meals, photo Paul Mattsson
FOLLOWING DEMANDS to do so, Loakes and Rayner promised to put their pledge in writing. We told him we had a follow-up meeting arranged. Any attempt to hoodwink us would be met with a leaflet going out with every child in the borough and a demo of at least twice the size confronting him!
Once there was some acceptance that the offer might be genuine, everyone held a triumphant march round the town hall fountain and chanted "Victory!"
One dinner lady, expressing both the staff's suspicion and determination to fight on, said that the promise of one more year was not enough. "Now we've got to fight to keep it forever. We must keep lobbying, collecting petitions and keeping ahead of what's going on". Nancy said we are not standing down the campaign. We will monitor the situation and hold all Cllr Loakes' promises to account.
This campaign raised political questions. Before the demo a dinner lady commented on the hypocrisy of the government who claim to care about children's health while allowing such enormous cuts to go through. "They're up there and we're down here" was her comment.
If we helped councillors change their minds once through serious campaigning - we can do it again! If you do nothing you get nothing. If you fight together, you can get something.
We want money spent on good food for our kids, maintaining the subsidy to the catering service and more kitchen staff on decent wages. We don't want it spent on exorbitant consultants' fees, outlandish councillors' allowances and profits for private catering companies.
Socialist Party members involved in the campaign sold over 70 copies of the socialist and collected around 30 signatures on the Campaign for a New Workers' Party's declaration.
A dinner lady was asked who she would vote for in the next elections given the council's attitude towards vital services. "I don't trust any of them. They're all the same now. We need a new party in there, don't we? A complete new party. Put me in there!"
---
In this issue

No to McJobs
---
G8 Summit protests

Protest against the G8 leaders

Protest at arrest and prosecution in Bolivia
---
Socialist Party campaigns

Campaign brings victory against cuts

Local campaign successes show effective leadership in action

National Shop Stewards Network founding conference
---
International socialist news and analysis

Southern Ireland general election: Smaller parties squeezed

Wales - Labour rule under threat

Talking about the 'real world' at Wales TUC
---
Socialist Party news and analysis

A double bonanza for big businesss

Fight against destructive school policies

Stop and question: A dangerous kite to fly

Unhealthy surpluses on NHS underspend
---
Socialist Party feature

Defend and expand public housing
---
War and terrorism

Refugee camp siege compounds Lebanon's deep political crisis

Protesters cleared
---
Marxist analysis: history

The Merthyr Rising 1831
---
Socialist Party LBGT

Repression of Gay Pride in Moscow

Homophobia: it's not over
---
Socialist Party workplace news

Hull UNISON takes historic step

Remploy try to close factories
---
Home | The Socialist 31 May 2007 | Join the Socialist Party