The Socialist 31 May 2007
No to McJobs
---
Protest against the G8 leaders
Protest at arrest and prosecution in Bolivia
---
Campaign brings victory against cuts
Local campaign successes show effective leadership in action
National Shop Stewards Network founding conference
---
Southern Ireland general election: Smaller parties squeezed
Wales - Labour rule under threat
Talking about the 'real world' at Wales TUC
---
A double bonanza for big businesss
Fight against destructive school policies
Stop and question: A dangerous kite to fly
Unhealthy surpluses on NHS underspend
---
Defend and expand public housing
---
Refugee camp siege compounds Lebanon's deep political crisis
---
---
Repression of Gay Pride in Moscow
---
Hull UNISON takes historic step
Remploy try to close factories
PO Box 1398, Enfield EN1 9GT
020 8988 8777
editors@socialistparty.org.uk

Link to this page: https://www.socialistparty.org.uk/issue/489/2458
Home | The Socialist 31 May 2007 | Join the Socialist Party
Lewisham demo
Fight against destructive school policies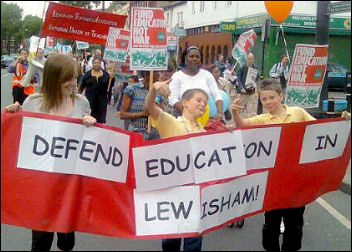 Lewisham demonstration against destructive school policies, photo Paul Mattsson
AROUND 300 parents, pupils and teachers marched on the Civic Suite on 23 May where Lewisham council was meeting. The march brought together local campaigns fighting back against the New Labour council's divisive and destructive education policies.
James Kerr, Lewisham Socialist Party
Lewisham's mayor, Steve Bullock and his cabinet try to sell the proposals through so-called consultations and glossy leaflet drops, but the demonstrators showed how they felt with chants of "Bullock, Bullock, Bullock - Out, Out, Out" and a chorus of boos whenever he was mentioned.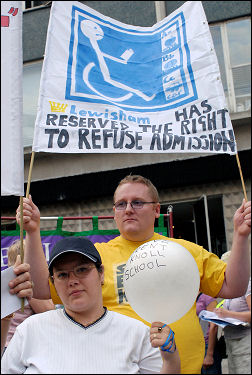 Lewisham demonstration against destructive school policies, photo Paul Mattsson
The liveliest contingent was from Brent Knoll special school that, along with Pendragon and Meadowgate, faces closure under the council's plans.
From the platform Brent Knoll students and parents spoke of how important the school was for children who suffered from a lack of support in mainstream schools.
As one Brent Knoll parent said "This isn't about catering for our children's needs. This is about money!"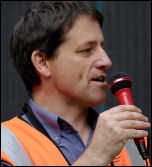 Martin Powell Davies at the Lewisham demonstration against destructive school policies, photo Paul Mattsson
There were also staff and parents from Lewisham Bridge where the council plans to shoe-horn a primary and secondary school on to the site of the existing primary. Martin Powell-Davies, Lewisham NUT Secretary gave the example of an academy in Peterborough built recently without a playground as a sign of how the drive to cut costs by councils and big business means it's students and staff who suffer!
Lewisham Socialist Party Councillor lan Page declared his support for the campaign, saying Lewisham council's consultations had "Put the 'Sham' in Lewisham" and hadn't considered the needs of local people.
The march showed the massive anger felt on these proposals. It was a great step forward for the Defend Education in Lewisham campaign drawing together all those who want to fight for properly funded schools under local authority control.
---
>
Parents fight for special needs provision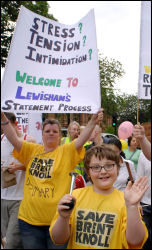 Lewisham demonstration against destructive school policies, photo Paul Mattsson
BRENT KNOLL school in Forest Hill has been running for nearly 100 years, first as a school for 'delicate' children now as a special needs school. The socialist spoke to Debbie Lester, who is involved in the campaign to save the school.
MY SON has been at Brent Knoll for just over two years now and he's flourished there. Before, he was in a mainstream school where he was bullied and intimidated. The teachers are lovely, the working environment is fantastic and the small classes are just what children want.
If Lewisham education authority get their way, they will phase out the school's primary unit so there will only be secondary provision. This means both now and in the future, that children will not have the remarkable facility that we have. The children will instead be put in units within mainstream schools.
Why don't the council read Lord Adonis's guidelines that say that better provision must be put in place before they change special needs provision? There's nothing in Lewisham or surrounding boroughs that does that. Parents will fight.
---
>
Socialist councillors give community a voice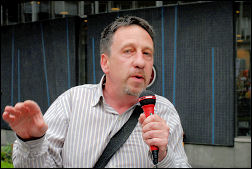 Ian Page at the Lewisham demonstration against destructive school policies, photo Paul Mattsson
AT THE council meeting following the demonstration (see above), the New Labour councillors were given a hard time by angry protesters. After the meeting had taken 'council questions' on the special schools re-organisation from teachers, parents and the Socialist Party councillor Ian Page, the protestors walked out of the public gallery, with one parent warning, 'we're going now, but you haven't seen the last of us'!
Later on the meeting debated a motion opposing plans to move two local Post Offices into branches of WH Smith. Ian Page moved an amendment calling on the council to support the Communications Workers' Union (CWU) national campaign against these plans, which across the country will affect over 1,300 workers.
The Liberal Democrats showed their true colours when a majority of their councillors, along with the Tories, refused to back the amendment. But the amendment was passed as the Labour councillors, realising how the Socialist councillors would publicise their refusal to back the CWU, reluctantly supported it.
---
In this issue

No to McJobs
---
G8 Summit protests

Protest against the G8 leaders

Protest at arrest and prosecution in Bolivia
---
Socialist Party campaigns

Campaign brings victory against cuts

Local campaign successes show effective leadership in action

National Shop Stewards Network founding conference
---
International socialist news and analysis

Southern Ireland general election: Smaller parties squeezed

Wales - Labour rule under threat

Talking about the 'real world' at Wales TUC
---
Socialist Party news and analysis

A double bonanza for big businesss

Fight against destructive school policies

Stop and question: A dangerous kite to fly

Unhealthy surpluses on NHS underspend
---
Socialist Party feature

Defend and expand public housing
---
War and terrorism

Refugee camp siege compounds Lebanon's deep political crisis

Protesters cleared
---
Marxist analysis: history

The Merthyr Rising 1831
---
Socialist Party LBGT

Repression of Gay Pride in Moscow

Homophobia: it's not over
---
Socialist Party workplace news

Hull UNISON takes historic step

Remploy try to close factories
---
Home | The Socialist 31 May 2007 | Join the Socialist Party