The Socialist 27 September 2007
Support the postal workers
---
Local health services under private control
Swansea NHS trust - balancing books at patients' expense
---
Brown's blue bluster in Bournemouth
Union protest at Labour's sterile conference
Liberal Democrats - Struggling in third place
Stoke's 'unpopular front' council coalition
---
---
British banking crisis: Toxic system exposed
---
Greek elections: Support slashed for New Democracy and PASOK
---
Belfast Airport workers continue their battle
PO Box 1398, Enfield EN1 9GT
020 8988 8777

Link to this page: https://www.socialistparty.org.uk/issue/503/3148
Home | The Socialist 27 September 2007 | Join the Socialist Party
Royal Mail bosses force further strikes
Support the postal workers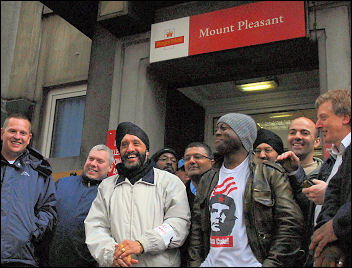 Postal workers on strike in June 2007, photo Paul Mattsson
THE BATTLE lines have been drawn between Royal Mail and the postal workers. Without doubt we are heading for a showdown, where the very future of our industry and the union is at stake.
Gary Clark, sub area rep, Scotland No. 2 branch Communication Workers Union (CWU)
During the summer, 130,000 postal workers massively supported our strike action, causing a huge backlog in mail, forcing some small concessions and the management back round the table.
But the five weeks of talks which were extended for five extra days, just brought out the management's real intentions - the complete destruction of the union and a totally flexible workforce which they can control.
They are giving us a 6.7% pay increase over two years in return for tearing up every national and local agreement and allowing the managers to run all over the workforce.
In return for the 6.7% over two years we must accept:
Flexible attendances, where managers can make you start two hours before or after your normal start times. So you are committed to a 12-hour period every working day.
Changes to the shift times, which our members have been performing for many years, without any real reason.
Accepting door-to-door items (the leaflets we get paid extra to deliver) into our normal workload, with an agreement to increase the amount we have to deliver.
Annualised hours where you work around 35 hours a week during the summer but as many as required during the busy periods, without extra pay.
Flexible summer staffing where five will do the work of six. You will also be expected to cover any short-term absences.
Removal of the MTSF agreement (our redundancy package). This will be replaced with a more 'realistic' one, probably just the statutory minimum.
Closure of our pension scheme to new and existing staff. They want to replace our final salary scheme with a career average scheme. Many postal workers feel they may not have the best job in the world but at least they have a decent pension to look forward to.
Ripping up the existing industrial relations framework and replacing it by ACAS lowest standards. They have already said in informal meetings that they will end all facility time for union officials.
Royal Mail have declared war on the CWU and its members. Since the talks have broken down they have announced a series of executive actions, including the closure of two mail centres, changes to start times and the ending of Sunday collections.
The union has responded by calling two 48-hour strikes on 5-6 October and 8-9 October. This will be backed up by strikes from 15 October, which will mean every day there will be at least one section out.
This is a dispute we can't afford to lose. Our very future is at risk and so is a vital public service. All these changes are part and parcel of the government's privatisation plans.
The union must also be calling on support from other trade unions. This could turn into a long and bitter dispute. Support groups should now be set up and demos organised in every region of the country.
---
In this issue

Support the postal workers
---
Socialist Party NHS campaign

Scrap PFI!

Local health services under private control

Swansea NHS trust - balancing books at patients' expense
---
Socialist Party news and analysis

Brown's blue bluster in Bournemouth

Union protest at Labour's sterile conference

Liberal Democrats - Struggling in third place

Salmond's first hundred days

Stoke's 'unpopular front' council coalition
---
Socialist Students

University freshers fairs
---
Socialist Party Marxist analysis

British banking crisis: Toxic system exposed
---
International socialist news and analysis

Greek elections: Support slashed for New Democracy and PASOK
---
Socialist Party workplace news

PCS prepares for more strikes

Belfast Airport workers continue their battle

Bus workers win victory
---
Home | The Socialist 27 September 2007 | Join the Socialist Party