The Socialist 27 September 2007
Support the postal workers
---
Local health services under private control
Swansea NHS trust - balancing books at patients' expense
---
Brown's blue bluster in Bournemouth
Union protest at Labour's sterile conference
Liberal Democrats - Struggling in third place
Stoke's 'unpopular front' council coalition
---
---
British banking crisis: Toxic system exposed
---
Greek elections: Support slashed for New Democracy and PASOK
---
Belfast Airport workers continue their battle
PO Box 1398, Enfield EN1 9GT
020 8988 8777

Link to this page: https://www.socialistparty.org.uk/issue/503/3150
Home | The Socialist 27 September 2007 | Join the Socialist Party
What we think
Brown's blue bluster in Bournemouth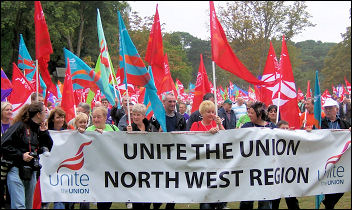 Unite trade union demonstration outside Labour Party conference 2007, photo Bob Severn
BEFORE THIS year's Labour Party conference, the unrelenting process of removing democracy inside the Labour Party had already helped to transform the party into the capitalist party that it is today. Resolutions passed at party conference that were considered too left wing by the leadership were already being ignored.
But for new prime minister Gordon Brown and the other Labour leaders this was not enough. At their party conference that began in Bournemouth on 23 September, new proposals were voted through that gave them the right to ignore conference decisions. The limited number of conference resolutions that are allowed are now to be handed to Labour's national policy-making committee to discard as it pleases.
Also, trade union influence on policy has been further reduced. The party's election manifesto will now be simply rubber stamped by a vote of the dwindling party membership consisting largely of time servers, councillors, apparatchiks etc rather than being decided with trade union involvement.
How craven are the leaders of the Labour-affiliated trade unions when the only pre-conference "concession" they won on these proposals was an agreement that they would be reviewed after two years!
None of them even spoke in the conference debate on this latest "huge step backwards" as it was described by former Environment minister, Michael Meacher.
These same union leaders say that their relations with the government have improved since Gordon Brown took over. Yet Brown has stressed over and over again, in words as well as deeds – lately by inviting Tory Margaret Thatcher to tea - that he will continue with the attacks on the public sector begun by Tony Blair. His ideological substance is little different to Blair's.
His promises in his conference speech on hospital cleanliness, cancer screening, education, youth crime etc were barely anything new and were just scratching the surface of what would be necessary to reverse years of hugely inadequate funding. They were designed just to appear to be responding to a few of the main concerns people express.
He did not mention class, despite the fact that a majority of people in the country are working class. He spoke with a 'conservative blue' backdrop and repeatedly mentioned Britain and Britishness; part of his ongoing campaign to appeal to Tory voters and portray himself as a 'national' leader.
Foreign Secretary David Miliband had the nerve to declare that Britain is "a richer, fairer, more confident country" than it was when New Labour came to power ten years ago. Richer and 'fairer' for who?
The super-wealthy; and certainly, as a result of this, they have more 'confidence' in the Labour government than they did in 1997, so much so that big business money has poured into Labour's coffers.
For now, Brown is benefiting in opinion polls from not having the same style of arrogance as Tony Blair and is playing on an image of being more down-to-earth and 'in-touch'.
A Sunday Mirror/ICM poll came out with a figure of 66% saying that Brown is doing 'a good job'. He is fortunate in that the American mortgage market is so far being blamed for the current British banking crisis more than the British government. He also has the fortune to be compared favourably with stumbling Tory leader David Cameron.
Election speculation
With Labour having a new leader and a clear lead in the polls, there has been a media frenzy of speculation on whether Brown will call a general election soon. If he does and his poll lead is maintained until then, he would win.
However, the danger of losing and becoming one of the shortest-serving prime ministers of all time must weigh heavily in Brown's mind. Nevertheless, he himself has not publicly ruled out an autumn election, so it remains a possibility.
If he delays in calling an election he is likely to be badly affected by the economic turmoil to come (see 'British Banking Crisis: Toxic System Exposed', by Peter Taaffe, in this issue) and by a huge backlash against the further public-sector cuts he intends to make.
Some media commentators have noted that Brown appears to represent 'change' despite having been a main architect of Labour's programme for at least 15 years, and that Nicolas Sarkozy in France also pulled off a similar feat. Sarkozy, though, is about to face the first response of the French working class to his neo-liberal agenda following a decision of six rail unions to take strike action over their pension rights and other attacks on 18 October.
As Gordon Brown continues to dish out the same diet of pay restraint and cuts as before, British workers will be compelled to follow the French example.
Workers in France are renowned for being assertive in defence of their living standards and a high proportion say they are against the capitalist free market economy.
However, in an FT/Harris poll this week, faced with the question: "Do you think a free-market, capitalist economy is the best economic system or not?" over 40% of UK people who were polled answered 'no' and a further 20% were 'not sure'. Only a minority said 'yes'. This shows the changing tide of consciousness that portends the class confrontations to come.
---
In this issue

Support the postal workers
---
Socialist Party NHS campaign

Scrap PFI!

Local health services under private control

Swansea NHS trust - balancing books at patients' expense
---
Socialist Party news and analysis

Brown's blue bluster in Bournemouth

Union protest at Labour's sterile conference

Liberal Democrats - Struggling in third place

Salmond's first hundred days

Stoke's 'unpopular front' council coalition
---
Socialist Students

University freshers fairs
---
Socialist Party Marxist analysis

British banking crisis: Toxic system exposed
---
International socialist news and analysis

Greek elections: Support slashed for New Democracy and PASOK
---
Socialist Party workplace news

PCS prepares for more strikes

Belfast Airport workers continue their battle

Bus workers win victory
---
Home | The Socialist 27 September 2007 | Join the Socialist Party