The Socialist 27 September 2007
Support the postal workers
---
Local health services under private control
Swansea NHS trust - balancing books at patients' expense
---
Brown's blue bluster in Bournemouth
Union protest at Labour's sterile conference
Liberal Democrats - Struggling in third place
Stoke's 'unpopular front' council coalition
---
---
British banking crisis: Toxic system exposed
---
Greek elections: Support slashed for New Democracy and PASOK
---
Belfast Airport workers continue their battle
PO Box 1398, Enfield EN1 9GT
020 8988 8777

Link to this page: https://www.socialistparty.org.uk/issue/503/3151
Home | The Socialist 27 September 2007 | Join the Socialist Party
Union protest at Labour's sterile conference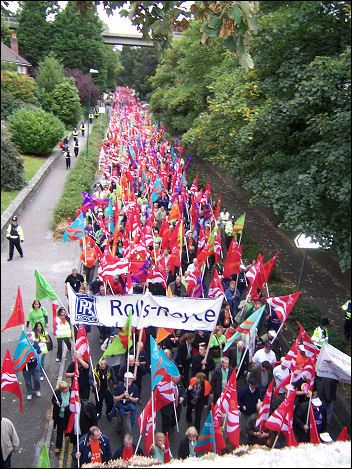 Unite trade union demonstration outside Labour Party conference 2007, photo Bob Severn
THE UNITE union lead a demonstration of 2,000 people to lobby the start of the Labour Party conference in Bournemouth, asking for a better deal for workers.
Bob Severn
Many Remploy workers and their families were on the demonstration.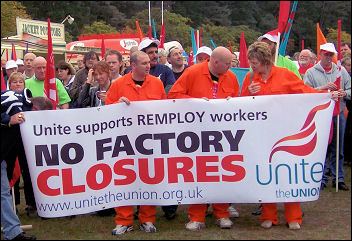 Remploy workers rally against closure threat, photo Bob Severn
Senior Remploy shop steward Lorraine Sheen said at the opening rally: "Our message for Labour is keep the Remploy factories open and don't throw 3,000 disabled workers on the scrapheap."
However, GMB members from Remploy were not allowed to display their own union banners on the demonstration.
While complaining about below inflation pay, privatisation, job losses, casual labour and the housing crisis, Derek Simpson, Unite joint general secretary (Amicus section), was most concerned about winning a fourth term for Labour.
But Labour MP Jon Cruddas admitted to the rally: "The biggest group of non-voting people is working-class ex-Labour voters."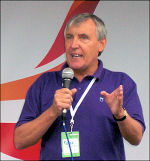 Tony Woodley on Unite demo at Labour Party conference 2007, photo Bob Severn
Tony Woodley, Unite's other joint general secretary (TGWU section), said that the new union – a merger of TGWU and Amicus – was a brand new fighting union, but that there was no use in being giant unless they used their weight to support their members.
Why then do Unite's leaders carry on helping to keep New Labour afloat with millions of pounds of their members' money, instead of helping to build a new party that represents workers instead of bosses?
Fifteen people signed the Campaign for a New Workers' Party declaration and 30 copies of the socialist were sold.
Rolls-Royce workers, with the future of their Liverpool factory uncertain, were also on the demonstration. Staff at a Rolls-Royce subsidiary, Ross Ceramics in Denby, have started two-hour Friday walkouts after being offered a 3.5% pay increase, compared to 5% for other Rolls-Royce staff.
---
In this issue

Support the postal workers
---
Socialist Party NHS campaign

Scrap PFI!

Local health services under private control

Swansea NHS trust - balancing books at patients' expense
---
Socialist Party news and analysis

Brown's blue bluster in Bournemouth

Union protest at Labour's sterile conference

Liberal Democrats - Struggling in third place

Salmond's first hundred days

Stoke's 'unpopular front' council coalition
---
Socialist Students

University freshers fairs
---
Socialist Party Marxist analysis

British banking crisis: Toxic system exposed
---
International socialist news and analysis

Greek elections: Support slashed for New Democracy and PASOK
---
Socialist Party workplace news

PCS prepares for more strikes

Belfast Airport workers continue their battle

Bus workers win victory
---
Home | The Socialist 27 September 2007 | Join the Socialist Party