The Socialist 27 September 2007
Support the postal workers
---
Local health services under private control
Swansea NHS trust - balancing books at patients' expense
---
Brown's blue bluster in Bournemouth
Union protest at Labour's sterile conference
Liberal Democrats - Struggling in third place
Stoke's 'unpopular front' council coalition
---
---
British banking crisis: Toxic system exposed
---
Greek elections: Support slashed for New Democracy and PASOK
---
Belfast Airport workers continue their battle
PO Box 1398, Enfield EN1 9GT
020 8988 8777

Link to this page: https://www.socialistparty.org.uk/issue/503/3155
Home | The Socialist 27 September 2007 | Join the Socialist Party
Save Coventry hospitals
Scrap PFI!
Hands off the NHS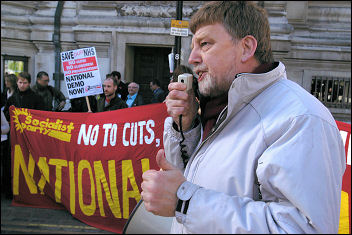 Coventry Councillor Dave Nellist on NHS demonstration 1st November 2006, photo Paul Mattsson
THE PRIVATE Finance Initiative (PFI) hospital at Walsgrave in Coventry has threatened to cut over 300 jobs, and has announced a massive rise in car parking charges for the disabled. The Trust running the hospital has even written to dedicated hospital workers, asking them to "assist" in solving the financial crisis by taking extra unpaid leave!
Rob Windsor, Coventry Socialist Party councillor
The Socialist Party has always warned of the dangers of PFI. The new Walsgrave hospital is "owned" by Skanska–Innisfree. They rent it back to us taxpayers in a PFI "mortgage" (known as the unitary charge) at, currently, £56 million a year, index linked to inflation for the next 39 years making a cool £1.6 billion profit for these parasites and their greedy shareholders.
But changes in funding for NHS Primary Care Trusts based on "Payment by Results" have meant, including other factors, that there has not been the money to pay the PFI "mortgage" for the last two years. Debts of over £86 million have been amassed. This is not to provide decent health care for Coventry people, but to feed the private companies and their blood-sucking directors and shareholders.
Newly discovered debts to the West Midlands strategic health authority were revealed by persistent probing questions from Socialist Party group leader Councillor Dave Nellist via the council's Health "Scrutiny" board.
The PFI scheme runs until 2045. By then it will have 'hoovered up' all local health services in Warwickshire. The proposed cuts in Warwickshire hospitals, successfully resisted by a massive campaign initiated by the Socialist Party, will be as nothing to what is to come as the PFI beast seeks to devour more clinical funds to meet the 'unitary charge'. St Cross Hospital in Rugby is certain to be threatened with closure.
Coventry people were promised a new hospital for the city, but in reality it will be a regional hospital - competing for 'business' against PFI hospitals with similar intentions in Birmingham and beyond. People throughout the region are still jostled in the queue for services.
In a recent council debate the Socialist Party called for the scrapping of the local PFI deal. Only hours before, New Labour nationally, in panic at the Northern Rock situation, agreed to set aside £28 billion to, in effect, 'nationalise' the deposits of a failing bank. We cannot wait for our health service to fall to pieces under PFI and take no action.
A campaign needs to be initiated now to scrap all PFI schemes and return them to the public sector under fully transparent democratic control, by elected representatives, including representatives from NHS workers and patient groups as opposed to the secretive boards who hide behind "commercial confidentiality" whilst they cook the NHS books.
The PFI is nothing but a 'red cross' Railtrack and should be scrapped and returned to public ownership right now!
---
In this issue

Support the postal workers
---
Socialist Party NHS campaign

Scrap PFI!

Local health services under private control

Swansea NHS trust - balancing books at patients' expense
---
Socialist Party news and analysis

Brown's blue bluster in Bournemouth

Union protest at Labour's sterile conference

Liberal Democrats - Struggling in third place

Salmond's first hundred days

Stoke's 'unpopular front' council coalition
---
Socialist Students

University freshers fairs
---
Socialist Party Marxist analysis

British banking crisis: Toxic system exposed
---
International socialist news and analysis

Greek elections: Support slashed for New Democracy and PASOK
---
Socialist Party workplace news

PCS prepares for more strikes

Belfast Airport workers continue their battle

Bus workers win victory
---
Home | The Socialist 27 September 2007 | Join the Socialist Party