The Socialist 27 September 2007
Support the postal workers
---
Local health services under private control
Swansea NHS trust - balancing books at patients' expense
---
Brown's blue bluster in Bournemouth
Union protest at Labour's sterile conference
Liberal Democrats - Struggling in third place
Stoke's 'unpopular front' council coalition
---
---
British banking crisis: Toxic system exposed
---
Greek elections: Support slashed for New Democracy and PASOK
---
Belfast Airport workers continue their battle
PO Box 1398, Enfield EN1 9GT
020 8988 8777

Link to this page: https://www.socialistparty.org.uk/issue/503/3156
Home | The Socialist 27 September 2007 | Join the Socialist Party
Local health services under private control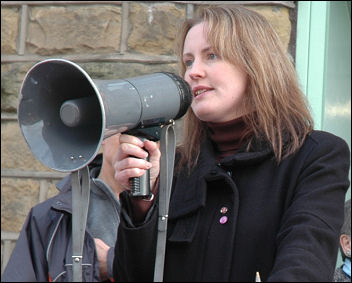 Jackie Grunsell, GP and councuillor, speaks at a Save Huddersfield NHS demonstration
AN ARTICLE in the British Medical Journal by Professor Allyson Pollock and colleagues exposes the power that private contractors now have over health services.
Councillor Jackie Grunsell and Ian Slattery
Before the Health and Social Care Act 2003, GPs were contracted to provide "all medical services usually provided by GPs." They had responsibility, as NHS employees, to care for all those in need who had the right to NHS services. Under new legislation this is now the responsibility of private contractors.
The contractors decide the method and type of services needed for any occasion, determining "'in their reasonable opinion' when home visits take place, when out-of-hours services are offered [and] who is removed from patient lists."
Through their buying power, they determine the specialist services we're fighting to keep in hospitals. Health is, legally, under private control.
Deregulation has given primary care providers free rein over staff terms and conditions as well as the specific mix of staff at any given medical centre. In this way, its similarity to the academy school system is uncanny.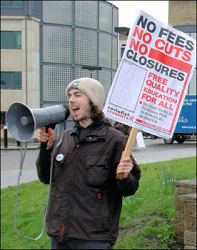 Ian Slattery
And if, heaven forbid, one of these companies should step out of line? The Department of Health proposes that 'the market' or 'competition' will be the regulator, the law enforcer. Only with the market, the only law is that of profit.
An unaccountable NHS is unacceptable. The government was told this by Lord Sharman's 2001 report into audit and accountability. A government commitment based on the report recommended that "public money should remain publicly accountable even when it is channelled through private funds."
This government is lying to itself and to us if it really thinks bringing in private companies and the capitalist market will have any positive effect on our health.
On top of the aforementioned control of staff and service, there will be a destructive change in the way the NHS is divided. Currently all areas have access, in theory, to the same products and services. If each area, divided into local health authorities, has a potentially different company owning and running its NHS a vast inequality could occur.
House prices could rise as families move to have access to an NHS oasis in one district, while a few miles away those to whom moving is no option have only a limited NHS service.
This is the future. Tens of thousands of people are now organised in opposition to these plans. When we march on 3 November in central London on the vital trade union-led demonstration we will demand:
Hands off our NHS. No to private contractors
A publicly funded, staffed and accountable NHS, free at the point of use
The re-nationalisation of those health contracts already dished out
Complete nationalisation of the cancerous pharmaceutical industry
Combine research and resources on a democratic basis to provide the best quality health care for all
A socialist plan for the economy, freeing up wealth to increase spending in the public sector
---
In this issue

Support the postal workers
---
Socialist Party NHS campaign

Scrap PFI!

Local health services under private control

Swansea NHS trust - balancing books at patients' expense
---
Socialist Party news and analysis

Brown's blue bluster in Bournemouth

Union protest at Labour's sterile conference

Liberal Democrats - Struggling in third place

Salmond's first hundred days

Stoke's 'unpopular front' council coalition
---
Socialist Students

University freshers fairs
---
Socialist Party Marxist analysis

British banking crisis: Toxic system exposed
---
International socialist news and analysis

Greek elections: Support slashed for New Democracy and PASOK
---
Socialist Party workplace news

PCS prepares for more strikes

Belfast Airport workers continue their battle

Bus workers win victory
---
Home | The Socialist 27 September 2007 | Join the Socialist Party