The Socialist 17 October 2007
National Health Service: cutbacks and privatisation kill
National Health Service Cutbacks and privatisation kill
The vultures are circling ever closer
---
Postal workers waiting to assess Royal Mail deal
Fighting Royal Mail management's attacks
Solid unofficial action in East London
National Shop Stewards' Network meetings
---
---
Students on trumped-up charges
---
---
Young workers and students need to get involved
"You've got to stick together"
Stop the placement rip-off now!
---
---
Trade Union Freedom Bill: Banishing Thatcher's anti-union legacy?
Working longer hours for less pay
---
ITV2 - making a good deal out of women's bodies
---
Workers' struggle and political instability sends Polish government into meltdown
Australia: Liberals v Labour - no choice for working people in election
---
Children's homes at risk of buy-outs
PO Box 1398, Enfield EN1 9GT
020 8988 8777

Link to this page: https://www.socialistparty.org.uk/issue/506/3285
Home | The Socialist 17 October 2007 | Join the Socialist Party
NHS privatisation
The vultures are circling ever closer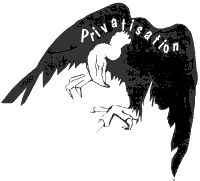 Vulture, credit Alan Hardman
FOURTEEN PRIVATE multinational companies will shortly be 'helping' England's primary care trusts (PCTs) commission services for patients. Local PCTs control three-quarters of the NHS budget and private companies hope to make a fortune.
Roger Shrives
The full list of firms contacted by the government is Aetna Health services (UK), AXA PPP Healthcare, Administration Services Ltd, BUPA, Dr Foster intelligence, Health Dialog Services, Humana Europe, KPMG, McKesson Information Services, McKinsey, Navigent Consulting, Tribal Consulting, United Health Europe and WG Consulting.
Most health workers and 'save our NHS' campaigners see these 'advisory' firms as harbingers of massive privatisation. BUPA is Britain's largest private health care provider while AXA is a major private health insurer.
Most of these firms are huge multinational, usually US, health care providers or advisers or their European subsidiaries. KPMG, the accountancy firm specialising in getting the rich out of their tax responsibilities, advised the government on scores of hospital PFI deals and now advises the Department of Health (DH) on commercial strategy.
Ruth Carnall worked for the DH until she left in 2004 to take up four new posts - including a directorship with private health group, Care UK, and roles advising on NHS business with KPMG. Now she's back as an adviser to the NHS and is chief executive of NHS London, largest of ten strategic health authorities.
United Health Europe is chaired by Simon Stevens, Tony Blair's old health policy adviser. United Health has already tried to take over general practice in two Derbyshire villages. It and Humana have been criticised for deceptive sales tactics and other misdemeanours (see the socialist 505).
Aetna started making money in the USA in the 19th century by insuring slaves as slaveholders' property. Now, it gets its money from medical insurance. Together with United Health and AARP, Aetna plans to form America's biggest provider of private insurance to Medicare recipients.
27 health corporations are in the Fortune 500 list of top US companies yet around 50 million US citizens have no health insurance coverage. 21 cents in every dollar in the private health sector is wasted billing patients whereas the US government-administered Medicare at present gives 97 cents out of every dollar for patient care.
Aetna United Health and other firms want to change this unhealthy (from a capitalist viewpoint) balance! They want to change things in Britain too.
The vultures are circling closer. These capitalist concerns that put profit before every other consideration are being paid handsomely to advise the NHS. Yet more reasons to join the fightback, starting with the national demo on 3 November.
---
In this issue

National Health Service Cutbacks and privatisation kill

National NHS demo

The vultures are circling ever closer

10,000 march in Sussex

Swansea fights the cuts

Rally for Socialism
---
Postal dispute

Exposing Royal Mail's lies

Postal workers waiting to assess Royal Mail deal

Fighting Royal Mail management's attacks

Solid unofficial action in East London

National Shop Stewards' Network meetings

Daylight robbery in Scotland!

Save Bolsover Post Offices
---
Socialist Party Marxist analysis

Brown's blues
---
International Appeal

Students on trumped-up charges
---
Socialist Students

Scrap fees for all students
---
National Shop Stewards Network

Young workers and students need to get involved

"You've got to stick together"

Stop the placement rip-off now!
---
Campaign for a New Workers Party

Tony Benn evades the issue
---
Trade Union Freedom Bill

Trade Union Freedom Bill: Banishing Thatcher's anti-union legacy?

Working longer hours for less pay
---
Socialist Party women

ITV2 - making a good deal out of women's bodies
---
International socialist news and analysis

Workers' struggle and political instability sends Polish government into meltdown

Australia: Liberals v Labour - no choice for working people in election
---
Socialist Party news and analysis

Children's homes at risk of buy-outs
---
Home | The Socialist 17 October 2007 | Join the Socialist Party