The Socialist 17 October 2007
National Health Service: cutbacks and privatisation kill
National Health Service Cutbacks and privatisation kill
The vultures are circling ever closer
---
Postal workers waiting to assess Royal Mail deal
Fighting Royal Mail management's attacks
Solid unofficial action in East London
National Shop Stewards' Network meetings
---
---
Students on trumped-up charges
---
---
Young workers and students need to get involved
"You've got to stick together"
Stop the placement rip-off now!
---
---
Trade Union Freedom Bill: Banishing Thatcher's anti-union legacy?
Working longer hours for less pay
---
ITV2 - making a good deal out of women's bodies
---
Workers' struggle and political instability sends Polish government into meltdown
Australia: Liberals v Labour - no choice for working people in election
---
Children's homes at risk of buy-outs
PO Box 1398, Enfield EN1 9GT
020 8988 8777

Link to this page: https://www.socialistparty.org.uk/issue/506/3288
Home | The Socialist 17 October 2007 | Join the Socialist Party
Exposing Royal Mail's lies
While negotiations between Royal Mail management and the Communication Workers Union were still on-going, a London postal worker who was involved in unofficial strike action spoke to the socialist about the dispute.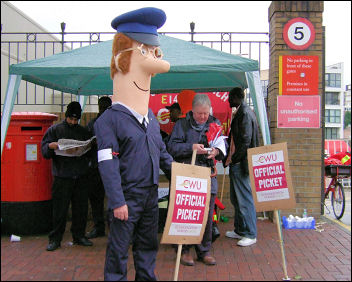 Postman Pat joins the CWU picket line in East London, photo Naomi Byron
"A week's wages were lost by 130,000 postmen and women but we gained a valuable political lesson during our strikes.
Royal Mail chief executive Adam Crozier has played a massive dirty tricks campaign while looking wide-eyed and defensive. But didn't this casino capitalist revel in the backslapping and congratulations from ministers in 2002 for turning round the (supposedly) failing business and returning record profits and performance figures?
Remember the flawed attempt to re-brand Royal Mail as Consignia?
As I approach my 17th year as a postman, I guess I'm experienced enough to dispel some of the outrageous claims Royal Mail have recently released to an unsympathetic and lazy media. A hard worker is now the fat, lazy, overtime-grabbing slob. The jovial whistling postman now wears the mask of a militant anti-establishment anarchist.
The 92 "Spanish Practices" Royal Mail are talking about are a complete myth. We can shoot down every one of their claims."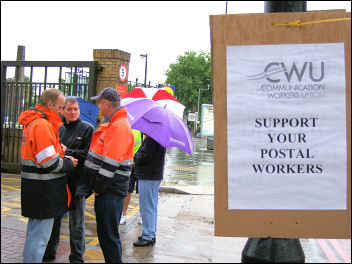 CWU picket line in East London, photo Naomi Byron
We're being paid the same for door-to-doors [delivering items that aren't individually addressed] as we were in 1996. Door-to-doors were a maximum of three items a week, now they're looking to increase that to nine.
Up to now it was purely optional, now they want to make it compulsory.
The maximum you can earn now from delivering 600 free newspapers a week is about £12, a tiny little leaflet is £6-7 per walk.
With three a week you would average £21-25 extra a week – now they want us to do three times the work for free. That means losing up to £75 a week.
We're contracted to work eight hours and we come in every day prepared to do that. It's out of our control how much work comes in.
Why should we be forced to work an extra two hours a day at heavy periods when we're not responsible for the extra workload?
Under the new rules you can be working two hours extra a day for free. There's no more overtime, if someone is off sick the rest of you have to cover their work for nothing.
All over the office we've got digital displays that say the maximum bag weight is 16 kilos but people regularly take out bags of 20-22 kilos because you have to do that to get the job done in time.
Everyone is supposed to weigh out their bag but it's conveniently ignored just to get the job done.
That's why there's so many physical injuries. One guy is off sick waiting for an operation because one of his knees is completely shot. It's not a coincidence that you carry a heavy bag every day and ten years later your knees are gone.
They say mail volumes are down but from my experience I've never worked harder in my life. They're doubling the size of the pouch boxes [where postal workers store up to six bags of mail] on each walk.
They're trialling green vans, electric vans and electric bikes with a huge trailer on the back so we can take even more mail for each walk.
That's a lot of investment for a company that is losing contracts and dealing with decreasing mail volume!
Royal Mail are pleading poverty but they have just spent £40 million on bonuses for managers. Our manager got between £7-10,000 bonus and the "top 100" managers got up to £100,000.
They've spent £15 million to fit out every office with a 42 inch plasma TV screen with wifi connectivity and a computer for managers' conferencing and briefings from Crozier.
We're a committed and hard-working workforce and to blame us for the company losing money is scandalous.
Ever since I've been in the job we've had scare headlines about competition. But the infrastructure Royal Mail has got is absolutely massive - the ability to deliver to every single door in the country.
We're trying to "compete" with tinpot companies delivering pizza leaflets. With a motivated workforce and good industrial relations we can provide a guaranteed service for every letter posted because we have the infrastructure.
Royal Mail property must be worth billions – look at the sites they own in London alone.
Every taxpayer has paid for it over hundreds of years. They've no right to sell it off. It's the last bastion of nationalised industry."
---
In this issue

National Health Service Cutbacks and privatisation kill

National NHS demo

The vultures are circling ever closer

10,000 march in Sussex

Swansea fights the cuts

Rally for Socialism
---
Postal dispute

Exposing Royal Mail's lies

Postal workers waiting to assess Royal Mail deal

Fighting Royal Mail management's attacks

Solid unofficial action in East London

National Shop Stewards' Network meetings

Daylight robbery in Scotland!

Save Bolsover Post Offices
---
Socialist Party Marxist analysis

Brown's blues
---
International Appeal

Students on trumped-up charges
---
Socialist Students

Scrap fees for all students
---
National Shop Stewards Network

Young workers and students need to get involved

"You've got to stick together"

Stop the placement rip-off now!
---
Campaign for a New Workers Party

Tony Benn evades the issue
---
Trade Union Freedom Bill

Trade Union Freedom Bill: Banishing Thatcher's anti-union legacy?

Working longer hours for less pay
---
Socialist Party women

ITV2 - making a good deal out of women's bodies
---
International socialist news and analysis

Workers' struggle and political instability sends Polish government into meltdown

Australia: Liberals v Labour - no choice for working people in election
---
Socialist Party news and analysis

Children's homes at risk of buy-outs
---
Home | The Socialist 17 October 2007 | Join the Socialist Party