The Socialist 13 December 2007
Warning: NHS cuts seriously damage your health
---
Defend Tommy Sheridan: End Murdoch's witch-hunt
Tommy Sheridan: End Murdoch's vendetta
---
Warning: NHS cuts seriously damage your health
Manchester: Karen Reissmann sacked - and cuts still loom
---
---
Interest rate cut will bring no reprieve
---
Thousands march against climate change
---
Sefton's first citizen "cheating the system"
Unite Cardiff schools campaigns
---
National Union of Students: Right wing force through undemocratic changes
Leicester students debate tuition fees
---
Beijing Olympics under a cloud
China: Mass protests erupt in Shenyang
Extraordinary tape destruction at CIA torture camp
---
DWP strike: Fighting the pay cuts
Birmingham city council: Workers boo 'lead balloon' councillors
Action can beat Cadbury closure threat
Newham council sack Unison chair
PO Box 1398, Enfield EN1 9GT
020 8988 8777
editors@socialistparty.org.uk

Link to this page: https://www.socialistparty.org.uk/issue/514/3553
Home | The Socialist 13 December 2007 | Join the Socialist Party
Fight to save post offices
No to cuts and privatisation
Defend our public services
Not being able to draw your pension at your local post office is not something that will bother the likes of Alan Cook, managing director of Post Offices Limited.
Jon Dale, Mansfield and North Derbyshire Socialist Party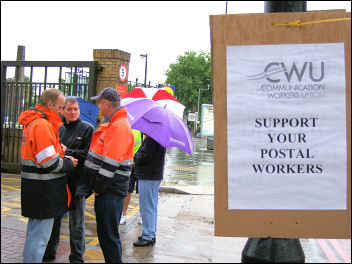 CWU picket line in East London, photo Naomi Byron
Rather than worrying about the problems of a privatised bus service taking him to a privatised post office service to collect his meagre pension, he will be paid a bonus of £1 million for delivering the closure of 2,500 post offices on time. But these closures are going to have a major impact on ordinary people right across the country.
Post office closures are part of the attack on public services to boost big business profits. Elderly and disabled people will be hit hardest, having to travel if they can, or pay to get their money from a machine.
The highly-paid post office bosses making these decisions won't need to queue for their salaries! It is time our need for good public services is put before the greed of big business.
The government and their big business pals are deliberately making post offices unviable. First pensions and benefits stopped being paid with a book, forcing people to open bank accounts.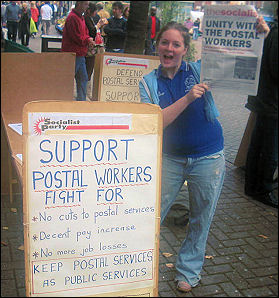 Socialist Party members campaigned for support for the CWU in the postal strike of 2007
Now we can't pay water rates, buy TV licenses or pay some gas bills at the post office. Now 2,500 post offices are to be closed.
Behind the propaganda that the post offices are no longer viable is the fact that the government has deliberately undermined the publicly owned post office network.
In 1997 New Labour appointed Martin Taylor, the chief executive of Barclays Bank, to advise on tax and benefit reform. It was obvious that business would be taken away from post offices and given to the banks.
Richard Handover, a Royal Mail director, was chairman of WH Smith until 2005. Now 70 main post offices around the country are being handed over and moved into WH Smith branches!
Decisions on any post office closures should be taken by the communities that depend on them and local sub-postmasters and mistresses - not these millionaires who never face problems withdrawing their money.
Sarah Feltham spoke for many when she explained why she was campaigning to stop post office closures at a rally in Bolsover, Chesterfield: "My father is riddled with cancer from head to foot. I have to go to college to be able to get a job, but when I'm not at home he can get to Carr Vale post office on his scooter to get his money. There's no way at all he could get up the hill to Bolsover post office if Carr Vale closes."
But this attack is not being accepted. As soon as the closure programme was announced a campaign swung into action. 60 angry Carr Vale residents attended an emergency Community Association meeting, called at just three days notice.
As word spread that we are fighting to save our post offices, messages of support arrived from Gloucester Communication Workers' Union who have won a campaign to keep their mail centre open.
School meals campaigners in the London Borough of Waltham Forest sent a good luck message. They recently won their battle against the council to keep school meals funding.
Nursery school parents and trade unionists in Huddersfield, who saved two nursery schools from council closure, sent their solidarity.
The common message is that strong campaigning as a community can win against the odds.
---
>
As we go to press the Post Office has announced the results of its consultation on the closures. Despite clear opposition they have found in favour of closing a valuable service.
A protest will take place in Bolsover on Saturday 15 December. Please send messages of support for the protest to jihdale@lineone.net and if you want to get in touch about linking up campaigns against post office closure you can call Jon on 07779 205 101.
---
>
Burslem postal workers vote to strike
Postal workers at Burslem have voted overwhelmingly to take strike action in the fight to reinstate the 12 victimised workers.
---
In this issue
---
Scotland

Defend Tommy Sheridan: End Murdoch's witch-hunt

Tommy Sheridan: End Murdoch's vendetta

Tommy Sheridan perjury charge
---
Socialist Party NHS campaign

Warning: NHS cuts seriously damage your health

Manchester: Karen Reissmann sacked - and cuts still loom
---
Post Office dispute

Fight to save post offices
---
What we think

Interest rate cut will bring no reprieve

Charity begins at the bank

Every fiddle helps

Government's lying statistics
---
Global Warming

Thousands march against climate change
---
Socialist Party news and analysis

Sefton's first citizen "cheating the system"

Unite Cardiff schools campaigns

Your new police terror chief
---
Socialist Students

National Union of Students: Right wing force through undemocratic changes

Leicester students debate tuition fees
---
International socialist news and analysis

Beijing Olympics under a cloud

China: Mass protests erupt in Shenyang

Extraordinary tape destruction at CIA torture camp
---
Workplace news and analysis

DWP strike: Fighting the pay cuts

Birmingham city council: Workers boo 'lead balloon' councillors

Action can beat Cadbury closure threat

Newham council sack Unison chair
---
Home | The Socialist 13 December 2007 | Join the Socialist Party