The Socialist 16 April 2008
529
'We're striking against low pay'
Editorial: 24 April strikes: step forward in pay battle
---
Unison witch-hunt: Defend 'the four'
National Shop Stewards Network
---
Re-elect a fighting PCS leadership
---
Global food prices: anger erupts in mass protests
---
Health campaigners fight council cuts
Standing up for socialism: candidate list
Campaign for a New Workers Party - conference 2008
---
The Human Fertilisation and Embryology Bill: why all the controversy?
---
Housing crisis: Britain's house of cards
Tax attack hits low paid workers
Water 'regulators' hide real prices
---
Rising class struggles across Europe
Italian election: new Berlusconi victory will provoke mass opposition
France 1968: 10 million workers occupied factories
France 1968: month of revolution by Clare Doyle
The radical life of Martin Luther King
---
Portsmouth Activists Academy day of debate
PO Box 1398, Enfield EN1 9GT
020 8988 8777
editors@socialistparty.org.uk

Link to this page: https://www.socialistparty.org.uk/issue/529/4019
Home | The Socialist 16 April 2008 | Join the Socialist Party
Elections 2008
Manchester Wythenshawe
Building a real alternative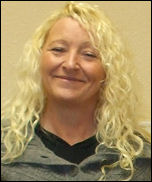 Lynn Worthington
SOCIALIST ALTERNATIVE election canvassers are being well received on the doorsteps in Wythenshawe in Manchester. New Labour's policies, stolen from the Tories, have lost their disguise and increasingly many people see us as the alternative locally.
Lynn Worthington, Socialist Alternative candidate for Baguley ward, Manchester
My Labour opponent is sitting councillor Tony Burns. His election leaflet incredibly claims as successes all the failures which turn working-class people against New Labour!
Health service
Burns highlights his board position on the Community and Mental Health Trust, an organisation best known for provoking a strike last year. The same Trust tried to shut the mental health unit at Wythenshawe Hospital. We played a big part in saving the unit.
When cuts or closures were proposed to health and advisory services, Burns kept quiet or voted in favour. We consistently fought all the cuts and closures in the health service, launched the Save Our Baby Unit campaign (which gained huge support), and defended mental health workers taking action to defend democratic rights.
Housing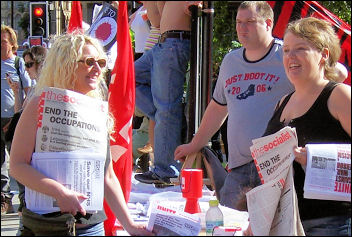 Lynn Worthington (left), on the anti-war protest in Manchester, photo Alison Hill
The housing transfer from Manchester council to Parkway Green Housing Trust has meant problems for many tenants. Burns sits on the Parkway Green board, and is proud of it! Tenants who had their homes wrecked by subcontractors and are now paying higher rents, are not impressed.
If elected, I will demand a meeting with the councillors and Parkway Green to represent tenants and demand the improvements are carried out swiftly and properly.
The council created a severe crisis by running down council housing for years. They blame the government for under-funding housing, which is true, but when it's a Labour council and a Labour government, what does that say about New Labour's priorities?
Transferring housing to private companies and associations made the situation worse, with properties standing empty for year on year. Privatisation and demolition of social housing around Manchester turned a shortage into chaos.
With the council's help, private developers grabbed public land for expensive private housing. Now only a minority can afford to buy, often with huge mortgages, while many young people are completely priced out of renting or buying.
Home-owners and tenants face a worsening future. That's why we need a socialist councillor, to demand high-quality affordable homes for all, together with accountable and effective maintenance and environmental works.
Transport
Burns' claims to have improved the notoriously unreliable bus service would be funny if it wasn't so bad. "Improvements" mean more services timetabled during the day, in return for a £multi-million council tax-payers' subsidy to Stagecoach which then hiked the fares anyway, by up to 10%! New Labour have no intention of reinstating bus routes cut in previous years, or running extra services later.
The only way to ensure frequent, reliable buses at affordable fares is for them to be under public ownership, democratically controlled by elected representatives of passengers and transport workers. We need a socialist councillor to demand a proper transport network, one run in the interests of the travelling public not the profits of transport companies.
A working-class candidate
Burns claims he's "the candidate for you" but that's not many people's impression! People are turning to us because New Labour have turned their backs on them. If you live in Manchester and think it's time we had a socialist voice on the council, ring 07747 332 854 or email ljw.socialistalternative@yahoo.com
---
In this issue

'We're striking against low pay'

Birmingham strike

Editorial: 24 April strikes: step forward in pay battle
---
Unison witch-hunt

Unison witch-hunt: Defend 'the four'

Stop the witch hunts!

National Shop Stewards Network
---
Workplace news and analysis

Re-elect a fighting PCS leadership

News in brief
---
Global food crisis

Global food prices: anger erupts in mass protests

How the other 0.01% live
---
Socialist Party election campaign

Elections 2008

Health campaigners fight council cuts

Standing up for socialism: candidate list

Campaign for a New Workers Party - conference 2008
---
Socialist Party feature

The Human Fertilisation and Embryology Bill: why all the controversy?
---
Socialist Party news and views

Housing crisis: Britain's house of cards

Tax attack hits low paid workers

Water 'regulators' hide real prices
---
International socialist news and analysis

Rising class struggles across Europe

Italian election: new Berlusconi victory will provoke mass opposition

France 1968: 10 million workers occupied factories

France 1968: month of revolution by Clare Doyle

The radical life of Martin Luther King
---
Socialist Students

Portsmouth Activists Academy day of debate
---
Home | The Socialist 16 April 2008 | Join the Socialist Party