The Socialist 4 November 2008
Striking against low pay
---
Obama wins, neo-cons routed in US presidential elections
If Obama wins - Looking beyond the hope bubble
---
Canary Wharf: Low paid workers welcome socialist campaigners
Sri Lanka: Acting out oppression
---
1918 revolution: When German workers entered the stage of history
---
New Labour retreats on promises to students
Victory over Tory school closure plan
Austria: Socialist players suspended from football club for anti-fascist activities
Year 9 SATs abolished: Now get rid of the rest!
Republic of Ireland: Student fightback
---
Liverpool City Council: Housing maintenance workers fight for jobs
Fighting for a socialist solution to the crisis in the car industry
Striking for trade union rights
Turkish dockers fight workplace 'massacres'
PO Box 1398, Enfield EN1 9GT
020 8988 8777
editors@socialistparty.org.uk

Link to this page: https://www.socialistparty.org.uk/issue/555/6570
Home | The Socialist 4 November 2008 | Join the Socialist Party
Labour bashes lone parents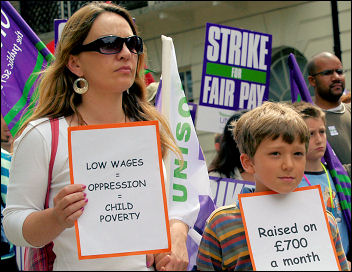 Lone parents need decent wages and benefits, photo Paul Mattsson
FROM 24 November lone parents claiming benefits for the first time, whose youngest or only child is 12 or over will no longer be able to claim income support. They will have to sign on as available for work and claim jobseekers allowance. Although existing claimants aren't affected for now, the government intends to 'roll out' these changes to them over the next few months.
Eleanor Donne
From 2009 if the government get their way, lone parents with children aged ten or over will have to sign on, and from 2010, this will apply to those with seven year olds. This will cause no end of stress and disruption to families, many of whom will have been newly separated, or divorced, widowed or have escaped domestic violence. On top of all this they will be expected to prove they are actively seeking work.
Lone parent groups have raised concerns that the most vulnerable people may miss work related appointments and end up with a 40% reduction in their benefit - causing even more hardship and insecurity. The government has not answered the question - where are these 12 year olds going to be whilst their parent is at work?
The Day Care Trust recently found that there is a 'gross shortage' of childcare places and that childcare in the UK is the most expensive in Europe. In addition, many places only go up to age eleven. The government condemns parents for letting their teenage children 'run wild' but wants to force parents out to work at a time when they may be most needed.
The second question is where are the jobs? With unemployment forecast at two million by Christmas, how are lone parents to find work - especially work which could fit around their childcare responsibilities?
How ironic that the idea of forcing lone parents to sign on came from a 'radical review' of the welfare system carried out in 2006 by one David Freud, ex-investment banker and Financial Times journalist.
After all, the idea of no rights without responsibilities is big in the banking world and you couldn't have expected a banker or the Chancellor of the Exchequer (Gordon Brown at the time) to know what was going to happen to the economy!
However, the government are under mounting pressure from one-parent lobby groups, and their own advisers to drop or at least delay the next phase of the changes in the face of economic downturn and unemployment.
Fiona Weir, chief executive of One Parent Families/Gingerbread said: "The government is piling the pressure on lone parents at a time when the labour market and Jobcentre Plus are already creaking under the strain of extra unemployment."
The Social Security Advisory Committee (SSAC), which is appointed by ministers, is very critical of the proposals, and they have urged the government not to press ahead with the extension of the changes until they have evidence that the promised 'wraparound childcare provision' is there.
Mark Serwotka of the PCS (civil service) union has expressed opposition both in terms of the extra work for his members and the element of compulsion in the new system.
Socialists should add our voices to this opposition and campaign against these changes.
If the government were serious about ending child poverty they could have spent some of the billions that have gone towards bailing out the bankers on good quality childcare and decent minimum wage and benefit levels. We should not be made to pay for their crisis.
---
In this issue

Striking against low pay
---
US election

Obama wins, neo-cons routed in US presidential elections

George Bush's toxic legacy

If Obama wins - Looking beyond the hope bubble
---
Socialist Party campaigns

Labour bashes lone parents

Canary Wharf: Low paid workers welcome socialist campaigners

Sri Lanka: Acting out oppression

What recession?

Fast news
---
Marxist analysis: history

1918 revolution: When German workers entered the stage of history
---
Socialist Students

New Labour retreats on promises to students

Victory over Tory school closure plan

Austria: Socialist players suspended from football club for anti-fascist activities

Year 9 SATs abolished: Now get rid of the rest!

Republic of Ireland: Student fightback
---
Socialist Party workplace news

Liverpool City Council: Housing maintenance workers fight for jobs

Fighting for a socialist solution to the crisis in the car industry

Shipyard strike for fair wage

Striking for trade union rights

Turkish dockers fight workplace 'massacres'
---
Home | The Socialist 4 November 2008 | Join the Socialist Party
Related links:

Lessons from the Corbyn experience

Hull Trades Council debates workers' political representation

Crisis in council services: Labour must fight or stand aside

Trades council debates workers' political representation

Starmer in full retreat over C-19 rents crisis

Childcare - costly, inadequate and hard work

UC stopped without warning

General election 2019 round-up

Furlough cut-off could force millions back to unsafe workplaces

Capitalism and human progress

Schools aren't safe

Valentine victory: School strike beats council cuts