The Socialist 3 March 2009
Bosses get pay-offs, workers get layoffs
Bosses get pay-offs, workers get layoffs
RBS pension scandal: Not a penny for these fat cats!
---
---
Has globalisation gone into reverse?
Our democratic rights under attack by Labour
---
Anti-fees demo success - despite NUS leaders' obstructions
Cardiff student occupation: University divests from arms trade
---
---
Construction workers plan more action
---
Cover supervisors: Teaching on the cheap
National Shop Stewards Network: Brighton launch meeting
---
International Women's Day 8 March: Don't make women pay for the bosses' crisis
Make all women's issues trade union issues
Solidarity with Constantina Kuneva
---
Ireland: Scrap the 'pension levy': Organise a one-day general strike
Kashmir: Health workers win demands
---
Support The Socialist on May Day this year
PO Box 1398, Enfield EN1 9GT
020 8988 8777

Link to this page: https://www.socialistparty.org.uk/issue/569/7009
Home | The Socialist 3 March 2009 | Join the Socialist Party
International Women's Day 8 March: Don't make women pay for the bosses' crisis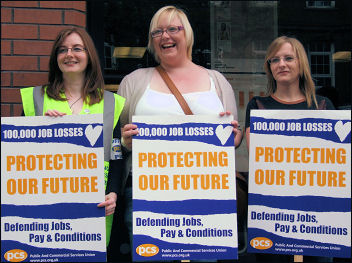 PCS Passport workers on strike in Belfast, photo Peter Hadden
Women faced discrimination when the economy is booming. What then will be the consequences for women of the worst economic downturn since the Great Depression of the 1930s? A fightback is necessary to prevent a dramatic increase in women's oppression.
Sarah Sachs-Eldridge
Over 40 years after the Equal Pay Act and after 16 years of uninterrupted economic growth women in Britain in full-time work earn 17.2% less than men on average.
With the majority of childcare responsibilities and the requisite need for flexible and shorter hours, women also make up 75% of part-time workers who generally suffer lower wages. There is also a 36% difference between the average male part-time wage and that earned by part-time women workers.
The magnificent victory at the Lindsey oil refinery provides a lesson on how militant action can defend and improve all workers' pay and conditions. In times of economic uncertainty, with a smaller surplus to fight over, bosses will attempt to play different sections of workers off against each other as they did at Lindsey. This can also include playing lower-paid women workers off against better-paid male workers. This is a dead end for the working class and must be countered with united action.
Women make up more than half the workforce but occupational gender segregation persists. Women workers remain concentrated in the 'four Cs' of childcare, catering, cleaning and cash register where low pay is the norm. Many retail workers get pennies above the minimum wage. In fact, according to a 2008 TUC report, 30% of working women earn less than £100 a week.
Woolworths, Barratt, Principles...the list of retail chains that are no more is long and likely to grow. A CBI survey shows nearly half of all retailers cut jobs in January. Unemployment looms. This spells disaster for the working class as a whole. A recent TUC report, Women and recession, shows that unemployed women face particular difficulties.
Women with childcare responsibilities generally require part-time or flexible employment. This can place restrictions on their job search.
Childcare
Limited access to affordable childcare is a huge problem. The website mumsnet.com surveyed readers on what the government should do to assist parents in the recession and, unsurprisingly, the vast majority mentioned childcare as an issue. Investment in public nurseries with qualified staff on decent wages would both create employment and aid women going to work.
As women are likely to have been in low-paid work they are less likely to have savings. Where women 'work to survive', redundancies can lead to serious immediate poverty. Unemployed women can also have problems receiving Jobseekers Allowance (JSA), particularly income based JSA (which workers move to after six months on JSA) as it is calculated on household income and related to the idea of women as secondary earners in the family.
If the government carries on with its horrific onslaught on lone parents' benefits these pressures and difficulties will be multiplied. 90% of single parent families are headed by women.
Many women were already unemployed when this recession began and data shows that in general unemployed women find a limited work history, due to time off to raise families, a barrier to work. Bosses do not want to invest in training. Workers' democratic control and management in the workplace is necessary to share out the work without loss of pay and end the obstacles that prevent women from participating fully in all aspects of society.
Students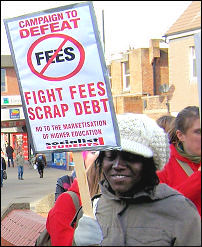 Students from Portsmouth, Southampton, Winchester and Oxford lobby John Denham MP, photo Ben Robinson
Extortionate university fees, combined with women's lower pay, condemn millions of women to a lifetime of debt and poverty. This can have huge repercussions on mental and physical health. The recent demonstration for free education, organised by Socialist Students among others, shows the potential to build a movement to fight for free education, which women in education must urgently build.
One consequence of the recession has been a drop in divorce rates. Does this mean that tightening our belts squeezes our hearts with a positive effect on our relationships? No. The reality is far darker. Couples who have decided to separate and in normal circumstances would divorce and move out, now find themselves unable to afford the extra housing costs and are forced to remain living together.
On the basis of enormous household debt and growing unemployment, repossessions could double this year, reaching 82,000. During the Great Depression of the 1930s in the US, women played a major role in direct action campaigns against evictions, often organising to get families back into their homes. Campaigning for massive investment into quality council housing must be part of the resistance to the consequences of this recession.
Women make up the majority of the seven million carers in Britain. Harriet Harman, Minister for Women and Equality, made a big hoo-ha last year about introducing carers' right to request flexible working hours from April 2009. The small print revealed the bosses' right to deny flexibility - if it was bad for business.
However, in a signal to the bosses that he was looking out for them, Peter Mandelson indicated that such measures might be difficult to carry through when pressure on business was mounting. What about pressure on women?
The Financial Times reports that about 10,000 jobs have been axed by local councils in England, with 70% expecting further losses due to the recession. As a majority of the low-paid council workforce are women, this will have a huge impact on women's employment.
Cuts in public services mean further suffering for women in particular. Traditionally, class societies have defined a women's role as secondary, working within the family home - doing the housework and bringing up the next generation - unpaid.
Such ideas may be promoted as women are called on to take up the slack of inadequate caring, childcare and health services. A revival of these reactionary ideas will have consequences for women's rights. However, such attacks will not go unanswered.
Women in struggle
Unison Local Government strike 16-17 July in London, photo Paul Mattsson
We will see a mushrooming of campaigns in defence of services, such as that against local government cuts in the Wirral. These must be linked on a national basis, such as the recent campaign to defend the NHS, which will also have to be revived in the face of increased attacks.
While huge anger is directed at the likes of Sir Fred Goodwin and other fat cat bankers, New Labour ministers will not escape the blame for this crisis. In the absence of a new mass workers' party it is likely that the Tories could form the next government. Recent votes on abortion rights indicate that they would be likely to attack women's right to choose when and whether to have children. Socialists call for a trade union-led demonstration to launch a powerful campaign to defend and extend abortion rights.
Women have been to the fore in a number of struggles that have taken place in response to the economic downturn. 120,000 public sector workers marched through the streets of Dublin recently, including huge numbers of women who have never been involved in struggle before. Thousands of young women, many demonstrating for the first time, marched through London against the slaughter in Gaza in January of this year. This is only a taster of the future mass struggles we will participate in.
---
In this issue

Bosses get pay-offs, workers get layoffs

RBS pension scandal: Not a penny for these fat cats!

Hands off our post!

Stop Labour's mail sell-off
---
Socialist Party Marxist analysis

Marx was right all along
---
Socialist Party feature

Has globalisation gone into reverse?

Our democratic rights under attack by Labour
---
Socialist Students

Anti-fees demo success - despite NUS leaders' obstructions

Cardiff student occupation: University divests from arms trade
---
Youth fight for jobs

Youth Fight for Jobs

The route
---
Construction workers

Construction workers plan more action

Message from strike leader
---
Socialist Party workplace news

Stop bullying at BT

Fight the cuts in Nottingham!

Sogefi workers demand strike

NUJ action

Cover supervisors: Teaching on the cheap

National Shop Stewards Network: Brighton launch meeting
---
Socialist Party women

International Women's Day 8 March: Don't make women pay for the bosses' crisis

Make all women's issues trade union issues

Solidarity with Constantina Kuneva
---
International socialist news and analysis

Ireland: Scrap the 'pension levy': Organise a one-day general strike

Kashmir: Health workers win demands
---
May Day

Support The Socialist on May Day this year
---
Home | The Socialist 3 March 2009 | Join the Socialist Party