The Socialist 12 May 2010
MPs and party leaders haggle over their jobs... preparing to cut ours!
MPs and party leaders haggling over their jobs... preparing to cut ours!
---
Support the British Airways strikers
---
Greece: the struggle must continue and intensify
Fight the repression of workers in Kazakhstan
---
General election 2010: TUSC results and the need for working class representation
Coventry elections: Strong socialist support
Lewisham elections: socialists will be at forefront of struggle
Huddersfield elections: Forging a socialist campaigning tradition
Anti-Tory mood dominated in Stoke during 2010 election
Spelthorne campaign during the 2010 general election
Swansea: Potential new members
Scotland: Meetings show enthusiasm for socialism
Trade Unionist & Socialist Coalition (TUSC) general election results
---
---
Obituary - Peter Hadden, 1950 - 2010
---
Gulf of Mexico disaster: nationalise the oil giants
---
Ex-Jarvis workers protest in Leeds
National Shop Stewards Network conference
PO Box 1398, Enfield EN1 9GT
020 8988 8777

Link to this page: https://www.socialistparty.org.uk/issue/624/9534
Home | The Socialist 12 May 2010 | Join the Socialist Party
Gateshead housing protest
A LIVELY protest took to the streets of the Seven Stars estate in Wrekenton, Gateshead. The demonstrators' chants of "What do we want? Decent homes! When do we want them? Now!" was loud and clear.
Ruth Brown, who lives on the Seven Stars estate, explained: "Gateshead Council has been running a scheme called Decent Homes. When they first started we were told they were doing people's kitchens, bathrooms, doors and windows, and central heating systems. The state of some of these is disgraceful. My bathroom sink is hanging off the wall."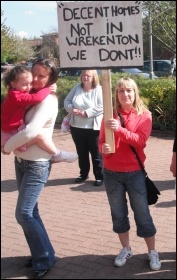 A housing protest on the Seven Stars estate in Wrekenton, Gateshead, photo Elaine Brunskill (Click to enlarge)
Ruth went on to say the residents want to talk to the council and housing association, but "they won't talk to us. They won't come to any of our meetings."
After the march around their estate, local residents went down to the Gateshead Housing Company office to stage a protest there. When they arrived at the offices with their banners the immediate response of Gateshead Housing Company was to lock the doors. However, they eventually invited the residents in for a meeting. This was a step forward as the housing association had previously refused to speak to the residents.
After the meeting Elaine Reed commented: "We got nothing from that meeting; everyone still feels the way we are being treated is unfair." The fight goes on!
Elaine Brunskill
---
In this issue

MPs and party leaders haggling over their jobs... preparing to cut ours!
---
British Airways strike

Support the British Airways strikers
---
International socialist news and analysis

Greece: the struggle must continue and intensify

Fight the repression of workers in Kazakhstan
---
Socialist Party election campaign

General election 2010: TUSC results and the need for working class representation

Coventry elections: Strong socialist support

Lewisham elections: socialists will be at forefront of struggle

Huddersfield elections: Forging a socialist campaigning tradition

Anti-Tory mood dominated in Stoke during 2010 election

Spelthorne campaign during the 2010 general election

Swansea: Potential new members

Scotland: Meetings show enthusiasm for socialism

Trade Unionist & Socialist Coalition (TUSC) general election results
---
Socialist Party Marxist analysis

Election deadlock
---
Obituary

Obituary - Peter Hadden, 1950 - 2010
---
Environment and socialism

Gulf of Mexico disaster: nationalise the oil giants
---
Workplace news and analysis

Defend the public sector

PCS courts victory

Vote Roger Bannister

Ex-Jarvis workers protest in Leeds

Gateshead housing protest

Lecturers' union strike demo

National Shop Stewards Network conference
---
Home | The Socialist 12 May 2010 | Join the Socialist Party