The Socialist 18 August 2010
Action now to defeat cuts!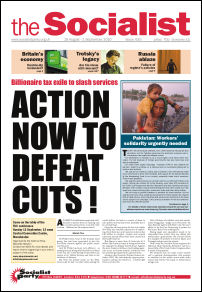 ---
Pakistan: Workers' solidarity urgently needed
Floods in Pakistan bring devastation - poor suffer most
---
Youth must fight for a future!
Student demo should be start of the fightback
Uni bosses say cuts will cause closures
---
Forecasts of fragile economic growth
---
Cameron sticks the boot into our council housing
Private-profit company granted 'snoopers' charter'
Private Finance Initiative: A licence to print money
---
Coventry Against the Cuts challenge councillors' 'legal obligation'
Northern Ireland: Belfast Stop the Cuts Alliance established
Bromley care workers fight privatisation and job cuts
Defend Our Community Services launched in Bracknell
Cuts devastate mental health services
---
---
Kirklees Unison strike ballot launched
CWU members accept BT pay deal
Debate how to fight back at Socialism 2010
Tube staff vote for action against cuts
Jobs under threat at Ministry of Justice
Airport workers win improved offer from BAA
---
Socialist Party summer camp - book now!
---
Russia's raging wildfires - a crisis of government policies
---
Bradford must organise against the EDL
Birmingham: Community says 'No' to racist spy cameras
PO Box 1398, Enfield EN1 9GT
020 8988 8777
editors@socialistparty.org.uk

In this issue:
The Socialist 18 August 2010, Action now to defeat cuts!
Billionaire tax exile to slash services: A cabinet of millionaires appoints a billionaire to advise them on making cuts to our jobs and services, or as they refer to them - 'efficiencies'. No surprise there!, writes Alistair Tice, Yorkshire Socialist Party.