The Socialist 9 September 2010
We can stop the Con-Dem cuts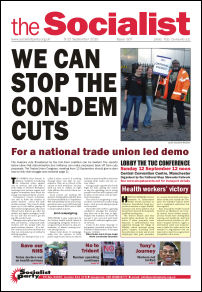 National Shop Stewards Network lobby of the TUC
---
We won't be a lost generation!
No to slave labour apprenticeships!
---
Tony Blair - a journey to Thatcherism
Academies will lead to a two-tier education system
Jobs and services are facing axe in Cornwall
---
Far right not welcome in Brighton
---
Solid strike on London Underground
London: Unite members to strike against NHS privatisation
New Royal Mail boss sharpens her axe
---
Fighting for the health service
The callous cutting of NHS Direct
---
Against cuts? Come to Socialism 2010
---
Russia: Motorway construction through Khimkinsky forest halted
Global food crisis reveals failure of capitalism
---
---
Zola's Germinal: still relevant today
PDFs for this issue

Page1 pdf

Page2 pdf

Page3 pdf

Page4 pdf

Page5 pdf

Centre pages pdf

Page8 pdf

Page9 pdf

Page10 pdf

Page11 pdf

Page12 pdf
PO Box 1398, Enfield EN1 9GT
020 8988 8777
editors@socialistparty.org.uk

In this issue:
The Socialist 9 September 2010, We can stop the Con-Dem cuts
The massive cuts threatened by the Con-Dem coalition can be beaten! The reports below show that determination and militancy can make employers back off from cuts proposals...

Health workers' victory

National Shop Stewards Network lobby of the TUC