The Socialist 17 November 2010
Fight for your future!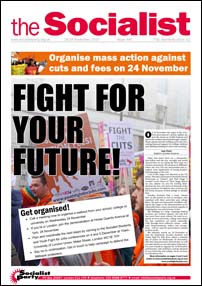 ---
Massive student demo shows anti-cuts anger
24 November - Strike against fees and cuts
10 November demonstration: Students fighting back
---
Afghanistan: Withdraw the troops now!
---
Kirklees - fighting £400 million budget cut
Protests and meetings against the cuts
Ballot cancelled in BA dispute
National Shop Stewards Network: Anti-cuts conference
---
Universal Credit - a thinly veiled attack on the sick and unemployed
Coalition turns back the clock on justice
Tories promote fast food nation
---
The Trade Unionist and Socialist Coalition launches its campaign for the 2011 local elections
---
Ireland: 'Not simply a crisis but an absolute disaster'
Ireland: United Left Alliance to challenge at next general election
Support the Laura Ashley strikers
---
Britain's trillion pound horror story
PDFs for this issue

Page1 pdf

Page2 pdf

Page3 pdf

Page4 pdf

Page5 pdf

Centre pages pdf

Page8 pdf

Page9 pdf

Page10 pdf

Page11 pdf

Page12 pdf
PO Box 1398, Enfield EN1 9GT
020 8988 8777

Link to this page: https://www.socialistparty.org.uk/issue/647/10617
Home | The Socialist 17 November 2010 | Join the Socialist Party
24 November - Strike against fees and cuts
A mass movement on the issue of fees and education cuts, organised and determined, has the potential to defeat the government and inspire all those who are coming into direct confrontation with the bosses and their cronies in parliament.
Ben Robinson
David Cameron, Vince Cable and education minister David Willetts want to make these brutal cuts as quickly as possible, to limit debate and cut across the developing movement. Willetts has said that he wants university fees legislation written into law by April 2011. This gives the movement a real sense of urgency, and young people are rising to the challenge.
---
Youth Fight for Jobs demonstration against education cuts
Demonstration to Parliament
24 November 2010
1pm
Meet Horse Guards Avenue, London SW1
---
24 November is the date for the next big series of protests. Students in local areas are organising demonstrations, occupations, walkouts and more. In London Socialist Students and Youth Fight for Jobs (YFJ) are calling for walkouts from universities, colleges and schools to join a demonstration to Parliament, assembling in Horse Guards Avenue at 1pm.
This will build on the spontaneous walkouts by students going to the National Union of Students (NUS) and UCU lecturers' union demonstration on 10 November. We also appeal to all workers who can to join in this protest.
A National Union of Students worthy of the name should be at the head of this movement - it should be calling national action before Christmas, on or around Saturday 11 December - and building for further mass action after the holidays and exam period of January and early February. It should be organising 'strike pay' for college students who are fighting for their rights and miss out on a week's worth of EMA as a result, and crucially building links with workers on and off campus to fight back.
But instead the NUS leadership have offered no way forward whatsoever. Their despicable attitude to victimised students have done far more to discredit the NUS than even the anti-democratic reforms of a few years ago.
But if they will not fight, we will. Anti-cuts campaigns around the country have sprung up to organise the action locally, and where they do not yet exist Socialist Students and YFJ members should help to initiate them. But both the cuts and the fees are an attack from central government; we need a national fightback to link up and coordinate these campaigns.
To have your say and take part in building such a campaign, come to the YFJ and Socialist Students conferences on 4 and 5 December.
Youth Fight for Jobs and Socialist Students say:
Strike against fees and cuts
Unite the anti-cuts campaigns on a national level
No victimisation of student protesters
Build a democratic mass struggle
Fight for a socialist education system
---
In this issue
---
Socialist Party youth and students

Fight for your future!

Massive student demo shows anti-cuts anger

24 November - Strike against fees and cuts

Defend student protesters!

10 November demonstration: Students fighting back
---
War and occupation

Afghanistan: Withdraw the troops now!
---
Socialist Party workplace news

Kirklees - fighting £400 million budget cut

Protests and meetings against the cuts

Victory in law centre battle

Jobs threat in Knowsley

Ballot cancelled in BA dispute

National Shop Stewards Network: Anti-cuts conference

Workplace news in brief
---
Socialist Party news and analysis

Universal Credit - a thinly veiled attack on the sick and unemployed

Coalition turns back the clock on justice

Tories promote fast food nation

Fast news
---
Trade Unionist and Socialist Coalition

The Trade Unionist and Socialist Coalition launches its campaign for the 2011 local elections
---
International socialist news and analysis

Ireland: 'Not simply a crisis but an absolute disaster'

Ireland: United Left Alliance to challenge at next general election

Support the Laura Ashley strikers
---
Socialist Party review

Britain's trillion pound horror story
---
Home | The Socialist 17 November 2010 | Join the Socialist Party