The Socialist 17 November 2010
Fight for your future!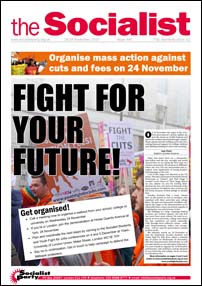 ---
Massive student demo shows anti-cuts anger
24 November - Strike against fees and cuts
10 November demonstration: Students fighting back
---
Afghanistan: Withdraw the troops now!
---
Kirklees - fighting £400 million budget cut
Protests and meetings against the cuts
Ballot cancelled in BA dispute
National Shop Stewards Network: Anti-cuts conference
---
Universal Credit - a thinly veiled attack on the sick and unemployed
Coalition turns back the clock on justice
Tories promote fast food nation
---
The Trade Unionist and Socialist Coalition launches its campaign for the 2011 local elections
---
Ireland: 'Not simply a crisis but an absolute disaster'
Ireland: United Left Alliance to challenge at next general election
Support the Laura Ashley strikers
---
Britain's trillion pound horror story
PDFs for this issue

Page1 pdf

Page2 pdf

Page3 pdf

Page4 pdf

Page5 pdf

Centre pages pdf

Page8 pdf

Page9 pdf

Page10 pdf

Page11 pdf

Page12 pdf
PO Box 1398, Enfield EN1 9GT
020 8988 8777

Link to this page: https://www.socialistparty.org.uk/issue/647/10623
Home | The Socialist 17 November 2010 | Join the Socialist Party
Universal Credit - a thinly veiled attack on the sick and unemployed
The government launched its white paper proposals for universal credit to replace most of the current benefit system with a barrage of publicity that sought to demonise the unemployed. The white paper is entitled: 'Universal Credit - welfare that works'. But as Jane Aitchison, PCS union president of the Department for Work and Pensions (personal capacity) asks, who for?
Making it simpler
The new universal credit system is supposed to be simpler and who could possibly be opposed to that?
The current system has become complicated as it addresses claimants' circumstances and needs - but to the penny through means testing. It is not in any way generous. Any attempt to simplify it can only be done by rounding up what is paid to everyone or rounding down.
The details revealed so far of caps put on housing benefit and total claim caps suggest that the intention is to reduce benefit levels further, forcing millions of people further into grinding poverty and inescapable debt.
Helping people into work?
The Tories have made great play about getting people off benefits and into work. This rings very hollow when there are no jobs. Currently there are 2.5 million unemployed in Britain and less than half a million job vacancies. In reality there are many more people looking for work but not signing on or in part-time work who would like full-time work.
Those half a million job vacancies are misleading too. It isn't about a skills mis-match or ok jobs that people are too picky to take - they are mainly part-time jobs, virtually all temporary, some for only a week.
They are mainly not jobs that you could make a living from. With at least five people chasing every job vacancy it is a sick joke to suggest that people just need to get on a bus to look for work. The problem isn't that people aren't looking for jobs - they are looking - there are no jobs.
Making work pay
The new benefit will ensure that people are always better off in work, apparently. This might sound good and could be if it was accompanied by increases in the minimum wage. Instead the intention is to increase in-work benefit levels to ensure that no job is 'not worth taking' and to subsidise the worst paying employers to the hilt.
The effect will be to drive down wages further and keep more people dependent on benefits to survive.
Compulsory workfare
A new proposal is compulsory work trials of four weeks' duration - working 30-hour weeks for your benefit.
With no job at the end of it and the severe shortage of jobs in the country this has to be viewed as a cynical attempt to further demonise, punish and humiliate the unemployed. If work trials aren't genuinely going to help people find work because there is no work then the fear has to be that they will be used to deter people from claiming benefits, either through stigma or through falling foul of these additional hurdles.
The government has already stated that failure to attend these schemes will lead to very tough sanctions - including having benefit removed for up to three years.
Bringing in a tougher sanction regime when there are so few jobs is particularly cruel and unnecessary. The Samaritans announced plans last week to try to reduce the number of suicides as unemployment rises. Suicide rates double when people become unemployed.
Making it cheaper
It is clear that there is also an intention to reduce costs by cutting the staff who administer it. In particular there is a proposal to make access to benefits almost entirely through on-line applications. The BBC revealed that less than half of all unemployed people have access to the internet. There is a massive danger that many people could fall through the gaping holes that are now being cut in the benefits safety net.
What is the alternative?
As socialists we must be clear about the alternatives. Job creation is part of what is needed rather than slashing half a million public sector jobs and watching unemployment spiral.
---
In this issue
---
Socialist Party youth and students

Fight for your future!

Massive student demo shows anti-cuts anger

24 November - Strike against fees and cuts

Defend student protesters!

10 November demonstration: Students fighting back
---
War and occupation

Afghanistan: Withdraw the troops now!
---
Socialist Party workplace news

Kirklees - fighting £400 million budget cut

Protests and meetings against the cuts

Victory in law centre battle

Jobs threat in Knowsley

Ballot cancelled in BA dispute

National Shop Stewards Network: Anti-cuts conference

Workplace news in brief
---
Socialist Party news and analysis

Universal Credit - a thinly veiled attack on the sick and unemployed

Coalition turns back the clock on justice

Tories promote fast food nation

Fast news
---
Trade Unionist and Socialist Coalition

The Trade Unionist and Socialist Coalition launches its campaign for the 2011 local elections
---
International socialist news and analysis

Ireland: 'Not simply a crisis but an absolute disaster'

Ireland: United Left Alliance to challenge at next general election

Support the Laura Ashley strikers
---
Socialist Party review

Britain's trillion pound horror story
---
Home | The Socialist 17 November 2010 | Join the Socialist Party